October 23, 2009 - 1:59pm
Wine pairing with biscotti: A final update
As most, if not all, of you know Italians traditionally dip biscotti into their coffee or wine, i suspect, in part, to soften it a bit before chewing. October, November and December of year, along with holiday baking, we're putting the finishing touches to plans for our annual January open house wherein we serve only our homemade wines, homebrewed beer, and a cornucopia of food, all made from scratch.
This year's theme is Wine and Bread.
Technically, biscotti is not a bread, but it fits so well, we've added it to our list that includes sourdoughs (wheat and ryes), pain de mie, ciabatta, lavash, fougasse, and of course baguettes. I'm also going to try Hamelman's Vollkornbrot; if successful it too will join the list. It should pair well with a pilsner finishing its fermenting as I write.
Today I experimented with a parmesan-black pepper biscotti thinking it will pair well with white wine, especially the sauvignon blanc we're offering this year. My wife and I shared the small corner pieces, and froze the rest. We opened a bottle of sauvignon blanc. It pairs wonderfully.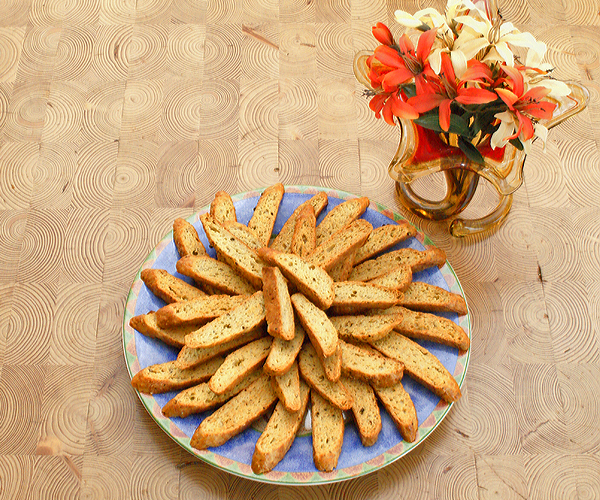 We're also planning a dried-cherries and pecans biscotti to pair with a Cabernet Franc ice wine (sweet)--a first; always dry wines prior--and a craisins and pastachio biscotti that should pair well with both reds and whites.
David G