October 14, 2009 - 3:16am
gave Reinhart's Pane Siciliano a go yesterday...followed formula pretty much to the letter...I absaloutely LOVED the flavor of this loaf...something about it was remniscent of hot buttered popcorn....of course there was no cornmeal, or butter involved in the formula. So i'm guessing it was the combo of the 3 day fermentation/proofing process and the sesame seeds and semolina, that evoked that flavor........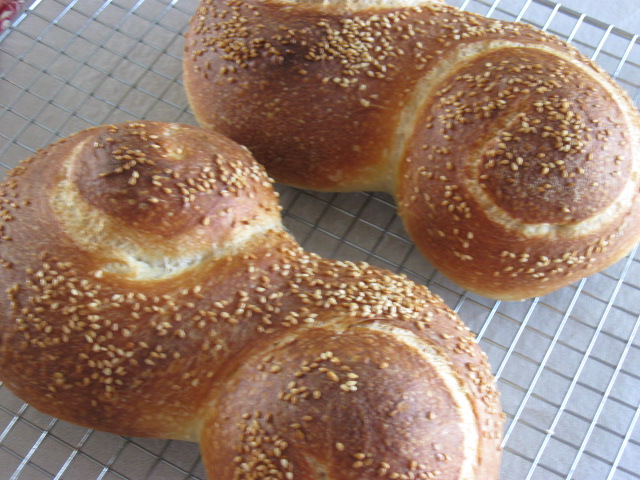 the crumb was a (i think) a little more closed than what I could see in the picture of BBA...but I baked straight out of the refrigerator on the third morning, and Reinhart mentions that you may have to let the bread proof at room temp for a bit before baking if the bread hasn't fullen risen...however, I am far from being a pro at judging over/under proofing and I tend to err on the side of underproofing....the whole "poke and spring back" thing I "sorta" get...but it seems that each formula responds a bit differently...oh shoot, guess that means i'll just have to bake more bread...awful trial, isn't it? :) :)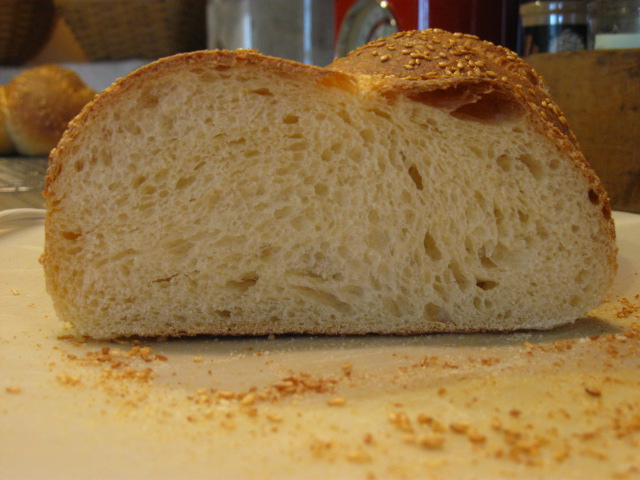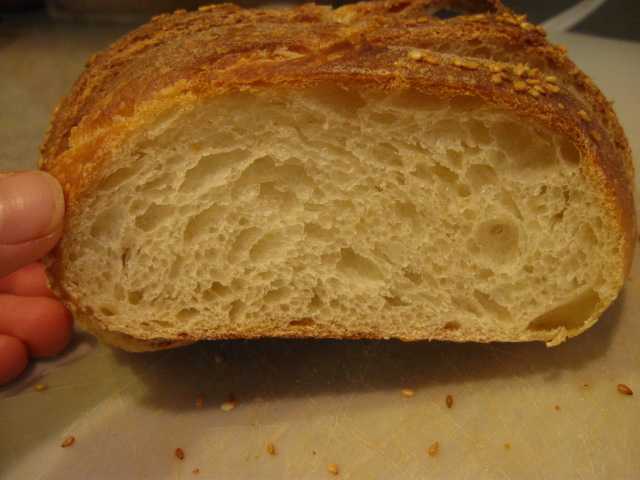 oh, and i forgot to mention that the recipe makes 3 loaves...I made 2 loaves in the morning  and stuck the remaining dough back in the fridge...pulled it out before supper and shaped into 2 baguette-style loaves...let them rest while i heated the oven to 500...sprayed loaves with water and slashed...then baked with steam for a total bake of about 20 min. or til nice n brown...After 2 min. in the oven i turned it down to 450 for the remaining bake...served 'em up at supper and they were GONE. Thin crispy outer crust and creamy insides.. Reinhart mentions that this dough makes great breadsticks..which is essentially what this was (albeit a single, long breadstick)..i would definitely make this again and serve them with a good pasta dish!