October 12, 2009 - 4:14pm
Recently friends asked me to bring an appetizer to their dinner parties. For the first one I prepared Gougères, French cheese puffs, made of a savory pâte à choux, very easy to make but I've heard that some people are intimidated by this type of cooked dough.
I used David Lebovitz' recipe (American pastry chef, living in Paris, with an excellent blog) with the only two changes that I upped the salt a bit and added finely chopped, fresh rosemary to the dough.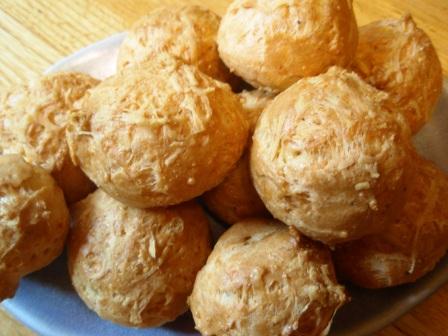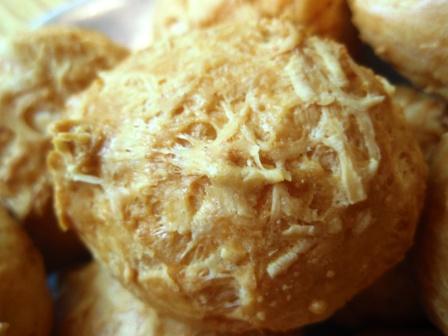 The Gougères were gone in no time.
For the other party I made this stuffed Fougasse, a bread I have baked often for get-togethers, and everyone always loves it.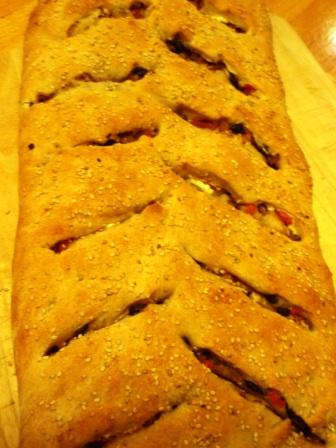 The picture is terrible, I didn't have time anymore to snap a picture at home and at the party there was not enough light.
Dough for one big Fougasse:
350g AP flour
150 ww flour
2 tsp instant yeast
300g milk
45g water
40g olive oil
1 ½ tsp sea salt
Mix and let rise until doubled. The dough needs to be quite moist.
In the meantime, caramelize one big, chopped onion in a little olive oil. Add salt and pepper.
Sauté a small zucchini (or mushrooms, or whatever you fancy) cut into little cubes, add salt, pepper, a variety of herbs.
Chop some baby tomatoes into small cubes, drain the liquid from them. Add salt and pepper.
Chop a few olives.
I basically just put whatever I have around – it always comes out good.
Flour your surface well and roll out the dough into a big rectangle.
Spread about 120g cream cheese (room temperature, you can use full or reduced fat) onto it.
Sprinkle whatever you have prepared as toppings evenly over the cream cheese. You may want to add a few more herbs at this point.
Now fold the dough into thirds, like a letter. Turn the entire rectangle over so that the back is now on top. Take scissors and make slits. Open them a little bit with your fingers. Brush the top with olive oil and sprinkle with sesame seeds. Let rest/rise for 20-30 minutes. Preheat oven to 400F and bake for about 25 min. Enjoy!
I got the recipe from this website. It's in French, but if you want to make this Fougasse, I recommend that you take a look at it, since there are very good pictures explaining the filling and folding process.