August 29, 2009 - 10:42pm
I didn't leave my heart in San Francisco ...
It was Tony Bennett who first sang "I left my heart in San Francisco" at the Venetian Room of Fairmont Hotel in 1962.  He is now in his 80s.   Many people in Asia who have not been to San Francisco or do not know much about San Francisco (like me) know it through this song (and the post card fog covered Golden Gate Bridge). 
People may laugh if I say I went to Fairmont Hotel to experience the sense of history when that song was first sung.  Or if I say that I stood in Portsmouth Square in the heart of China Town and tried to picture what it was like when Captain Montgomery first raised an American flag there back in 1846.  In fact it didn't feel like that long ago.  I saw old Chinese men gathered in small groups, squatting, happily playing their Chinese checkers, gambling with small amounts of money - just like the old days in any back streets in China.  Certain things just don't change.  As my husband sometimes says, "you can take the man out of the boy, but you cannot take the boy out of the man." 
The 1848 gold rush saw 12,000 Chinese men joining the foray from across the Pacific and resulted in the oldest, and possibly the largest, China Town in America today.  I often wondered why San Francisco is called "Jiou-gin-shan" in Mandarin (meaning "old gold mountain"); so that's why.  That was a part of overseas Chinese history that is very foreign to me.    
And I can't believe I came to downtown Berkeley.  I heard there were a lot of Chinese in California even back in those days when I was studying in Boston, so I avoided the west coast as much as I could.  UC Berkeley was founded in 1868, a very old school indeed, only 20 odd years after Captain Montgomery came to California.  I walked into a bookstore in the campus called Ten Thousand Minds on Fire, and what did I find?  A poster announcing a concert by the young Chinese pianist Lang Lang ("the hottest artist on the classical music planet" according to The New York Times) on 8th September in UC Berkeley; student ticket $10.  See, if you are a student you get great deals (and your teachers love you).
One great luxury about being in a baking course is that you get to "waste" as much flour as you possibly can (everything in the end goes conveniently to a recycling bin which goes to happy pigs somewhere).  We learnt sourdough made with white starter, made with whole wheat starter, made with rye starter, and with starter which was on a cycle of one feeding a day and two feedings a day, and with starter 40% of final flour, 70% of final flour; and with dough that was bulk fermented or fermented at proofing stage.  We had worked with different types of flours - spelt, rye, semolina, whole wheat, and high extraction flour as well as seeds and nuts.  We had worked with different types of pre-ferments - poolish, sponge and pate fermente (old dough left over from last bake) as opposed to starter to see the difference in bread flavor profile.  We also learnt retarding in bulk and in proofing stage and the resulting variations in dough strength required.  Behind all of these are two key concepts - fermentation and strength, in an effort to achieve a balance for the characteristics that we want in bread.
With this post I am doing a plain sourdough with just white starter; for me this is something like after a long, marathon like, but enjoyable, dinner, before you go home, you want something simple to cleanse, maybe not your palate, but your mind; that is, to lighten up your mind, before you take on the long journey home.  So, not too heavy, please. 
Formula for (white) Sourdough 
Levain Build - Day 4 @ 6:30 am
75 g bread flour
5 g rye flour
47 g water
63 g stiff starter @50% hydration
Mix all ingredients until well incorporated and allow to ferment for 6 hours at room temp of 65 - 70F.
(Note: the fermentation at this initial stage is relatively short as the final dough is to be retarded overnight and will have enough fermentation then for the flavor profile for this sourdough.  Because the fermentation is only 6 hours, the starter as a % of flours is higher than normal at around 80%.  If you wish for a more sour sourdough, you could either do a longer than 6 hour ferment or push starter % of flours even higher so the wild yeasts reach anaerobic condition sooner.)
Final Dough - Day 4 @ 12:30 noon
470 g bread flour
330 g water @ around 50 F in order to achieve a dough temp of around 74 - 76F
12 g salt
190 g levain (all from above)
extra rye flour for dusting
Total dough weight 1kg and total dough hydration 67%
Mix all ingredients in first speed of your mixer until well incorporated about 4 - 5 minutes.
Switch to second speed (approx. the 4th gear on home Kitchen Aid mixer) for 4 - 5 minutes to achieve a

medium strength of gluten development

.  (Note: as the dough is going to be shaped and proof overnight, the gluten needs to be quite well developed at this stage.  Conversely, if the dough is to be retarded in bulk overnight and some strength will be picked up in that process, the gluten does not need to be as well developed at mixing.)
Scrape dough out into a lightly oiled container, give it a fold, and cover.  

First fermentation

1 + 1/2 hours with one fold in the container after 45 minutes.
Turn dough out onto a lightly floured work bench.  

Divide

dough to 2 x 500 g and

pre-shape

to cylinder. 

Rest

for 20 minutes and in the mean time dust linen with rye flour.

Shape

dough into thin batards with pointed ends.  
Place shaped dough on linen seam side up and cover the dough with plastic bag.
Place the whole thing into your fridge to

retard overnight

.
Bake - Day 5 @ 9 am
Remove the shaped dough out of the fridge and turn on your oven to pre-heat to 450F
An hour later, steam the oven, score the batards three times down the center line, then load the dough onto your baking stone, steam again.  Bake for 35 minutes.
Bake for another 5 minutes with oven door ajar to let the crust dry out more.
Cool on rack before slicing.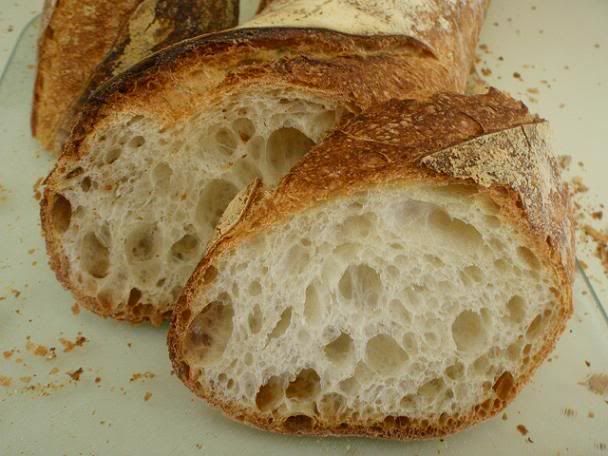 For relatively low hydration (67%), this sourdough has quite an open crumb.  This dough will make for a great sourdough baguette too.  The flavour is very much to my taste, mildly sour but complex with a long lasting after-taste.
With this post, I am going into the air, flying home tomorrow, and I don't know when I will return next; it was like 25 years ago in Boston, I thought I'd never come to America again in my life (flying was such a big deal then), so I did as much travelling as I could within the States, the furthermost west I'd gone to was Columbus, Ohio, to listen to New Orleans jazz.  And for some reason I forgot I didn't have a return ticket to go home!  If not because towards the end of my semester a big multinational corporation offered me a job and to fly home (I was not a seeker of a job then), I might still be like a dog gone astray in the streets of America!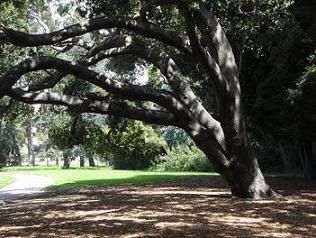 The light dancing on the tree trunk, UC Berkeley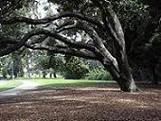 Shiao-Ping