Peter Reinhart's Multigrain Struan & more desserts
Struan is the bread that truly launched his bread baking career, Reinhart says (p. 102). In Gaelic, struan means "the convergence or confluence of streams," a good description for multigrain breads where all kinds of grains and seeds are coming together (the combinations are, of course, endless).
Because I love breads full of grains and seeds, I have bought Peter Reinhart's book "Whole Grain Breads." Most of the recipes in there consist of three parts: a soaker (part of the flour, the seeds and grains and part of the salt are soaked in water or often in milk, buttermilk or yoghurt for 12-24 hours), a biga (to be refrigerated for at least 8 hours or up to three days) and the final dough.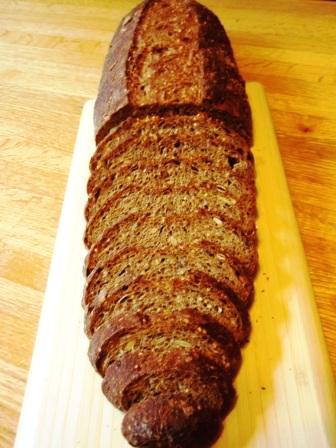 The flour for this multigrain Struan is whole wheat (67%) and to it I added in about equal parts: sesame, pumpkin, sunflower and flax seeds, and millet (seeds and grains 33%). Reinhart says that he prefers to cook the millet, but it can also be added to the soaker uncooked. I prefer it that way since it gives a beautiful crunch to the bread that we like very much.
I made a school lunch with this bread for my 15 year-old son and thought he'd tell me upon his return to never use such a seedy bread again. To my big surprise he announced that this was the best sandwich ever.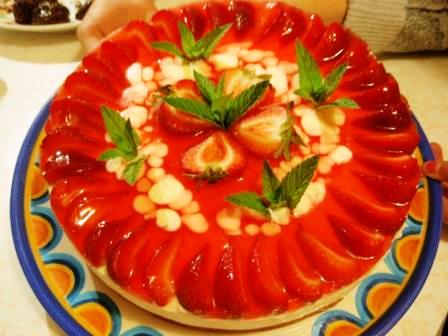 For guests I made one of my favorite desserts. It's a Swiss recipe called "Quarktorte" which in English gets translated as cheese cake. Most cheese cakes in the US are made with cream cheese as you all know, in Switzerland however we use a product called "Quark" which is a type of fresh cheese, much lighter than cream cheese (kind of like a firm yoghurt) and very tasty. It comes in plain form (which is needed for this dessert) or in many fruit styles. It is available in the US in some specialty stores, at about 10 times the Swiss price. To substitute I use sour cream light. I had to get used to the different taste, but it works very well. Only the base gets baked, the rest is a mixture of egg yolks, sugar, vanilla, stiff egg whites, sour cream, whipped cream and gelatin. I always import my yearly supply of gelatin leaves from Europe whenever I go there, thus I have never had to get used to gelatin in powder form, the only one readily available here, as far as I know.
It's an elegant, fresh dessert that has a somewhat airy texture and the appearance of being very light.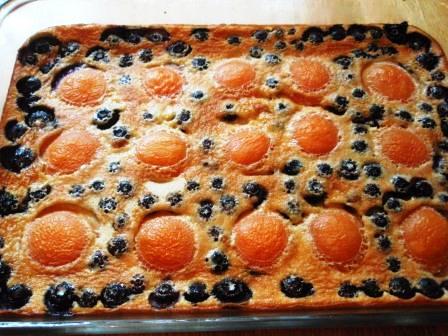 I also made this typical, very common and simple French summer dessert: a clafoutis with apricots and blueberries. It is a very easy and tasty way to use up fresh fruit. The most common version is with cherries.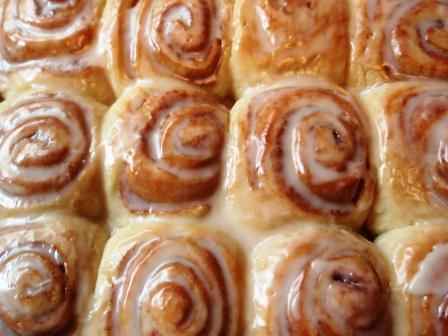 And finally for brunch at our neighbors this past Sunday I baked these cinnamon rolls (I myself don't like cinnamon in sweets much, I prefer it in savory dishes). They came out very light and fluffy. I used a recipe from the King Arthur site and substituted the potato flakes (which I don't have) with a freshly cooked potato (before cooking it was around 120g) that I mashed finely with a little water. This ingredient, I read, makes cinnamon rolls very soft, and it's true, as several people commented on how fluffy and light they were.