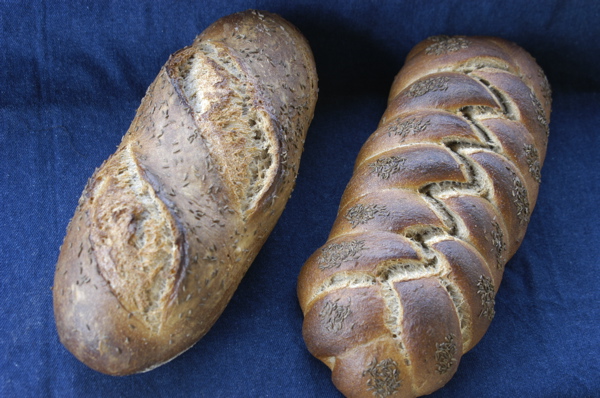 Using Hamelman's 40% rye formula.  I watched several videos on youtube about bread braiding.  Very helpful.  I chose a 5-strand braid for my first one because it looks great and it's pretty straight-forward seeming, compared to a 6-strand braid.  It was easy to do and the result is very satisfying.  I guess it's going to end up more of a pull-apart loaf than something that you would make sandwiches out of.  Since I was poking at challah sites to see braiding, I tried an egg wash while I was at it.  It think it's fine on the braided loaf, but it made the other loaf crust dull.  I won't do that again.
I made a couple of technique changes to Hamelman's instructions:
1.  I read that the rye pentosans and the wheat gluten are competing for water, so I mixed the wheat and water together and allowed it to sit a bit before incorporating it with the overnight rye sour.
2.  I prefer to stick to wild yeasts.  Instead of adding commerical yeast I added a bit more ripe starter to the wheat/water mixture.  I feed my starter at 1:5:5, which translates to 3g starter to 15g water and 15g flour.  I used the ~30g discard in the wheat/water mixture and let it ferment 90 minutes until I saw a little movement before incorporating it with the rye sour, salt and caraway seeds.  It was kind of  a sticky mess at first, but it came together nicely after a bit of kneading, although I kept an eye on the clock and didn't knead more than 5 minutes to avoid overmixing the rye.
Oh yeah, I don't think that all caraway seeds are equal.  I had some from the natural foods store for my first attempts at this rye and it was great.  Then I got some from the bulk bins at the super market and they were dull.  I'm back to the non-irradiated pack from the natural foods store and they are more full flavoured.  I don't know but what that might have to do with packaging - that is, being packaged as opposed to sitting in a bin for who knows how long.  Anyway, it did make a noticeable difference.
I tried the 80% Sourdough Rye with a Rye-Flour Soaker recently and it came out 100% ugly, I think mostly due to overproofing.  It collapsed when I moved it from the couche and never recovered, so I was gun-shy this time and I think that I underproofed a little and that's why there's big oven spring on the slashed loaf.  I only proofed for 45 minutes.  Maybe the braid wouldn't pull apart quite so much with longer proofing, too.
:-Paul