Hamelman's 5-Grain (photo)
We needed "quick" bread, so I tried Hamelman's 5-Grain, straight dough, with yeast.  Success! (Notes below...)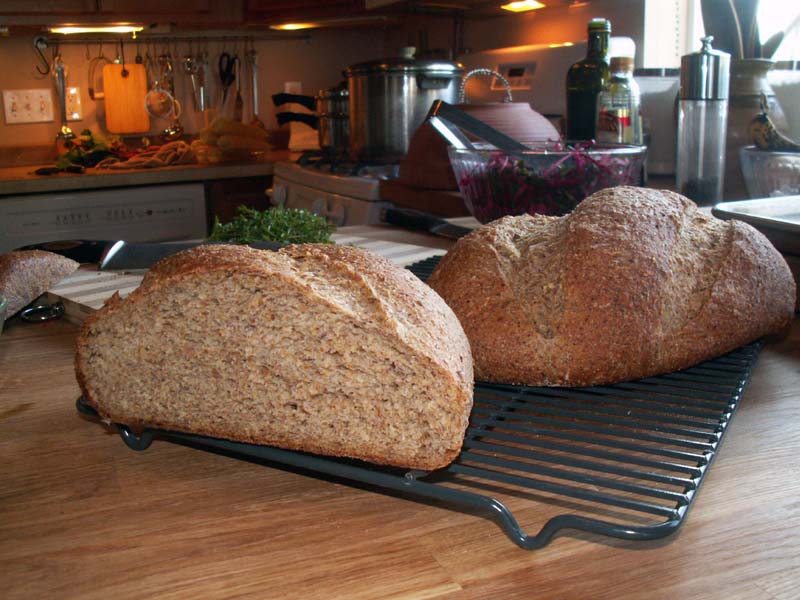 The soaker phase seemed dry, and I worried I had made a mistake, but when the whole dough came together it was quite sticky.  No mixer, so we (notice the "we", I called in some help) ended up kneading with wet hands to prevent the dough from sticking too much.  The formula calls for flax seed, for which I substituted flax meal.  I think this resulted in a more "crumbly" crumb than intended.  Next time I'll use flax seed, but the bread was nevertheless very good.  When I tried to weigh the yeast it was far too much, so I had to resort to measuring spoons for that.  (More finely calibrated scale on my wish list.)  I proofed on parchment, rather than in bannetons, but still got reasonable height.
Slightly sweet, which was surprising, and much softer than I expected.  The steaming method Jeffrey outlines on pages 26, 27 of Bread worked well.  (I did not use the terracotta bell in the photo.) The recipe is a big batch, two 25-ounce loaves and 16 2-ounce rolls.  This dough makes really good rolls.  (To digress, it turns out that making a pan of rolls served us well.  We had drop-in company and it was really nice to be able to just set out warm rolls, butter and jam, to share fresh baking, without feeling obliged to hack into a too-warm loaf.)
Next time I plan to try the Levain version of this bread, I hear it's even better, but for a straight dough with yeast, I was very pleased.
Terri (Glass-Weaver)