After being fustrasted with my last few loaves I was reading over this site trying to find answers. I've been baking bread for a couple of years now with some really good results and some not so good!
I think basically I haven't been paying enough attention! I love it but maybe i'm just a bit sloppy, or not enough of a perfectionist...I needed to consolodate in my head the effect that ingredients and ratios / techniques had on my loaves. After reading about the benefits of having a good basic loaf recipe - a control recipe - that you are happy with I have decided this is what I need to do, and also to record the results so I can really understand what is going on a bit better.
Thought I'd may as well record it on here - at least that way I can get some feedback from the enourmous collective knowledge that exists in this online community, and maybe help anyone else with similar problems. (providing of course that I actually do help myself!)
So here goes...
My biggest problem I believe (and my husband has been trying to tell me this) is that my doughs aren't wet enough. I'm not exactly sure how those 'hydration' percentages are worked out but I've basically been doing 4 cups flour to 1 1/4 cups water.
So for my first two loaves I changed this to 3 cups to 1 1/4 and another loaf at 3 cups to 1 1/2 cups water.
Loaf 1
2 tsp yeast
1 tsp sugar
1 tsp salt
1 tbs oil
1¼ cups water
3 cups flour
Mix the yeast salt sugar and oil with the water, allow to sit for a few minutes. Pour this into a bowl with the flour in it. Mix in kitchenaid for about 5 minutes then knead by hand for a few minutes on floured surface. Put into an oiled bowl, cover with plastic wrap and sit in warmed spot till doubled in size.
Kneed by hand for 3-5 minutes
This bread spread an awful lot on the final rise. I had pre-heated the oven and baked at 200 C.
Loaf 2
Second loaf exactly the same except I used 1 ½ cups water instead of 1¼. This was a much wetter dough. I probably used an extra quarter cup of flour when kneading just so it wouldn't stick to the bench!
I had watched the video of the guy doing the 'french fold' so was keen to try this out (it is linked to in this site but definately worth another link! - watch it here) and thought this would be a good dough to try it with. I tried it a bit with loaf 1 but it was a bit too 'bally' to flop over my hands so I ended up just kneading it the other way (lift up, push down, quarter turn).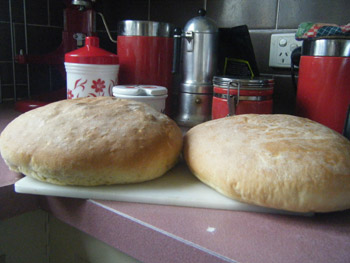 Loaf 1 is on the right and Loaf 2 (the wetter one) is on the left. I'm definately a convert to the french fold because as you can see the wetter loaf (which I tried the french fold on) actuall held is shape more with less spread and more oven spring.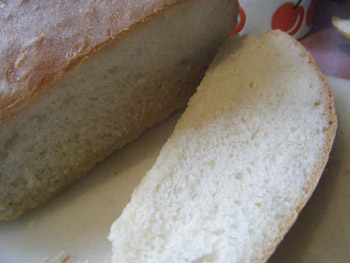 It also had larger more irregular holes than the loaf with 1 and 1/4 cup water. Great! Next time i'm going to try some different flour and after that I want to see how I go baking in a sandwhich tin.
I would still like the free form loaves to hold their shape a lot more though. Maybe I haven't got the hang of the french fold well enough. I should also try slashing the bread before I bake it.