I have a niece who is interested in baking and I was going to buy her the King Arthur videos on Artisan Bread and Blitz Puff Pastry.  When I went to their web site I was sad to see that the DVD on Artisan Breads was unavailable.  I don't know if they will make some more and sell them again or if that's the end of it.  I sure hope they continue selling them because it was a really helpful video for me when I was starting the make hearth breads with wet dough.
One of the things I had a hard time with at first was being comfortable with gobs of sticky dough all over my hands.  I'm not such a neatnik (or so I thought), but having goo covered hands just didn't seem right.  Hearing that it was okay to make a sticky mess was one thing, but actually seeing Michael Jubinsky knead the sticky mess by slapping it around on the table and getting everything gummed up really helped me at least partially overcome wetdoughphobia.  He uses a poolish and makes baguettes and boules.  He demonstrates folding, shaping, slashing, and steaming.  This is a really good beginnig video for anyone who wants to start baking artisan-style hearthbread.  I still watch it from time to time when I want to enjoy watching someone else bake for a change.
The other King Arthur video that I have stars Jeffrey Hamelman and he shows how to make blitz puff pastry.  If you haven't tried this, you really should.  It is surprisingly good and it's also amazingly quick and easy to make.  We've tried it out and used it to make tarts similar to those shown in the video.  I'm not such a pastry expert that I can critique the fine points of this dough versus long-process laminated puff pastry, but as Hamelman says, it makes it possible to get up in the morning and say, "I think I'd like to have a puff pastry based desert for lunch or dinner."  I watch this one repeatedly, too...it always makes me hungry.
Here are the tarts my wife and I made after our first viewing:
Plums, almond cream, and blitz puff pastry.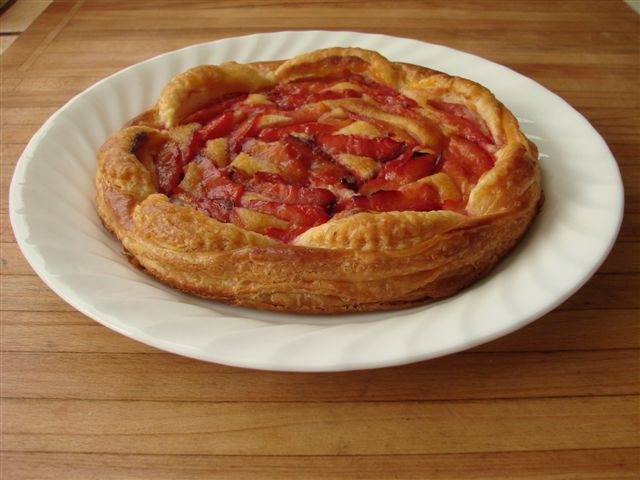 Apricots, almond cream, and blitz puff pastry.