100% Sourdough Pain de Tradition with 85% Hydration - Miche, Pointe-a-Calliere or Pain Poilane?
I've been threatening to collapse my San Francisco starter and call it a day because it performs much slower than my other starters.  At the last minute, David (dmsnyder) brought to my attention James MacGuire's other recipe, Miche, Pointe-a-Calliere in Hamelman's "Bread," as well as Pain Poilane in Daniel Leader's "Local Breads."  The full title of the latter is "Whole Wheat Sourdough Miche inspried by Pain Poilane, pain au levain complet," and according to Daniel Leader, it is "a symbol of artisanal excellence in France and around the world."  David also mentioned Peter Reinhart's Poilane-Style Miche in "The Bread Baker's Apprentice."  
As all three formulae employ a whole wheat starter (to be exact, the flours used for the starters and the final doughs are, respectively, high-extraction whole-wheat flour in Hamelman's book, stone-ground whole wheat flour in Leader's book, and a sifted medium-grind whole wheat flour in Reinhart's book), I thought I'd convert my San Francisco starter into an Australian wholemeal starter first before I decide on an avenue to pursue.  I have been warned that my Australian wholemeal flour is actually white whole wheat flour for North America.  All the better for my endeavour here as the standard whole wheat flour is hard red spring wheat which may not be the most desirable flour for hearth loaves.   
Formula Synopsis Comparison     
 

Miche, Pointe-a-Calliere

(Hamelman)

Pain Poilane

(Leader)

Poilane-Style Miche

(Reinhart)

Starter hydration 

60%

50% 

59.4%

Starter as % of final

dough flour

40%

25% (or 45%)*

62%

Final dough hydration

82%

71.5%

61.6%

Mixing

Mix flour & water, autolyse

20-60 min, then add salt &

starter

Mix flour & water, autolyse

20 min, then add salt &

starter

Mix everything in one go

Kneading

On 2nd speed for 2 - 2.5 min,

the dough is loose & gluten

only moderately developed

By hand for 12 - 14 min,

the dough should pass

windowpane test

By hand for 12 - 15 min,

the dough should pass

windowpane test

Bulk fermentation

with folding

2.5 hrs with 2 - 3 foldings

@ 40 - 50 min intervals

3 - 4 hrs with one brief

kneading (1 - 2 min)

after one hr

4 hrs or until nearly

doubles in size

(no folding)

Shaping

miche

miche

miche

Final proofing

2 - 2.5 hrs

2 - 3 hrs

2 - 3 hrs

Dough size for home

baker

1665 g

1010 g (or 1110 g) *

2060 g

Baking

440F for 15 min, then

420F for 45 min

470F for 40 - 50 min

Heat oven to 500F, once

dough is loaded, turn it

down to 450F, bake 25 min

then 425F for 30 - 40 min
* There is a discrepancy in figures in Leader's book (page 120); the instruction says leveain of 125 g (25%) is to be used however the table lists a figure of 225 g (45%); hence, the resulting difference in final dough sizes. 
Just by looking at the comparison above, I immediately know that I would like the Hamelman's (ie, James MacGuire's) formula the best.  However, I have a very basic problem here that I cannot reconcile with intellectually.  In Hamelman's book, it specifically says to make the final levain build 12 hours (@ 70F) before the dough mix, and also in Leader's book, it is 8 - 12 hours (@70 - 75F).   My problem is: if final levain build takes 12 hours, why, then, would the dough fermentation (bulk & final proofing all-up) only take half that time?  (Note: in both cases, dough fermenting temperature is recommended roughly the same as the starter temperature.)   There seems to be the pressumption that if your starter is very strong (after 8 - 12 hours' final building), it should be able to leaven dough many times its size with half the time (at roughly the same temperature).   From past experience, I already know what my sourdough would look like if I followed the instruction to the letter.
Anyway, I didn't want to go there.  I decided I wanted to do something bold - no harm, it's only an experiment:
85% dough hydration

: my thinking is if white flour can take 80% hydration, wholemeal can take 85%!

12 hours all-up for bulk fermentation and final proofing

: my rationale is my San Francisco starter performs very slowly and the Australian mild winter gives me 70 - 75F room temperature, the ideal temp for the fermenting dough.
My Formula
220 g Australian white wholemeal starter @ 75% hydration
414 g Australian white wholemeal flour
365 g water
10 g salt
 You cannot get ingredients more simple than the above list of 4 items!
Main points of my steps are:
4 & 1/2 hours of bulk fermentation (@ 70 - 75F ) during which 5 sets of 8 - 10 folds were performed, the last set of which also served as pre-shaping as in

my Pain de Tradition post

.
Then, shaped the dough into a boule and placed it in a basket line with floured towel.
7 & 1/2 hours of proofing  (@ 70 - 75F).  For the whole time, I checked it every 15 minutes or so to make sure it's not over-proofed. 
When I checked it the last time before I put it into the fridge for the night (for 7 hours) with a floured finger, the dough still sprang back with some "force."
This morning, I brought it out of the fridge, let it sit at room temp for 4 hours! before I baked it. 
And here is this little baby,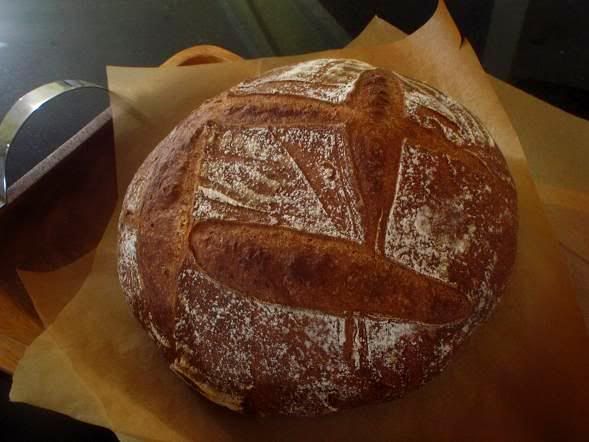 100% Sourdough Pain de Tradition with 85% Hydration (100% Australian wholemeal flour)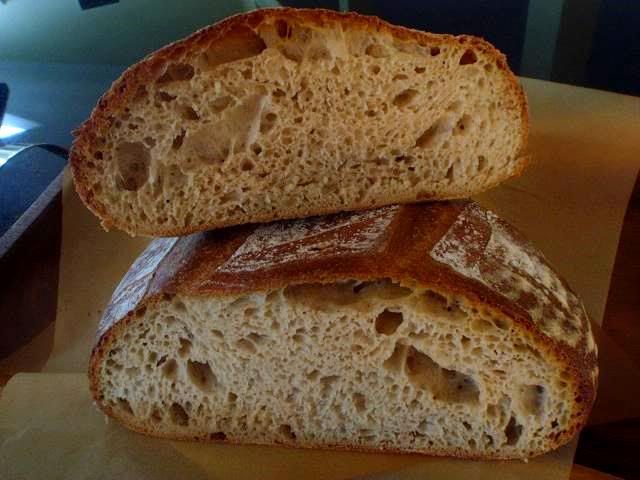 the crumb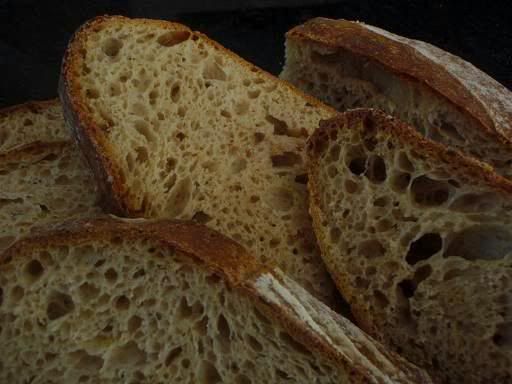 and more crumb
Throughout the whole time I was aware that over-fermenting/proofing would mean:
no oven spring
the dough may collapse
the crust may be baked to a ghostly pale color
the crumb may taste like glue
the taste may be overly sour
In this sourdough,
there was a good oven spring
the dough held up really well, with no "bread improver" of any sort
the crust color was perfect to my liking
the crumb tastes mildly chewy and springy
there is an assertive sourness, but not excessive.
In fact, the formula and the steps here yielded a complex crumb flavor, far more than the humble ingredients list would have you believed.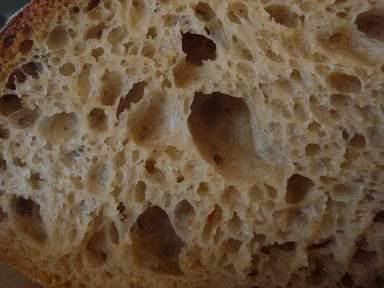 Morale (if there is such a thing):  What I learned in this bake is that I have to know my starter to do sourdough well.   As Dan Lepard said,
... a ... baker recognizes that the doughs he makes are living things with individual identities, that they ultimately create themselves.  The baker's skill is to encourage natural developments, and the bread that results from this understanding will always taste better....
If I simply follow recipes without understanding my starter, my dough, and my environment (I mean, the environment the starter and the dough is in), no recipe can guarantee any good sourdough. 
It's near bed time as I was signing off.  My son danced out of his bedroom and asked, "Come on, mum, where is the music?"
Shiao-Ping