Sourdough Black Tea Bread - using James MacGuire's Pain de Tradition procedure
       Sourdough Black Tea Bread - using James MacGuire's Pain de Tradition procedure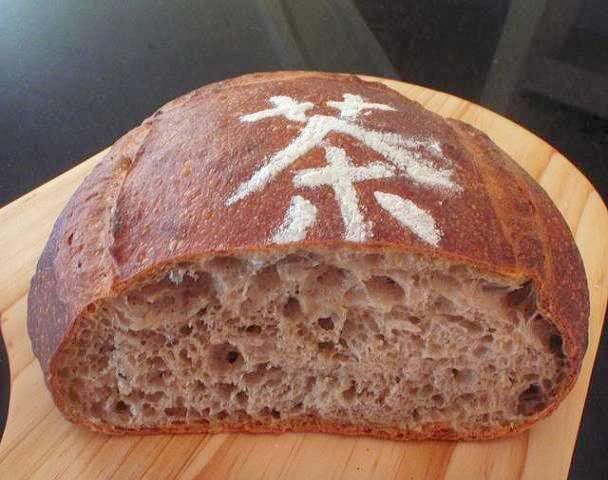 the crumb
I always remember that very dense Black Tea Sourdough that I made a month ago (it feels like ages ago).  Back then I received a lot of kind remarks and encouragements but really the sourdough was like a stone.  So, I had on my list to try my hands again at some stage.   With the new technique I learned from making James MacGuire's Pain de Tradition, I thought my time was ripe for a second go at it.  Back then, my dough hydration was a shy 64% with a dough size of 685 g.  This time I jacked up the hydration to 80% (total flour 500 g and total liquid 400 g) for a dough size of 910g.   Not only that, I gave the dough an overnight cold retardation in the fridge.
My formula 
210 g wholemeal starter @ 75% hydration
290 g white bread flour
90 g KAF Sir Lancelot high gluten flour
125 g cool black tea (I used 2 English Breakfast tea bags)
151 g water
18 g honey
16 g Tea Liqueur
10 g salt  
2 g instant dry yeast
With only mother and son at home (my husband and daughter are away on the International Young Physicist Tournament in China) I was afraid that I would have a lot left over; but no, my son couldn't have enough of it, and he made me slice up the whole loaf.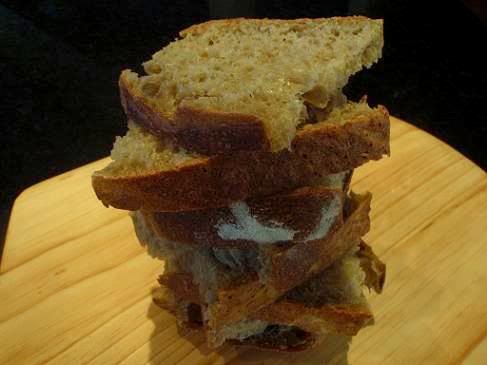 more crumb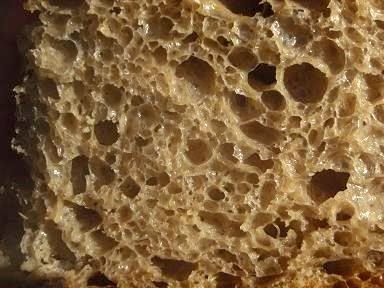 and the close-up
Tonight my muse is the music from my late teens/early 20s; my whole house is ringing with the music, I think my roof is protesting.  My son walks out of his bedroom, dancing to the music.  He has a smile on his face as, when the daddy is away, the mummy lets him free-range. 
Oh, let me get back to the bread.
The bread is lovely.  It's too easy - with MacGuire's procedure.  The crumb is favourful and the mouthfeel is mildly chewy - totally unlike the cottony/fairy floss like crumb of yeasted breads.  There is "substance" to the crumb.  The addition of sourdough starter and the retardation overnight really do the trick for me. 
One complaint - I might have over-dosed the bread with the instant dry yeast!  Even though I used the prescribed quantity (ie, 2 g), I think less instant yeast so that the dough doesn't rise up too much might be good. 
Isn't that funny - a month ago I couldn't have enough aeration and holes in my sourdough, now I am begging for less!
Shiao-Ping