1 and 1/2 Tries at Brioche
Before today I'd never tasted nor baked Brioche. Yesterday I began by making the dough,  and today I made two tries baking it.
First Try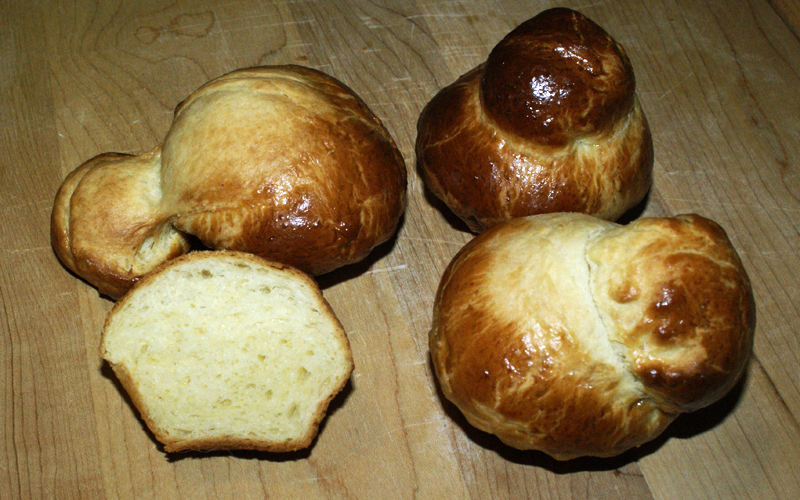 The crumb, and flavor, seem to be what I should expect, from this dough, so for a first time, ever, I'm pleased, especially after reading all the cautions--offered by the author, and elsewhere--about making high fat percentage doughs; but as you can see I have a long way to go learning to construct these rascals correctly. I've nicknamed the one in the upper left corner Nearly Headless Nick (Harry Potter fans will recognize the name.)
The formula is from "Baking Artisan Bread" by Ciril Hitz, and I followed it and the author's instructions to the letter, except constructing the individual rolls.  The ones shown were constructed using the little-ball-on-top-of-the-bigger ball approach. Additionally, the intructions called for 90g of dough for each mold, and I thought my molds were the same size as those shown in the author's pictures. They weren't.  One head slipped off entirely. The oven spring in this dough made them look more like popovers than brioche in my forms.
So I tried again. using some of the reserved dough--thus the 1 and 1/2 tries--with three changes. First I reduced the quantity for each mold to 65g, secondly, I'd baked the first four at 345°F on the oven's convection mode, as recommended by the author; the 1 and 1/2 try I used the recommended 265°F thermal mode setting, and lastly, I used the author's novel shaping. Here's an attempt to explain it in words. Starting with the dough pre-shaped into a ball, by pressing and rolling with one finger two balls--one large, one small--connected by a thin neck of dough is created. Then, the neck is stretched to three fingers width, the larger ball is turned into a doughnut shape, and the smaller ball--neck intact--is passed through the doughnut hole, and the doughnut shape is gently coaxed to collapse around the now curved neck. (I  hope readers can visualize this. I couldn't have done it with out the author's pictures.)
Try 1 and 1/2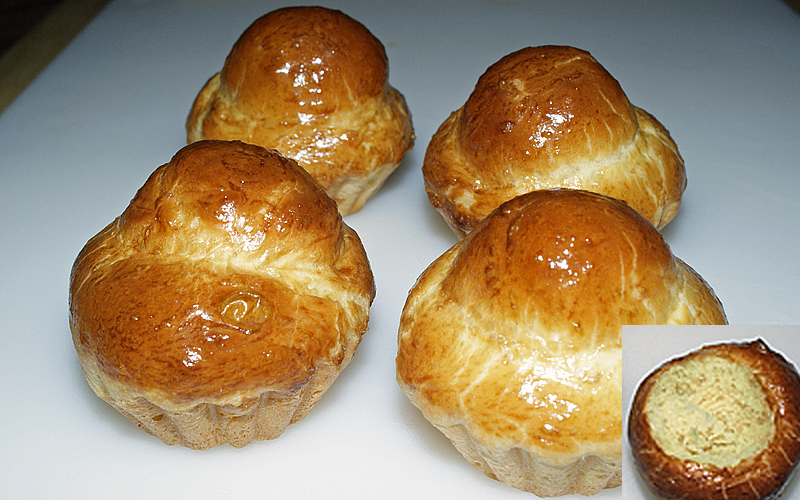 Photo says it for me. Far from perfect, but OK.
David G