Sourdough is going great right now.  Things have changed a lot.  I had been doing Xtreme low maintenance with my seed culture but ultimately I was disappointed.  Sure it bakes bread and sure it's very low maintenance, but I've been getting more and more suspicious that the oven spring has not be spectacular due to my culture maintenance technique. 
What I was doing:  Mix 200 grams or so of 60% hydration starter, let it sit at room temperature until there is definite movement within the container; the starter starts to grow, visibly.  Then chuck it into the 'fridge.  When I was going to bake I would take 10 grams of that starter, mix it with 20 grams of water and 20 grams of flour and let it double, then mix that with 100 grams of water and 100 grams of flour and let that double and I would have 250 grams of ripe starter to work with in my recipe.  The seed culture would stay, unrefreshed in the 'fridge for 6 - 10 weeks before I got to the bottom and refreshed the initial 200g.
Now: 5g starter, 20g water, 30g flour and leave it at room temperature.  Once it's peaked (3xs, 4xs...) then extract 5g and do it again. It FINALLY penetrated my conciousness that the flour ratio can be manipulated to help control the rate of fermentation.  I had been using temperature (in and out of the 'fridge) and water ratio (drier doesn't ferment as quickly as wetter).  But I can also manipulate the ratio of flour - I had been slavishly following a rule I read: double the weight of the starter as flour, i.e. the paragraph above this one.  But people do all sorts of wild ratios.  I decided on 1:4:6 and I'm happy with that now.  That's 66% hydration.  I may adjust the flour ratio even higher in the future.  I want to get comfortable with this technique for now.
The leftover from the refreshment procedure I dump on the counter and work in a bit of flour so the yeast has food, and the whole lump is then pretty dry, like 50% or so and put it in the 'fridge.  The next refreshment do the same thing.  When I baked today I had 8 or 10 refreshments worth of 50% leftovers that I treated as pate fermentee and mixed into the dough.  Seemed to work great.  The starter also seemed to create a much more active dough.  I haven't cut into them yet, so I don't know about the crumb.  I made boules today, but there's 900g of dough in the 'fridge to make 3 baguettes tomorrow.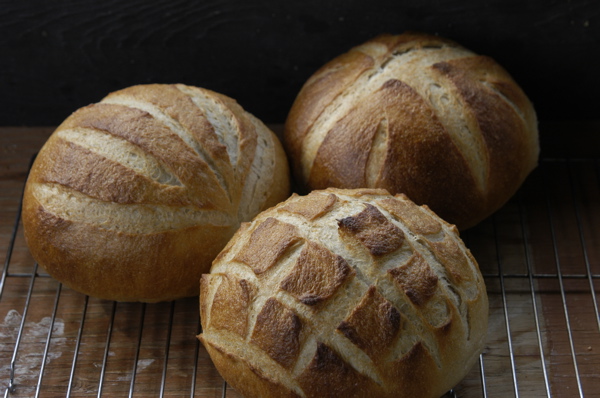 The weather has been hot.  My baguette skins were drying out and being hard to slash nicely.  Also proofing has changed.  This new dough, plus the hot weather, has them proofing much quicker even without heating the proofing box.  I've been slashing the proofing time in half, from 90 minutes to 45 minutes.  Still playing with that.  Putting a dampened cloth over the dough while preshaping and while proofing seems to be a good thing.  Maybe I'll keep that up even when it's not so hot.  The dough skin was perfect for slashing.  I did pay attention to getting some good tension during shaping as well.  I'm really curious as to how the baguettes will come out tomorrow.