Pan De Sal - "Bread of Salt" Philippine Breakfast Rolls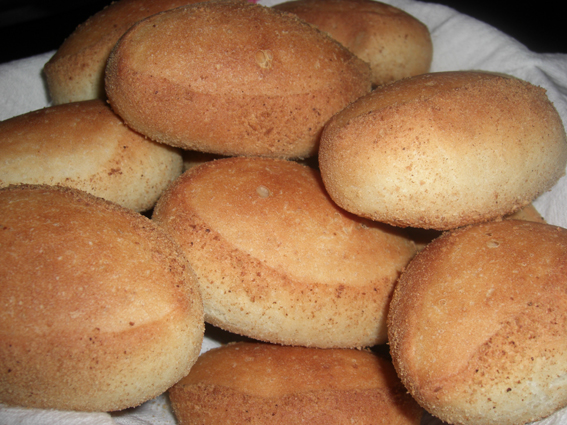 Having migrated to Singapore five years ago (that long already?), I miss comfort food I grew up with back in Manila. The food which evokes the most memories is this Filipino breakfast bread. It's named Pandesal, or Bread of Salt. The name itself is a misnomer as over the decades it has become sweet than salty to suite the Filipino palate. They say that this breakfast roll is a barometer of the economy as it is common breakfast fare among the lower-income masses. You would know that the economy is bad if the roll gets smaller and sweeter (as the there would be no need to purchase filling and it will be a meal by itself). This breakfast roll is normally taken plain and dunked in coffee. It also serves as a sandwich carrier for everything from butter, cheese, sardines, corned beef, etc. It has also evolved into some gourmet variations baked with traditional Philippine meat fillings.
I had been craving for this the past few days and had been planning to bake it. Unfortunately, I never really found a good recipe until a few days ago. I read through a dinner roll recipe on a flour pack and thought I could modify it. And let me share this with you.
Pandesal
Makes 16 rolls
500g strong bread flour
50g barm starter
7g sachet Rapidrise Yeast
1 1/2 teaspoon sea salt
1 1/2 tablespoons sugar
175 ml tepid milk
150 ml tepid water 
50g bread crumbs
Mix together the flour, yeast, salt,sugar and the starter until it just gets mixed well, Then add the milk and water. It is best to hold back on a little water and just add as needed. Knead in a mixer using a dough hook for 8 minutes until the dough is smooth and leastic.
Shape into a ball and let rest on a lightly floured counter for about 10 minutes.
Shape into a rope (like a baguette in diameter). Roll the dough on a bed of bread crumbs. This addition of bread crumb coating is a signature finish of the roll. Once the rope is evenly but lightly(!) coated in crumbs, use a plastic bench scraper to cut the into 16 equal pieces.
Place on lightly-greased baking sheet with the cut-side up. If you examine the picture closely, you will see an oval rim on the top of the roll due to the cut. the top part will have little or no bread crumbs on it.
Cover the rolls with a damp tea towel for 15 minutes or until doubled in size.
Bake in a pre-heated oven at 220C for 12-15 minutes, spraying oven with water to create steam for the first 3 minutes. Bake until golden brown. Cool for 15 minutes and enjoy with butter, scrambled eggs or just with strong plain black coffee.
Brings back many memories...