Mottled Golden Semolina Sourdough
There is a bakery in my neighbourhood called Baker's Delight which is a chain all around Brisbane.  They have a bread with a surface that looks like mottled skin of a tiger and it's called Tiger's Bread!  It looks most unusual and every time I walked past that bakery I wondered how it got that spotted skin on top.   
A week ago I received my "Special and Decorative Breads" by Alain Couet and Eric Kayser, which apparently is a text book for bread chefs in France.  I was going over the pages.  I don't read their recipes, I just love looking at the photos.  And, wouldn't you know? - there it is, Mottled Bread, on page 34, which is also called Pain Marin Tigre!   This bread originates from Holland and Northern Germany.  The mottled surface is due to an easy technique where a semi-liquid dough is brushed on the top of the loaves right after the dough is shaped for proofing.  This semi-liquid dough is similar in consistency to a sponge starter.  It's almost like the bread has two layers going into bake.  I see this technique quite frequently in Japan.   
Now, the yellow semolina flour that I ordered from King Arthur Flour arrived yesterday after two weeks been with the Australian Customs.  They are really tough (I mean, the Australian Customs).  A three pound bag cost 3 dollars but the DHL across the Pacific Ocean was many times that, which I could accept, but the Australian Customs... they stressed me out.     
Anyway, I was rejoicing the arrival of this golden semolina flour and wondering what I should make it into.  Whatever it was, I thought I'd better get my starter ready.  So, before bed last night, I refreshed my SP's starter.    This morning I was thinking, how about Golden Semolina Sourdough with Garlic Corn?  Plain semolina sourdough doesn't interest me enough.  I thought the color and the sweetness of corn go well with yellow semolina, and the texture would provide an extra dimension to the soft sourdough crumb.  As for the garlic, well, caramelised in olive oil, it is a combination that Chinese love.   All this musing turned out to be academic as I couldn't get to the shop early enough!  I needed to start the first fermentation by 8 am because I had a walking planned.  
As I was driving home from my walk, it came to me - why not Mottled Golden Semolina Sourdough?  Now, I felt excited.   
My 100% sourdough had not risen very much when I got home at around 10:30 because today was a very cool day, 19C (66F).  I gave it a stretch & fold and moved it to a sunny spot in my balcony.  The dough felt very soft; I knew there and then that I would need to give it a couple more stretch & folds to strengthen it.  At 1 pm, it doubled (after 5 hours of bulk fermentation).  I checked its temperature with my digital IR thermometer - 23C.  I moved it back indoors because it's ready to be shaped.  I prepared the semi-liquid solution for brushing.   I divided my dough into 4 pieces, and shaped them into rods; brushed the semi-liquid dough on top of all of the rods and placed them on baking paper resting on my counter top.  At 2 pm, I turned on my oven to 230C (450F).   After 2 hours of final proofing, at 3 pm, all 4 rods went into the oven.    Here are the pictures of these mottled 100% sourdough breads:
Mottled Golden Semolina Sourdough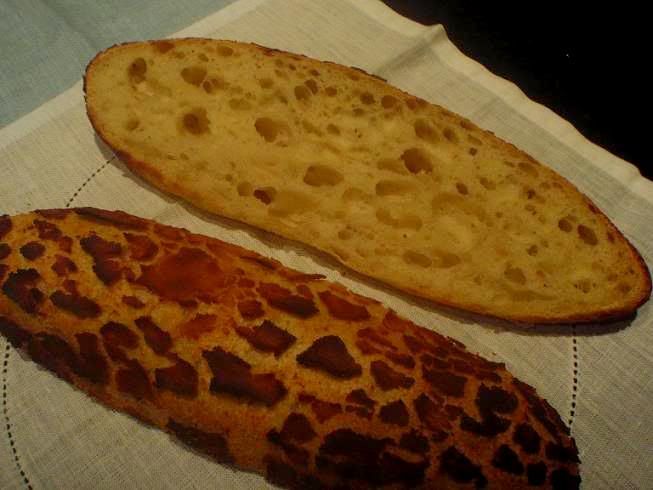 The crumb  
I am pleased.  The crumb is very open.  The flavor is exquisite.  And the mottled crust?  It is paper thin and soooo crispy.  I never knew I could feel satisfied so easily.  While I was preparing dinner, the moon has risen... from the east....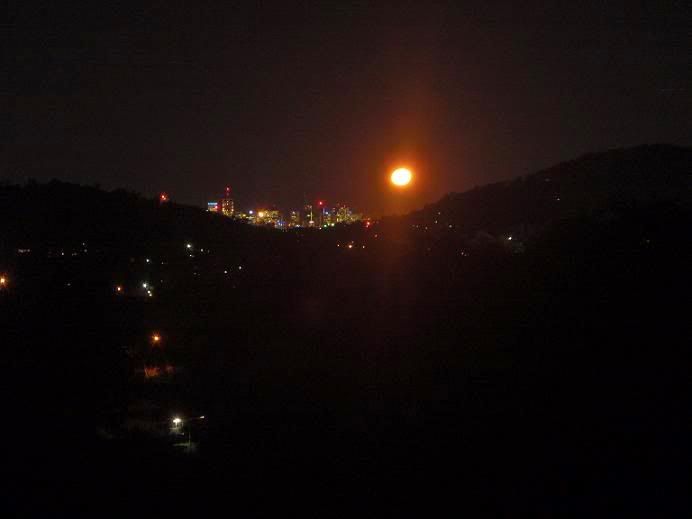 Moon light in my balcony    
Shiao-Ping