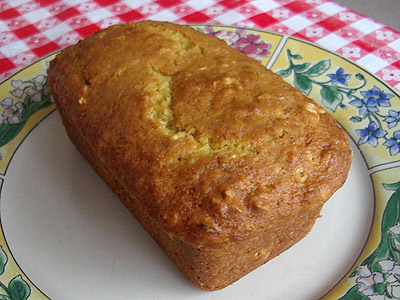 I tried this recipe from Bernard Clayton's New Complete Book of Breads today. We liked it a great deal.
Orange Oatmeal Bread
1 orange
2 tablespoons plus 3/4 cup sugar
1 1/2 cup all-purpose flour
1 tablespoon baking powder
1/2 teaspoon salt
1/4 teaspoon baking soda
1 cup rolled oats
2 eggs
2 tablespoons softened or melted butter
2/3 cup warm water (105-115 degrees)
Preheat the oven to 350 degrees.
Grate the orange rind into a bowl. Cut out as much of the meat of the orange as you can and add it to the bowl. Also squeeze as much juice out of the orange as you can and add it into the bowl. Sprinkle the orange with the 2 tablespoons of sugar and set aside.
In a large bowl combine flour, 3/4 cup sugar, baking powder, salt, and baking soda. Stir in the oats.
In a seperate bowl, combine eggs, butter, warm water, and orange mixture. Blend the liquid ingredients into the dry ingredients.
Pour the batter into one large or two small greased loaf pans. Bake at 350 for approximately 35 minutes for small loaves or 50 minutes for large loaves, until a toothpick inserted into the center of the loaf comes out clean.
Remove the loaves from the oven and allow to cool for 10 minutes before attempting to remove from the loaf pans.
Excellent with a pot of tea.