In past writing I've mentioned that I've been looking for a bread bowl. I own an antique kneading bowl that didn't clean up well and was too cracked to use so I have been on the prowl. Well, in the woods here in TN we have a variety of trees and my hubbie and I found a very big burl on a white oak tree on our property. We had the tree taken down (too big for us), got the burl off, and have set about making a bowl. It's an undertaking I tell you. We think the original whole burl and associated bark, etc. was over 120 pounds and about 3x2x2 feet big. My hubbie is doing all this work, he has experience with wood as he has been an amateur carpenter of sorts for the last 30 years. Here is the burl with most of the original excess wood removed, mostly by chainsaw.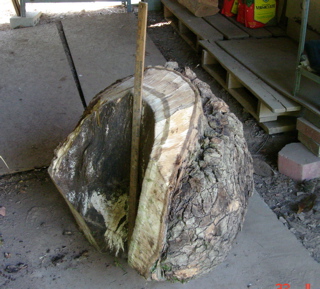 white oak burl  
Then he removed the bark and more excess wood. It went down to 70 pounds, weighed on the bathroom scale! Still quite cumbersome.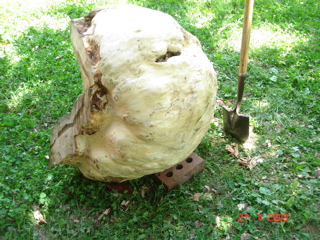 burl without bark  
No bark-no bite to this burl! The wood is very hard and there are nice swirls inside the hollowed area. He's had to chisel and chainsaw, practically had bend over backwards to move it around. Then he started sanding and carving and measuring and balancing and deciding where the wood was good and what the best shape would be. Leftovers - there has been more than three wheelbarrows full of sawdust and wood chips.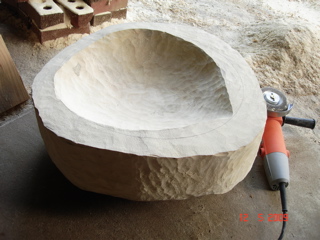 starting to decide the shape of the burl bowl 
The weight has decreased to 40 pounds now, roughly about 20 inches in diameter, 8 inches deep and 1 1/2 inch walls -- (which eventually will be carved down to 1/2 inch thick.) More than that and it would be too heavy to lift and carry effectively for making bread! 
So, now it needs to dry out. And that might take a year or so. Hubbie has sanded out irregularities, made it sort of smooth, already noticed a few teeny cracks thus he put on a sealer made for wood so that it can dry out slower and more evenly all around. And since we live in a humid area it'll help to prevent any mold spores from seeping in too. Humidity can really creep into everything. 
Well, I'll let you all know how it turns out . . . in a year or so? We'll weigh it every now and then and when it starts to be stable we'll start carving some more. Or Hubbie will. I'm the recipient, the bread maker.  
 Anet