I thought I would try D.T. DiMuzio's recipe from his book 'bread baking' for Sicilian Semolina Bread.  Everything went according to plan and the dough tested close to the goal Temperature of 77F.  Things could not have looked better...then I realized...Oh My Gosh!...I forgot to put in the Olive Oil...I knew I should have had it measured and ready to go....because if I don't have ingredients right in front of me...this happens!  I didn't even have the bottle of oil out on the counter...so much for earlier thoughts about the oil!  Oh it would probably be great even without the oil...but no...I wanted my oil.  No matter what!!  In it went.. all of it...slooooshing all around the dough...not mixing in very well ...what now!  I picked up about a Tablespoon of flour tossed it in around the dough and things seemed to come to together pretty good.  I don't think I will ever forget my oil again...lesson learned!  Things looked pretty good...other than I had a very puffy wet dough to try and form into an S...so I did the best I could and made 2 scrolls..one with a backward S and one batard.  We had several slices with dinner and we thought the flavor was great.  So good in fact I thought I would take the one S out of the frig that I was going to retard for tomorrow.  I thought I would let it proof a little longer and see if that would help the S not to get so blown away as in the first loaf.  The first two were done on a pan with added steam>my new Lava Rocks!...I would do this last loaf in my Bell Cloche and see if there was any difference.  Well, not really anything that noticable..they looked pretty much the same both even had the S pretty much blown away...I think my dough was a little on the wet side...then maybe again it was the oil being added later on made the dough slack...Any comment on this will be greatly appreciated.  This was a first forgetting to add the oil and Im sure it must affect the gluten formation some how..so any comments and advice are very much appreciated.
2 S Scrolls - One S and Batard baked with steamed oven - One S  in a La Cloche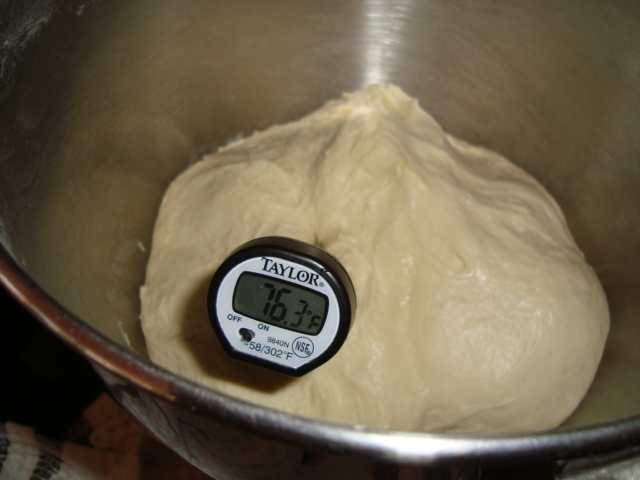 Goal Temperature is 77F    This is when I realized I had forgotten the Oil! :>/
Olive Oil has been added and Temperature holding at 77.7   Im thinking I need these lucky numbers!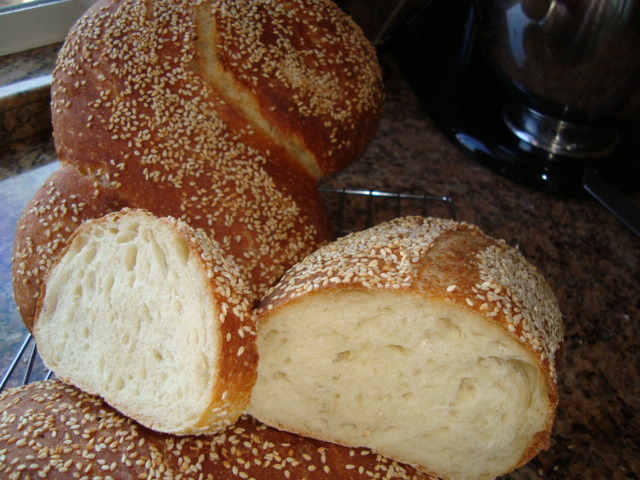 Batard was nearly all eaten! It had a very nice buttery flavor from the duram flour...we are not crazy on the seeds..but I wanted to stick with tradition and they did add a nice toasty flavor. Things had turned out better than I thought  adding the oil so late didn't seem to do to much harm.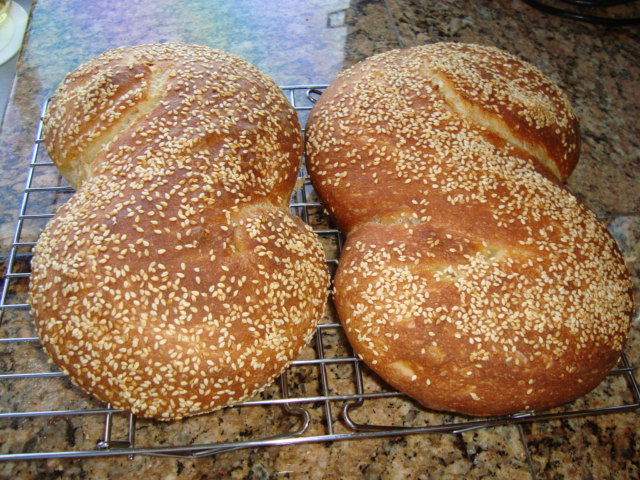 S on the Left was Oven Steamed                                               S on Right was baked in the Bell Cloche and retarded for about 2 hrs. in the frig.
                                                                                             longer before baking.
Crumb on Batard
Sylvia