Suas' Buckwheat Walnut Pear Bread
I've been on a buckwheat kick lately and wanted to try Michel Suas' Buckwheat Pear Bread. Suas' book, Advanced Bread and Pastry, poses some problems for me in that its recipes all assume the baker knows what he or she is doing. While I generally know what I'm doing, I don't always remember to do what I know.
I made the levain yesterday, soaked the pears in riesling wine for an hour this morning, and then completed dough. The recipe didn't specify whether to dice the dried pears, but fortunately I was able to find some information about it on the SFBI site and figured out they were suppose to be diced. Still, I didn't know whether the weight of the pears was before or after soaking. I used the before soaking weight, and that was probably a mistake. The final dough was pretty sticky, and although not unmanageable, I think I would have been better off if the dough had been a bit firmer. Another thing that the formula doesn't tell you is how to assemble the final dough. After I had dumped everything in the mixer bowl, I thought, "I should have mixed the water with the levain before putting in the rest of the ingredients." That was a good thought but unfortunately I thought it a little too late. Anyway, I mixed everything up as best I could, but had trouble getting the pears and walnuts incorporated during the final minute of mixing and had to work them in by hand; the final dough was pretty sticky. The dough took about 2 hours to double. I shaped it into 3 rounds and let them rest 30 minutes, then formed them into loaves for my mini pans. I wasn't interested in making my loaves into the recommended pear shape--I'm way too utilitarian for that. I let my loaves proof for 1 hour and then baked them with steam at 400º for 35 minutes.
The crumb is a slightly spongy and a little wetter than I think it is suppose to be. Perhaps I under- or over-mixed the dough. You can see darker and lighter parts in the crumb; I think that is probably owing to my failure to incorporate the levain and water at the beginning. The pear taste is very prominent but not overwhelming; the buckwheat taste is very subtle. If nothing else, these little loaves will make great toast.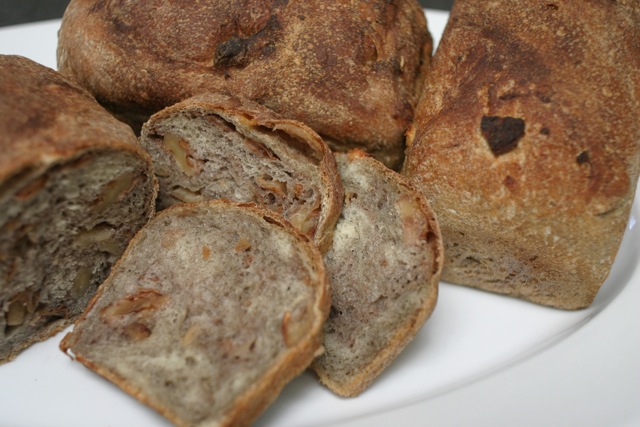 Levain:
39 g buckwheat flour
138 g bread flour
174 g water
1/8 t yeast
1/8 t salt
Final Dough:
280 g bread flour
135 g water
11 g salt
3 1/2 g yeast
39 g toasted walnuts
92 g dried, diced pears reconstituted for 1 hour in white wine
My interpretation of how to put this bread together:
Make the levain 12 hours beforehand. Mix the levain with the water for the final dough, add in the remaining ingredients except the nuts and pears, and knead on speed 2 until you achieve improved mix (window pane forms but breaks when stretched). Add the pears and walnuts on speed 1 after the dough has been developed.
Let ferment at room temperature until double, about 2 hours. Preshape into 3 pieces and let rest for 30 minutes. Form into mini-loaves and let proof for about 1 hour. Bake in a 400º oven with steam for about 35 minutes.
--Pamela