Full post here.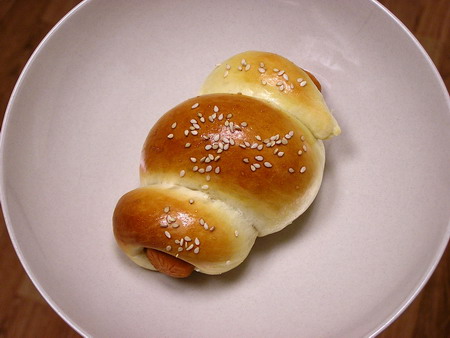 Ever seen something like this in a Hong Kong style bakery?
The breads I loved as a child were not peanut butter and jam Wonder Bread sandwiches, but the assortment of breads made from Hong Kong style bakeries: cocktail buns (雞尾飽) , raisin twists (提子條), plain sweet bread (排飽) and pineapple buns (菠蘿飽), just to name a few. Baking yeast bread was a complete mystery to me until recently, but it always seems so magical - and comforting - to walk into a bakery and inhale the wonderful aromas of freshly baked, still-warm bread. Hong Kong style buns are often variations on the theme of a basic plain [semi-] sweet dough that is twisted, stretched, stuffed or topped with a number of different fillings.
Sausage Buns - 腸仔飽, or pigs in a blanket (?)
Dough recipe from Food For Tots - Sausage Rolls
Ingredients
-300 g bread flour (I used unbleached all-purpose flour and had to add a bit more to get the right feel to the dough)
- 5 g instant dried yeast
- 10 g white granulated sugar
- 6 g salt
- 1 egg, lightly beaten, plus enough lukewarm milk to weigh 220 - 230 g
- 30 g unsalted butter, softened
- 8 pieces of sausages (think hot dogs)
- egg wash: 1 egg, lightly beaten
- sesame seeds, for topping
Directions
1. Mix the flour, yeast, sugar and salt together in a large mixing bowl. Gradually add in the egg and milk, and combine, stirring until it comes together in a rough dough.
2. Knead with lightly floured hands for 3-5 minutes until you start to feel the dough coming together.
3. Add the softened butter and continue to knead until it is thoroughly incorporated into the dough.
4.Place the dough back into the mixing bowl, cover with a damp cloth, and let rise at room temperature for around 1.5 hours, or until roughly doubled in size.
5. Gently deflate the dough and divide into 8 pieces, one for each of your sausages. You'll want to roll these out into little logs, and then let them rest for 5 minutes or so to relax the gluten.
6. Roll out each log again and gently stretch them into thinner, longer logs. They'll need to be long enough to wrap around your sausage.
7. If you want the middle bulge of your bun to be bigger, you could also at this point taper the ends of your dough log by rolling the very ends a bit thinner until they form a point at each end. Wrap the log around the sausage and try to leave both ends on the bottom. That way, you can easily form a better seal by pressing the dough-wrapped sausage down on the ends. You'll want to place the shaped buns on a greased baking sheet, parchment paper or a silicone baking mat.
8. Cover the buns with a damp cloth and let them rise until roughly doubled again. When they start to look puffy, brush them lightly with the egg wash and sprinkle sesame seeds on top.
9. Bake on the middle rack of a preheated 200C (~400F) oven for 8 minutes, and then 180C (~350F) for 5 minutes or until they're golden brown.