Bread Machines: You've come a long way, Baby!

My oldest son bought a bread machine in 1988. A, Rube Goldbergesque device that, after a fashion, produced an oddly shaped loaf of bread reminiscent of a miner's lunch pail: tall where it should be short, square where it should be round, and round where it should be square.  Its white bread cycle produced a soft-crusted loaf, with a crumb akin to Wonder Bread. I don't recall if it had any other cycle choices. I promptly lost interest in bread machines, and for the next decade remained a smug, hands-on baker.

Until I went rideabout in a 5th-wheel trailer—for six months.

When I was younger I backpacked; I lived out of a sack for a week or more three or four times a year. A 30-foot 5th-wheel trailer has more room than a hiking sack, but not much. But they come equipped with stoves, with sinks, with refrigerators; and the stoves have ovens. Backpacking, one expects to eat freeze-dried grub, reconstituted with water faintly tasting of iodine, and gnaw on biscuits resembling hockey pucks in shape, size, and texture. That's the price—along with the occasional blister—for the freedom of the trail. An oven's presence raises one's expectations. "I can bake bread!" you think. Ha! Fat chance!

My trailer's oven has a knob divided seductively into ten-degree divisions beginning  200°F and ending at 450°F.  "It's just like home," I thought, comforted. I soon learned differently. At 350°F my oven could melt lead, but the crucible had to be placed in the innermost left hand corner. Placed in the right hand corner, next to the oven door, for an hour-and-a-half a Pop Tart barely warmed. My first (and only) attempt to bake bread resulted a misshapen lump, charcoal at its north end, and drooping to  the south. I went to a local trail outfitter's store and bought a supply of hockey pucks.

In a few months I learned from other RV owners I was not alone. I met veteran trailer-hounds, full-timers, and disillusioned newbie's, like me, who used their ovens for storage room, a place to keep the picnic-table grill, baseball gloves, or the cat's litter box.

And then I thought of bread machines.

Reluctantly, with skepticism rampant in every thought, I bought one, but not until I'd researched carefully. A decade after my son bought his bread machine, many bread machines still clung to the miner's lunch pail loaf shape. Only a very few had by then acknowledged that the common loaf shape was here to stay, and adapted their designs appropriately. Ironically, this trend seemed to be led by the Japanese. I'm not sure they sell bread in loaf form. In my brief travels to the Far East I've only encountered bread rolls, and I've never seen a loaf in a samurai movie. 

Nonetheless, there was still something lacking: control--control over time and temperature. I solved the first, control over time; I never did solve the second—in the trailer. Once home for the summer, I had my trusted oven.

Control over time: I like to think I invented the dough cycle, now commonplace in bread machines, and the yet-to-be-realized "retard cycle". It was very simple: take the dough out of the machine, and turn the darn thing off. It's done its job; give it a rest. Proof the dough in a bowl; retard it in the refrigerator.

I bet you're wondering how I got the machine to bake the proofed and/or retarded dough. That was simple too. Good thing, I'm not a rocket scientist. When I was nearly ready to bake I ran the machine empty through its early cycle steps, i.e., "Preheat", "Knead", "Rise", and "Knead". Silly? Yeah, but it worked. Besides, the cat box was in the oven I'd given up on. Listening to the machine's unimpeded motor whirl while "Knead"ing was soothing, not as good as hand kneading, but still soothing.

I'd shape the loaf, tuck it back into the bread pan—I'd take out the paddles; that made removing the baked loaf easier, and left only two little round holes in the loaf's bottom—just before "Bake" started. For the final three months I wintered in the San Antonio—my real mixer and oven were in Connecticut—I ate good bread, not great, but I knew all its ingredients to the gram, and having time control I would nurse all the flavor and texture I could out of each loaf's flours.

Today we still own a bread machine, and it get's used every week, sometimes twice in the same week. We mostly use the dough cycle. My wife, Yvonne, makes our everyday bread, mostly white or whole wheat, and she too knows the flavor secrets revealed controlling time. She bakes three loaves each time, the machine does the kneading and the first proof. The rest is in her hands. One loaf goes to the breadbox, one to the freezer, and one to our recently widowed neighbor—home made bread is healing, even bread-machine bread. She also makes sweet breads we take to potluck dinners, or give to friends. For those she fills the machine with ingredients, and forgets it until the machine beeps.

I'm the artisan baker. Oops, that sounds arrogant. Let me rephrase. I'm the free spirit baker. That's better. Most of my breads—sourdoughs, ciabattas, baguettes, etc.—are hand (and Kitchenaid) wrought, but sometimes I use the machine.

This morning, over coffee, Yvonne said, " Make some focaccia, with sun-dried tomatoes." I did.
The basic recipe comes from, "Bread Machine: how to prepare and bake the perfect loaf" by Jeannie Shapter. (Y bought it at a Barnes & Noble book sale, for five bucks.) My take is a variation: sundried tomatoes, capers, and rosemary in both the dough and the topping, in lieu of sage and red onion topping only; all else is the same. I put the bread machine on dough cycle. When its finished the dough gets a few minutes of light hand kneading, twenty minutes rest, and directly to the pan, stretched to the corners. After a final proof, nearly doubling, it goes into a 400°F oven. I don't use bread flour for this recipe, preferring all-purpose flour. The finished crust and crumb are soft: a great sandwich bread. Tonight's diner is home-cured-and-smoked ham, with Swiss cheese, panini. I'll mix up some Dijon mustard and honey, but Yvonne won't use it. The focaccia's flavor is enough for her.
Most of my breads take 12, 18, even 24 or more hours, but…Let me put it another way. I love fly-fishing, but I still use worms on occasion, and catch big fish.

Here are some pictures of this morning's focaccia.

Tuesday (or Wednesday), Grandma's Welsh cakes recipe.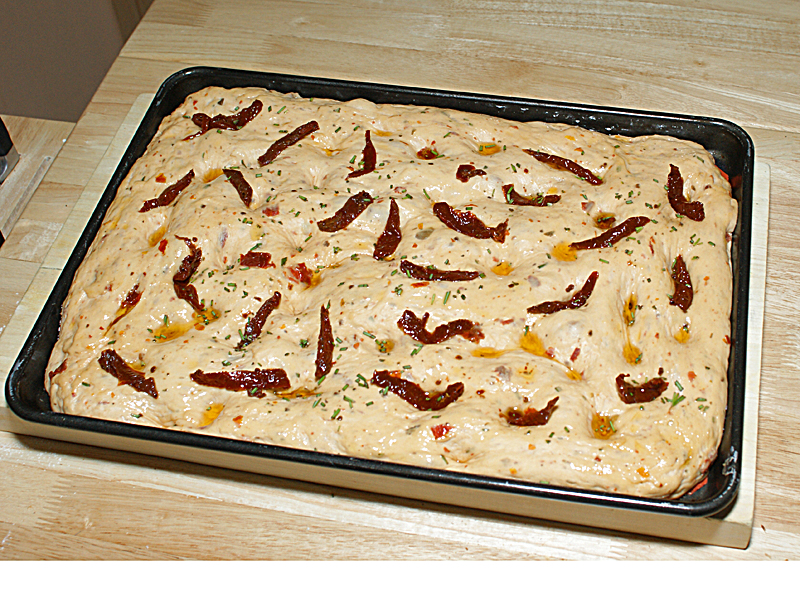 Ready for the oven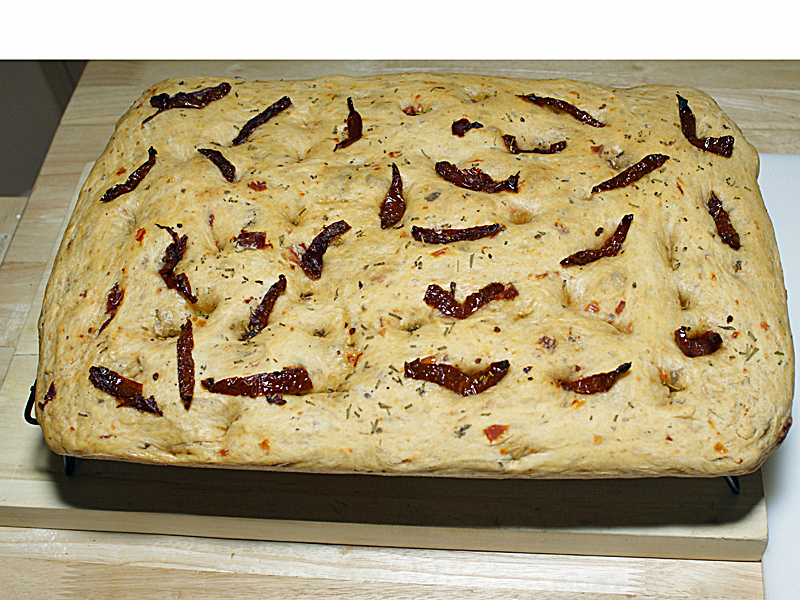 Cooling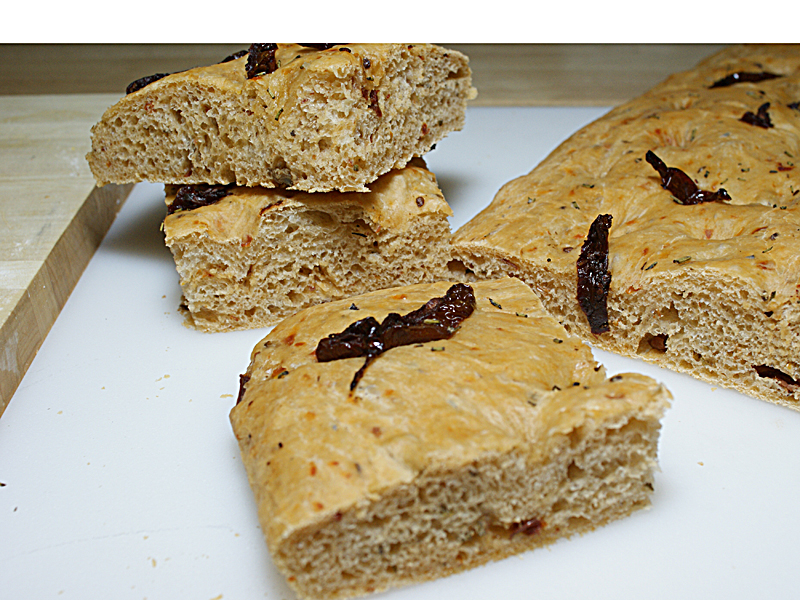 Ready to eat