now it's perfect this time very soft to eat and buttery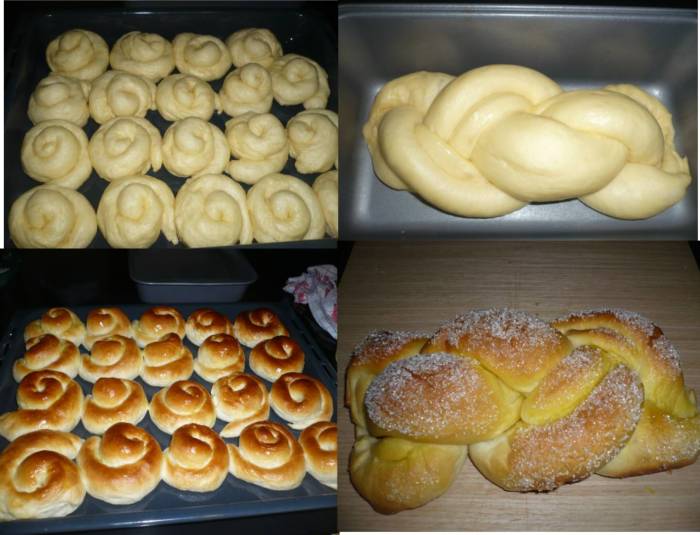 Ingredients (3-lb dough):
1 3/4 cup milk (evaporated)
1 egg
4 egg yolks
1/2 cup (1 stick) butter
2 tsp salt
6 cups allpourpose flour
3/4 cup sugar
4 tsp instant dry yeast

Topping: softened butter(margarine), granulated sugar
Add dry ingredients in a bowls the 6 cups flour,instant dry yeast,salt mix together.. in the pan mix evaporated milk together the 1 3/4 cups sugar and the butter and heat the pan to boil. then cool to warm about 90-100 F. then poured into the flour and mix slowly , then knead about 5 minutes. let it rise for 1 hour. Once done, punch the dough, knead again then lay on the table and roll with a rolling pin to make it flat.  To keep the surface of dough from drying up, cover with clothes while you work on the ropes.)
Using dough cutter, make long ropes (about a foot long) about 1/2 of an inch thick, and coil. at the end of the coil press it tight so that it will not break the coil. some of mine i bake got loose note this...
Apply melted butter(brush) on coils and let rise for 1hour 1/2 inch apart on the tray
You may apply egg glaze prior to baking (if you want it darker brown upon baking). Bake at 350 for 12-15 minutes when finish...
You may apply melted butter as soon as they get out of the oven. Helps keep them soft by preventing too much moisture loss. Then apply softened butter and roll in sugar when ready to consume. or you may mix cinnamon together with the butter then dip in the sugar...
if you want to see more recipe visit the site: link :  kusinanimanang.blogspot.com/search/label/ensaymada
vincent