Potato Peasant Loaf (Lory's Recipe)
I don't know if it's my love for bread baking or my new camera that keeps me in the kitchen, but here's another attempt I just completed tonight.  The recipe is from Lory of Maine whose web site is:  http://kusinanimanang.blogspot.com/2008/01/potato-peasant-bread.html.  She says people can copy her recipes but she'd appreciate it if they would include a link to her web site.  So my thanks to Lory for sharing.  She's got over a hundred recipes there - goes to show what a dedicated wife and mother and foodie she is.
Since the recipe was for 2 loaves, I decided to make a loaf with one half of the dough and dinner rolls for the second half.  For the loaf, I added shredded cheese and green onions, then I rolled the loaf jelly-style and put it in a pan.  For the dinner rolls, I divided the dough into tiny balls and put three balls in each muffin cup. 
These were what came out of the oven: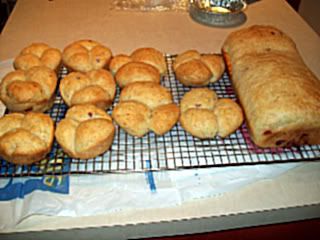 When the loaf cooled, I sliced it.  Here's what it looked like: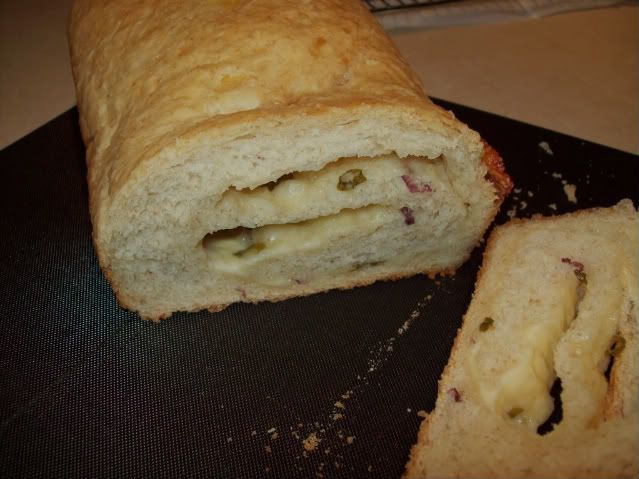 And here's the final picture - a closer look at the slices:
Here's my question:
Can anyone tell me why that slice has a hole at the top, right below the crust?
Overall, I am happy with the recipe.  I probably shouldn't have spread the shredded cheese and green onions before rolling; maybe it would have been better if I incorporated the cheese and green onions into the mixture during the pre-kneading stage.
I must say though that the cheese and green onions spiked the taste a few notches up.  The loaf definitely had a sharper and more flavorful taste than the rolls.  And Lory did say that potatoes tend to make the bread soft and chewy inside and crisp and crusty on the outside.  I agree.  Those slices were really soft!  I left the potato skins on by the way - so they look like bacon bits but they're not.  A bacon loaf is next on the agenda, though!