I debated between naming this thread Jim Lahey's Popeye Pizza, and Jim Lahey's No-Knead Pizza Dough. But since Jim Lahey's name is practically synonymous with "no-knead," maybe the latter is redundant. Anyway, it's green, and St. Patty's day is this week, so I thought I'd share.
Click here: Popeye Pizza   (the video is worth watching)
I made this pizza a week or two ago, right after I saw the show. I printed out the recipe, and when I got to the salt and yeast, I ran into problems. My instructions said 1/8 tsp yeast and 1/8 tsp salt, but I clearly remembered him adding 1/2 tsp salt. I haven't made pizza in years, and toppings tend to be salty, so I wasn't sure what was customary. I decided to trust Jim and I put in 1/2 tsp. And then my dough didn't rise, so I ended up making something else for dinner that night.
The next day I started earlier, but decided to go by the printout and use 1/8 tsp. It still took longer to rise, but the dough was a joy to stretch out, and the pizza baked up thin and crispy---just the way I like it. Except that the crust tasted bland. Otherwise, the pizza was pretty good. Roasted spinach is interesting. Thin and papery, but nice mild flavor. It's different, but I'd make it again. Looked just like the one in the picture, except that I forgot to drizzle on the olive oil before serving.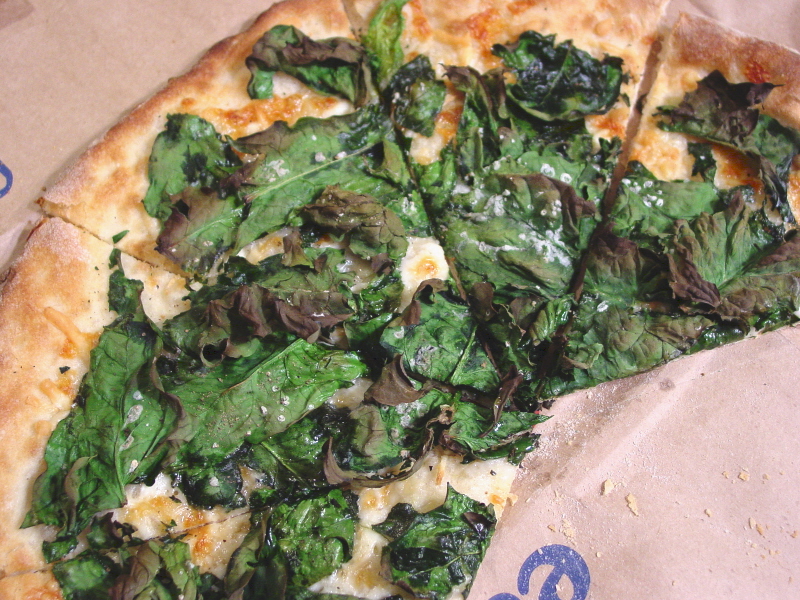 A week later, I decided to try the dough in a more familiar pizza with red sauce. I doubled the salt and yeast (1/4 tsp each) and it was still bland. Also the pizza sauce made it soggy. I think I prefer thin pizza without the sauce. At this point I went back to the website for another printout, to find the amounts on salt and yeast now say 1/4 tsp. Yes, I put the two side-by-side to make sure I wasn't going crazy. They corrected the amounts, but this still can't be right.
In the video, JL puts in 1/2 tsp salt and 1/4 tsp yeast. What sounds right to to you all?