I've been away for a short while developing starters using the technique posted by Debra Wink.  I now have two starters that are 7 days old today, one all rye and one that I started with rye until it became active that I now refresh with white KA AP flour.  Both are refreshed at 2:1:1 (starter:water:flour)
In an attempt to reduce waste, and also because I'm anxious, I took yesterday's "discard" and mixed it 60g:60g:60g.  I placed it in a mason jar and waited for it to double, which took two hours.  I searched here for a "simple" recipe and happened upon the 1-2-3 recipe.  So, to my 180g starter I added 360g water, then 540g flour (10%Rye, 90%KA Bread) I stirred this together and let rest for 30 minutes, at which point it was STICKY.  I did the slap and fold about five times and felt resistance from the dough, which seemed to want to tear, so I put it in an oiled bowl to rest.
I came back an hour later to no rise at all.  The dough was still REALLY sticky, so I folded in the bowl and walked away. Two hours later, REALLY sticky, folded again.  All this time there seemed to be no rise at all.  After about six hours, the dough seemed to be about 150% its original volume, though I'm not sure how you can reliably tell.  I shaped a boule, which I placed into a canvas lined colander to rest before putting into the fridge for the night.
In the morning, I took the dough out and placed it on parchment on the back of a baking sheet.  After two hours it felt dense to me, and was still noticeably cold.  When pressed gently with a finger, the indentation was slow to return, giving me concern that I would overproof.  I turned the oven to 490F and preheated for a full hour.  I slashed just prior to baking, but I don't think it was deep enough.  I placed the loaf into the oven, reduced the temp to 450F, added water to the oven, and put a foil baking tray over the loaf for the first ten minutes.  I then removed the baking tray and the steam pan to finish the bake.
I got very little oven spring, which I am guessing is a combination of under/over-proofing and scoring?  Does it mean I over-proofed, didn't score deeply enough?  How, if at all, does the amount of time spent bulk fermenting affect rise, and can that period also be too long or too short?
I liked the color of the top of the loaf, but the bottom was very pale in comparison, even with a full hour of pre-heat time.  I have noticed this on my last three bakes.  I'm guessing I need to pre-heat the stone even longer??  Hmmm, maybe this affected my oven spring as well?
The crust is soft, so I'm not sure if the foil tray over the baking loaf gave me the crispness I desire.  Maybe a longer time next time?  I left the loaf in the oven after it was done for an extra ten minutes with the door propped open.
All in all, I'm pleased with the effort.  It seems my starter is capable of rising dough, though I have a great deal to learn in pretty much all respects.  Looking forward to comments and suggestions.  As always, thanks.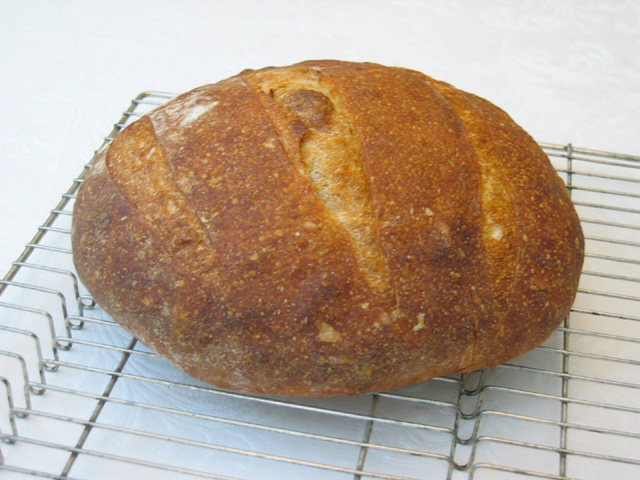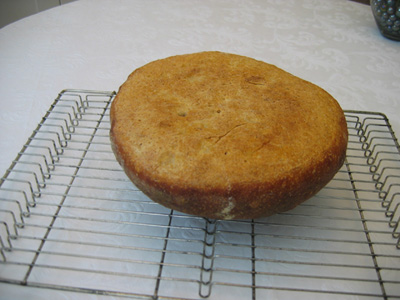 Unappealing bottom!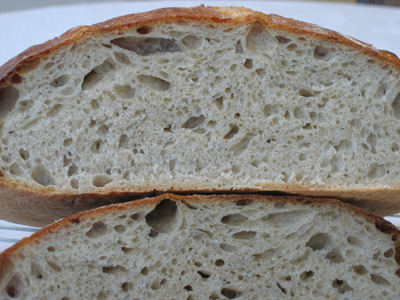 Crumb.