January 6, 2009 - 11:23pm
First sourdough onion bread
Thought I'd share this one, because it was simple and came out really good.  I'm sure it can be improved on but I can normally tell by how fast the fam digs in to the warm loaves which outcomes are keepers.
I have a sourdough starter that was made from organic grapes (http://www.exploratorium.edu/cooking/bread/recipe-grapeyeast.html) I did this in two phases, to kind of work around my schedule so maybe it will work the same way for you.
Stage 1 (night before):
1/2 cup active sourdough starter
255 g warm water
310 g all purpose flour
Stir the water into the starter, then stir in the flour.  I covered with a dish towel and left it on the counter overnight because the kitchen has a corner that stays around 58 degrees at night in the winter.  I didn't want a super slow ferment from the fridge so I figured this would be fine.  The dough spent about 8 hours in this stage.
Stage 2 (morning of baking):
125 g warm water
250 g flour
1 1/2 tsp salt
1/2 sauted onion
Stir the water into the starter, then stir in the flour.  It was really hard to incorporate the water into the existing intermediate starter, might add less flour during that stage in the future.  This is a wet dough so the stretch and fold is in effect.  Fold in the onions, then stretch and fold once every 20 minutes for an hour.  The onions were left over from another dish, so they were already sauted and cold from the fridge.  Let rise until double.  I let it go for about 8 hours.
After 8 hours I tried forming batards, but gave up and just left them a little like ciabatta.  Surface tension and dough consistency are my main problems these days, still working on my technique.   Cooked in a hot, steamed oven for about 25 minutes.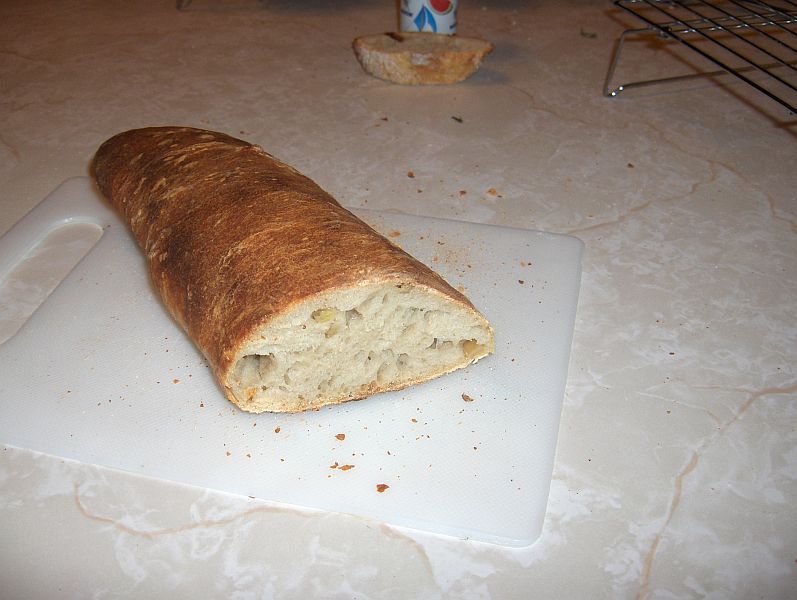 I don't think the shape mattered much because these loaves came out awesome.  This recipe made two decent sized loaves.  I took one to the neighbor's house that I wish I had back.  They should have gotten a loaf of the pain de campagne I made earlier in the day ;)
In the future I'm going to add a little more flour, perhaps whole wheat or rye.  Comments on anything are appreciated as I'm new to the bread world, though I'm trying to catch up quickly.