December 24, 2008 - 6:15pm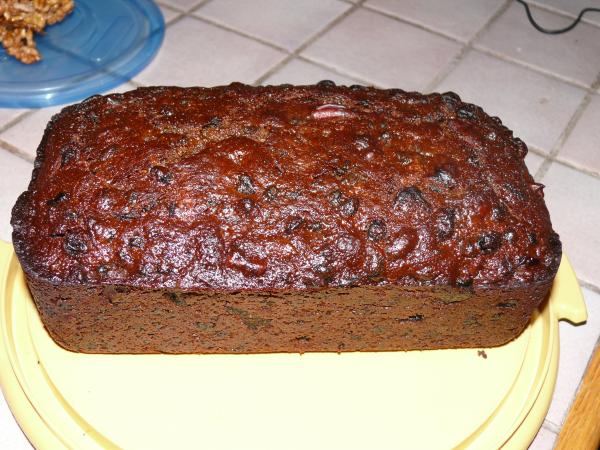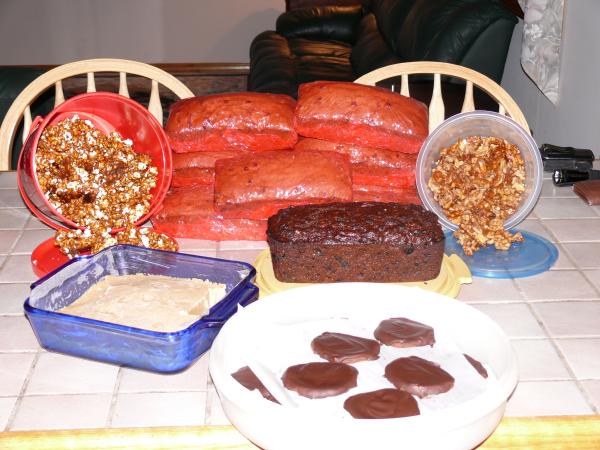 We arrived home from vacation Saturday morning at 12:30AM, which was a good thing. Metro Portland, OR (and WA) have had record snow fall the past week and we landed in between snow storms.  There have been tons of people stuck at the airport, bus and trains stations trying to get home for Christmas.
We've been snowbound since Sunday and I baked up a storm (pun intended).  I made only 9 loaves of the FLOYD'S Cranberry Orange bread (last year was 15, and may I say, it is the very best), Gingerbread popcorn, Candied Spiced Walnuts, Peanut butter Fudge, Chocolate Iced Shortbread cookies and FRUITCAKE.
I know, I know the dreaded doorstop. Believe me though, this winner came from Alton Brown and we love it (I've tinkered with it a bit). The picture doesn't do it justice. Sliced, it doesn't look much different. It will be sprayed with apple brandy for a week or so and then oh yeah, with some frozen custard or whipped cream or as is, YUM!
It doesn't contain your normal icky candied fruit (what is that stuff?).  Candied ginger, dried blueberries,
cherries, cranberries, currants, golden raisins, apricots and the zest of an orange and lemon macerated in a combo of dark and coconut rum. For spices, ground cloves, allspice, cinnamon, ginger. I'd be happy to post the recipe if anyone is interested.
Merry Christmas, Happy Hannukah, Holiday Greetings to all of you!
Hoping the coming year brings us all peace and good health.
Betty