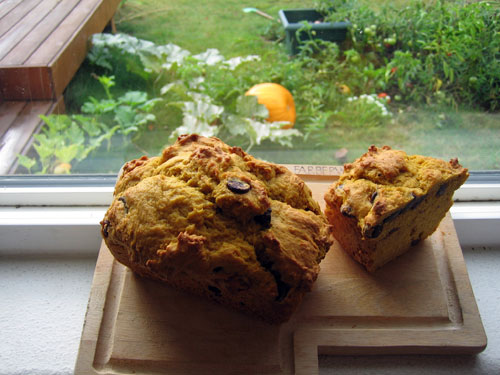 I love pumpkin bread and muffins any time of the year, particularly with chocolate chips in it and while sipping a cup of dark coffee, but pumpkin bread seems particularly appropriate this time of year.
This is a recipe for your standard pumpkin quick bread; yeasted pumpkin breads are rare, though not unheard of. Fresh pumpkin can be be used, though I usually take the easy way out and just use canned pumpkin puree. Whole wheat flour can also be substituted for some or all of the all-purpose flour for a change of pace.
Because the moisture content of the pumpkin can vary, as it can in the flour, the recipe recommends between 3 and 4 cups of flour. I used about 3 1/2 cups, but don't be afraid to trust your gut and adjust according to conditions.

Pumpkin Bread



Makes approximately 12 muffins, 3 small loaves, or 1 large loaf
1 3/4 cup (1 15 oz. can) pureed pumpkin
1 1/2 cup brown sugar
1/2 cup (1 stick) butter, softened
3 eggs
3-4 cups all-purpose unbleached flour
2 tablespoons baking powder
1 teaspoon ground cinnamon
1/2 teaspoon salt
1/2 teaspoon ground nutmeg
2 cups chopped walnuts or chocolate chips

Preheat the oven to 350.
Combine the pumpkin, brown sugar, butter, and eggs and mix until creamy. In a separate bowl, combine all of the dry ingredients except the nuts or chocolate chips. Mix 3 cups of the dry ingredients into the wet ingredients, then add as much of the 4th cup as necessary to achieve the proper consistency (moist, but thick enough to stand a spoon in). Add the nuts or chocolate chips and stir in.
Pour or spoon the batter into greased muffin tins or bread pans. Bake on the center rack until a toothpick poked into the center comes out dry. At sea level, muffins should take between 20 and 25 minutes to bake, small loaves between 25 and 30 minutes, and full sized loaves between 50 minutes and 1 hour.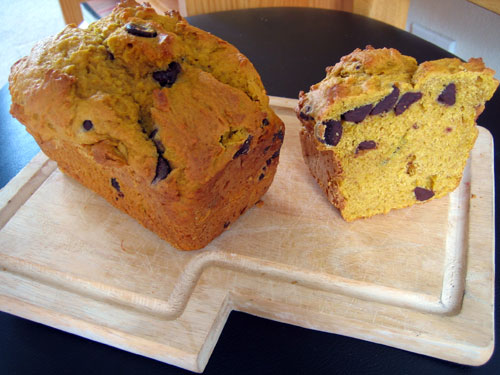 Autumn is here!