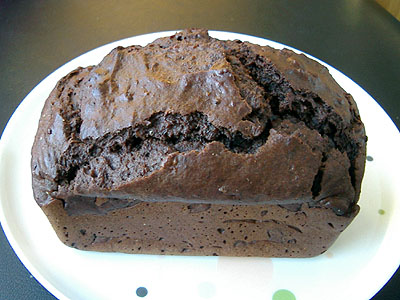 It's almost Valentine's Day, a perfect time to bake a chocolate bread.
I plan on trying two different styles of chocolate bread this week. The first one is a Pain Rapide au Chocolat, a chocolate quick bread that can prepared and baked in about an hour.

Quick Breads versus Regular Breads
I think most people know the difference between a quick bread and a normal bread, but it wouldn't hurt to repeat it. A quick bread is leavened with Baking Soda or Baking Powder and does not need time to rise: the rising occurs as the result of a chemical reaction that occurs in the loaf as it is baking in the oven. Traditional yeasted breads rise as a result of an organism (yeast) feeding on sugars in the flour and releasing carbon dioxide. Because it takes time for the organism to feed, yeasted breads must be set aside for a period of time to rise.
More information on the chemical reaction that occurs in quick breads, including the equation for it, is available on this science website for kids They also have bread section that includes some fun experiments to do with kids to teach them about what happens in a loaf of bread.
Pain Rapide au Chocolat
This recipe comes from Bernard Clayton's New Complete Book of Breads. I made a few adjustments to it, but those were based more on what ingredients I had around the house than any desire to modify the recipe. My changes are in italics.
Ingredients:
4 ounces unsweetened chocolate or 12 tablespoons unsweetened cocoa powder (or a mixture of both)
1/2 cup (1 stick) butter
4 eggs
2/3 cup honey
2 cups mashed potatoes
1/2 cup brandy, rum, orange juice, or a mixture (I did 1/4 cup OJ and 1/4 cup Grand Marnier)
2 teaspoons vanilla extract (I omitted this, figuring the Grand Marnier was flavorful enough)
2 teaspoons orange zest (I had no oranges in the house, so I omitted this too)
2 1/4 cups all-purpose flour
4 teaspoons baking powder
1 teaspoon salt
Melt the chocolate and butter in the microwave and mix together.
In another bowl, beat the eggs until they start to get frothy. Add honey, mashed potatoes, the alcohol and/or juice, vanilla extra, and orange zest. Stir in the chocolate-butter mixture.
In a separate bowl mix together flour, baking powder, and salt. Stir 2 cups of it into the wet mixture. The mixture should be a heavy batter. If it is still fairly thin, add the rest of the flour mixture to it and stir until everything is moistened.
Pour the batter into greased baking pans (I baked it in three small 7" x 3" loaf pans).
Bake at 350 degrees on the middle shelf of the oven until a toothpick inserted in the center comes out clean. In my small loaf pans it took about 40 minutes. In a full-sized pan it will take closer to 1 hour.
That's it. It is very good, not too sweet, quite moist and rich (but not too rich). Very much the type of thing to munch with a strong cup of coffee. It tastes much more adult than a kid's chocolate cupcake, particularly if you use good chocolate.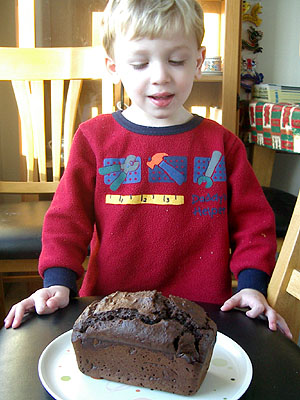 That won't keep your kids from trying to eat it though.
Pain Rapide au Chocolat for Valentine's Day