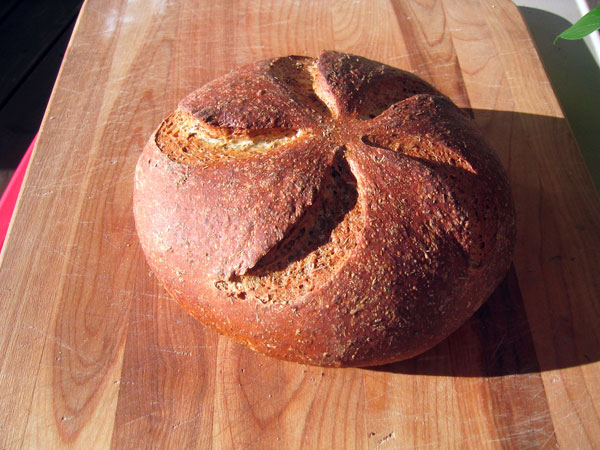 It is getting to be harvest season in my part of the world, and that means herbs are cheap and plentiful. Now is a great time to try baking an herb bread.
You can bake wonderful herb breads with whatever you have on hand: rosemary, dill, basil, thyme, mint, chives, you name it. I happen to have an excess of Herbes De Provence on hand, a mixture of savory, thyme, fennel, and lavender that you can find in most specialty grocery stores or order online
.
I used my standard poolish french bread as the base for this, then added the liqueur and herbs recommended by Bernard Clayton in his recipe for Pain de Provence in his Complete Book of Breads. Feel free to experiment and use a different dough as the base.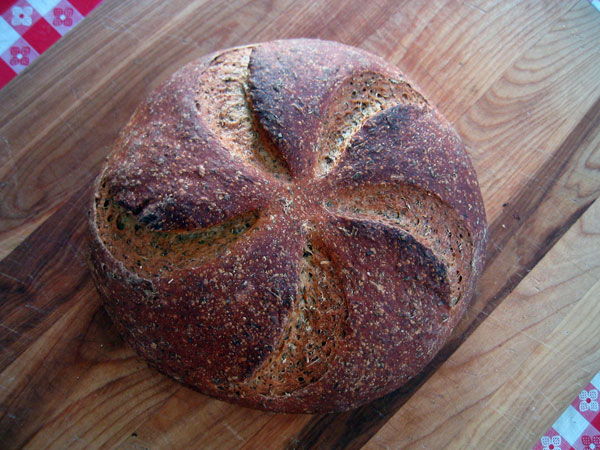 Pain De Provence

Makes 1 large loaf

Poolish:
1 cup bread or all-purpose unbleached flour
1 cup water
1/2 teaspoon instant yeast

Dough:
All of the poolish
2 cups bread or all-purpose unbleached flour
1/2 cup Herbes de Provence
1 1/2 teaspoon instant yeast
1 teaspoon salt
1/4 cup liqueur such as Beauchant, Grand Marnier, or orange Curaçao
1/4-1/2 cup water, as necessary

The night before baking, make the poolish by mixing together 1 cup of flour, 1 cup of water, and 1/2 teaspoon of yeast to make a batter. Cover the container with plastic wrap and set aside for 8 to 16 hours until you are ready to make the final dough.
To make the dough, combine the remaining flour with the remaining yeast, salt, and herbs. Add the poolish, the liqueur, and 1/4 cup of the additional water. Mix the ingredients, and, if necessary, add more water or flour until the proper consistency is reached (tacky but not so sticky that the dough sticks to your hands).
Knead by hand for 10 to 15 minutes or in a mixer for 5 to 10 minutes. Place the dough in a well-greased bowl and cover the bowl with plastic wrap. Set aside to rise until doubled in size, approximately 90 minutes. Remove it from the bowl and gently degas it, then return it to the bowl, cover it, and allow it to double in size again.
Remove the dough from the bowl and shape it into a ball or long loaf. Cover the loaf with a damp towel and allow it to rise again until doubled in size, which takes between 60 and 90 more minutes.
While the loaf is in its final rise, preheat the oven and baking stone, if you are using one, to 450. I also preheat a brownie pan into which I pour a cup of hot water just after placing the loaf in the oven. This creates steam in the oven which increases the crunchiness of the crust.
Just prior to placing the loaf in the oven, score the top of it with a sharp knife or razor blade.
Place the loaf in the oven and bake for 20 minutes at 450, then rotate it 180 degrees and reduce the oven temperature to 375 and baked it another 25 minutes. The internal temperature of the loaf should be in the ball park of 200 degrees when you remove it from the oven.
Remove from the oven and allow to cool for at least a half an hour before serving, if you can resist.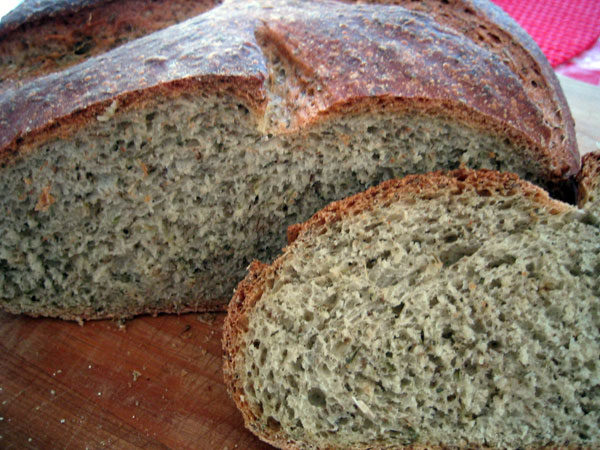 I couldn't.