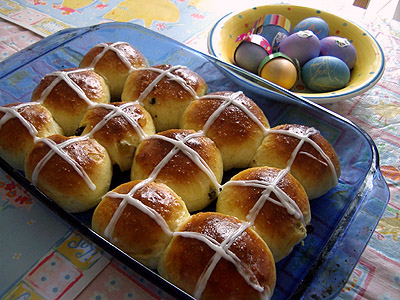 Hot Cross Buns! Hot Cross Buns!
One a penny,
Two a penny,
Hot Cross Buns!
If you have no daughters,
Pray give them to your sons!
One a penny,
Two a penny,
Hot Cross Buns!
My recipe below.

Hot Cross Buns are a popular Lenten tradition which are believed to have originated in England 150 years ago, though perhaps they are originally of pagan origin. Most commonly they are eaten on Good Friday. They are not made after Easter.
This year I baked my buns with raisins because that is what I had in the house. In past years I've used currants, which are excellent.
If your raisins or currants are dried out, soak them in warm water for 10 minutes before mixing them into the dough.
Hot Cross Buns
Makes 1 dozen buns

3 cups unbleached all-purpose flour
1/8 cup sugar
1 cup warm (90-100 degrees) milk
2 tablespoons melted butter
2 teaspoons instant (bread machine) yeast
1 teaspoon salt
1/2 cup raisins, currants, or dried fruit
1/4 teaspoon ground cinnamon
1/8 teaspoon ground nutmeg
1/8 teaspoon ground ginger

Egg wash:
1 egg

Glaze:
1/2 cup powdered sugar
1 tablespoon lemon juice
In a large mixing bowl, mix together the flour, yeast, sugar, salt, and spices. Add the warm milk and butter and mix until all ingredients are combined. Add a little flour or milk until you achieve the proper consistency, which is moist enough that all of the ingredients stick together but dry enough that you can knead the dough without it sticking to your hands. I had to add a couple of tablespoons of flour to get to this consistency, but depending on the humidity in your area and how tightly packed your cups of flour are, your may need to add more or less.
Pour the dough onto a floured surface and knead for 5 to 10 minutes. Flatten the dough and pour the raisins or currants on top and press them into the dough. Work the dough until the raisins are well mixed in. Return the dough to a greased bowl, cover with plastic wrap, and allow to rise for 1 to 1 1/2 hours until the dough has doubled in size.
When it has risen, pour the dough out onto a cutting board and divide into 12 pieces. Roll the pieces into balls and place on a greased baking surface (I used a 9 x 13 Pyrex pan). Cover the pan and allow to rise until they double in size again, typically 45 minutes to 1 hour.
While the buns are rising, preheat the oven to 425 degrees. When the buns are ready to bake, scramble the egg in a bowl and brush some over the top of the buns. Then put the buns in the oven and bake at 425 for 15 minutes. Remove and allow to cool for 5 or 10 minutes.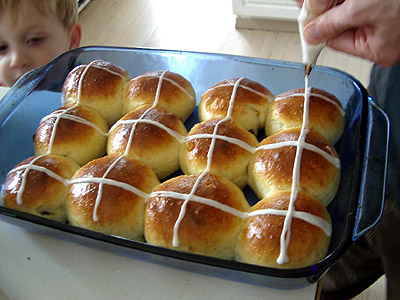 While the buns are cooling, make the glaze by combining the lemon juice with the powdered sugar (you can also use orange juice, milk, or water if you don't have lemon juice around). Use a pastry bag, a spoon, or a knife to paint the crosses on top of the buns. Eat while still hot.