December 7, 2005 - 8:36pm
I baked gingerbread for the first time last night. Yum.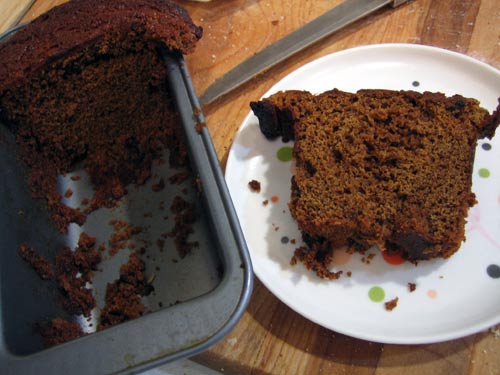 I was amazed at how good the house smelled when I came home from work today. It really smells festive, like the holidays are here, even 24 hours after baking it.
I looked at a few different recipes before settling on something closest to the recipe from the Joy of Cooking.
Gingerbread Makes 1 large or 3 small loaves

1 3/4 cups all-purpose unbleached flour
1 teaspoon baking soda
1 tablespoon ground ginger
2 teaspoons ground cinnamon
1/4 teaspoon ground cloves
1/4 teaspoon salt (can be omitted if using salted butter)
1 stick (8 tablespoons) butter
1 egg
1/2 cup brown sugar
1 cup molasses
1/2 cup warm water
3 tablespoons crystalized ginger, 1/2 cup raisins or other dried fruit (optional)

Preheat oven to 350.
Combine the butter, egg, brown sugar, and molasses in a bowl and stir until combined. Mix in the dry ingredients, then add hot water and stir until just combined.
Pour batter into greased baking pans. Bake until a toothpick inserted into the center comes out clean, between 30 and 50 minutes. Remove from the oven and let cool for at least 10 minutes before removing from the pan.