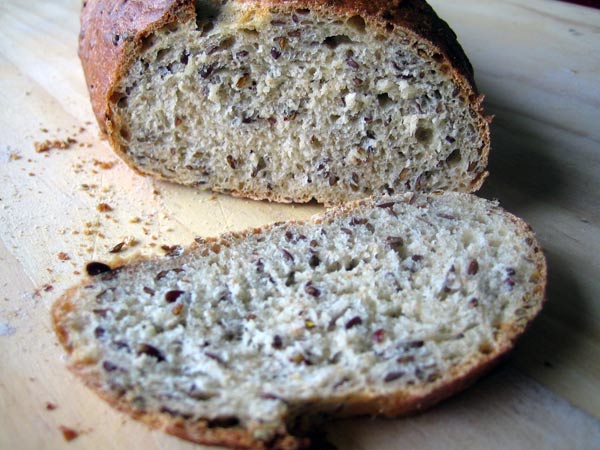 I finally got my copy of Dan Lepard's The Handmade Loaf, a book that the Brits on this site have been recommending to me for a while. Occasionally imported copies will show up on Amazon
for a reasonable price, but I found it cheaper to order a copy from a bookseller in Ipswich via Abebooks. It is a splendid book, with great photos, easy to follow instructions, and excellent recipes; well worth the cost of admission for a baking fanatic. His website is also worth checking out.
Of the recipes I've baked so far, the Linseed and Wheat Bread has been my favorite. The first loaf I baked we ate in under an hour. I was forced to bake it again the next day. The horror.
The recipe I'm posting below is based on his Linseed and Wheat Bread. I modified it some to match the ingredients I had on hand and my personal taste.
Flax Seed Wheat Bread
makes 1 one pound loaf

200g bread flour
50g whole wheat flour
1 teaspoon salt
100g flax seeds
2 teaspoons malt powder
150 grams water
1 teaspoon instant yeast
Combine the flours, salt, seeds, malt, and yeast in a bowl. Stir in the water and mix until thoroughly combined. This dough is not a terribly moist one: it should be slightly tacky but not sticky. When shaped into a ball it should easily hold its shape.
The seed and bran from the whole wheat prevent a high level of gluten development in this dough, so extensive kneading is not necessary.
Once all of the ingredients are thoroughly combined, place the ball of dough in a greased bowl. Cover with plastic wrap and leave to rise for an hour to an hour and a half.
Shape the dough into 1 large or two small loaves, cover the loaves with plastic, and give them another hour to rise. In the meantime, preheat the oven and baking stone to 425 degrees.
Brush the top of the loaves with water, score the loaves, and place them in the oven. Bake them at 425 for 20 minutes, rotate them 180 degrees, then bake them another 20 to 25 minutes. When done, they will be nicely browned on the outside, make a hollow sound when tapped upon, and register approximately 205 degrees in the center when measured with an instant read thermometer.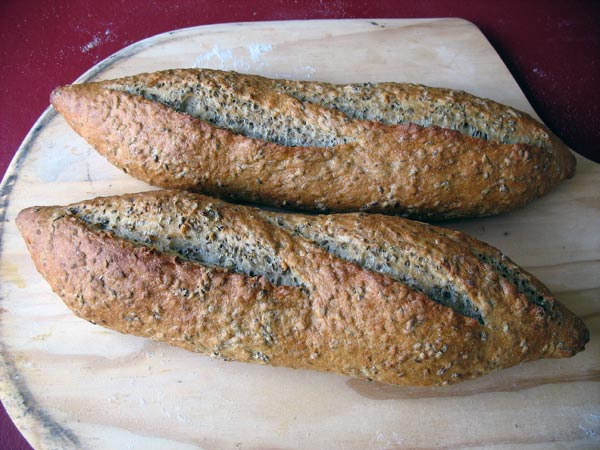 These loaves remind me of yams.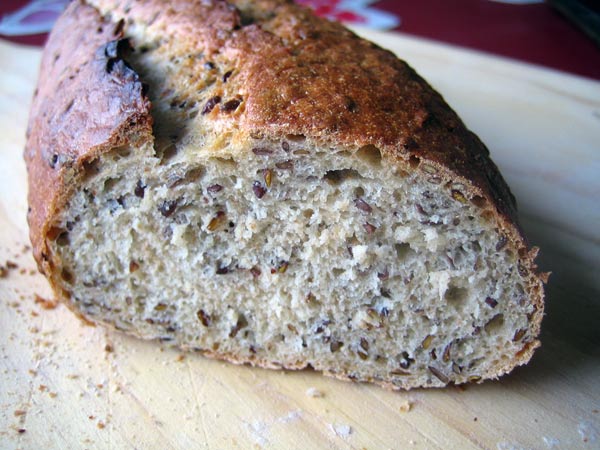 Related Recipe: Five Seed French Bread