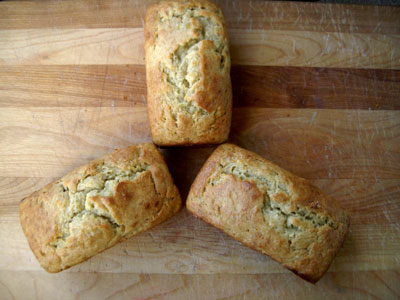 Well, maybe not a better banana bread, but different banana bread: cakier, creamier, moister. I, personally, think I prefer this loaf to the previous banana bread recipe I posted, but my wife makes the point that this recipe produces a much more delicate bread than the previous one does. For a quiet cup of tea on a lazy summer afternoon, this is the one. For a picnic at the zoo with a rambunctious three year old, the previous one is the way to go: it'll survive the transport in the car and backpack much better.
Recipe below.

This is, in fact, the same recipe as before with a cup of vanilla yogurt added. The yogurt made the dough moister, so in response I needed to add more flour. Since I was adding more flour, I decided to try using some whole wheat flour. It turned out well.
So if there is a lesson to be learned here, it isn't that this is the greatest banana bread in the world. It is to make each recipe your own. Bake often and do not be afraid to experiment. If you don't screw up a recipe from time-to-time you probably aren't baking enough!
Better Banana Bread
Makes 1 huge loaf or 3 small loaves
Preheat the oven to 350.
In one bowl, combine:

1/2 stick (4-5 tablespoons) butter, softened
2 eggs
2 or 3 very ripe bananas
1 cup vanilla or plain yogurt
2/3 cup sugar
Use a potato masher, fork, or spoon to squish the banana and mix the ingredients together. It is alright for there to be small (1 centimeter) chunks of banana in the batter, but you want most of the banana to be reduced to mush.
In another bowl, combine:

1 1/2 cup all-purpose unbleached flour
1/2 cup whole wheat flour
3/4 teaspoon salt
1/2 teaspoon baking soda
1/4 teaspoon baking powder
1/2 teaspoon cinnamon (optional)
Combine the wet and dry ingredients and mix until the ingredients are blended together.
If you like, stir in additional ingredients here, such as chopped walnuts or pecans, dried cherries or apricots, or chocolate chips. A handful (about a half a cup) is about right.
Pour the dough into greased baking pans and bake until a toothpick inserted in the center comes out clean. Small loaves take around 30 minutes, a normal-sized loaf takes around 50 minutes.
Remove from the oven. This bread is great warm, but it is excellent cold too.
After they have cooled for 5 or 10 minutes the loaves can be removed from the pan to cool. Once they are cool they can be individually wrapped and frozen.
Enjoy!
Related Recipe: 10 Minute Banana Bread.