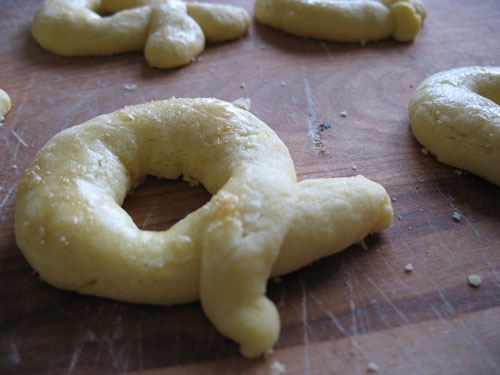 There are few traditions in my family that I can easily trace back to our European ancestry, but one that has survived is the baking of Berlinerkranser, a Norwegian holiday treat.
This is my grandmother's recipe. I'd never baked them myself until this year. I knew they were rich, but I had no idea they were *this* rich. They are excellent though. Good thing Christmas comes but once a year!
With a little effort you can make these extremely attractive. I had assistance from my 3 1/2 year old son, so the shaping suffered a bit, but we had great fun making them and they are still buttery and delicious.
I was astonished to see that the recipe contains no leavening. They are basically like little shortbread cookies, wrapped into a bite-sized wreath.
Berlinerkranser (Berlin Wreaths)

5 eggs (3 hard-boiled, 2 raw)
1 cup butter
1/2 teaspoon vanilla extract
1/2 cup sugar
2 cups flour

Peel the three hard-boiled eggs, remove and dispose of the whites, and crumble the yolks in a bowl.
Separate the raw egg yolks and whites. Mix the raw yolks into the bowl of crumbed yolks. Cover the bowl of whites and refrigerate for later use.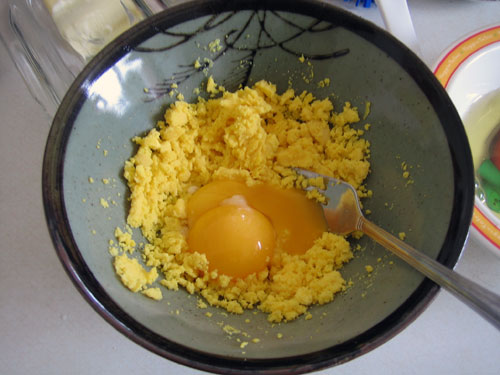 Cream the butter, sugar, and vanilla together. Stir the yolks into the butter mixture, then stir the flour into the butter mixture. Cover the bowl and chill the dough in the refrigerator for at least an hour.
When thoroughly chilled, pull the bowl of dough out of the refrigerator. Break off small chunks of the dough and roll them out into little strips, approximately 4 inches long and a quarter of an inch around.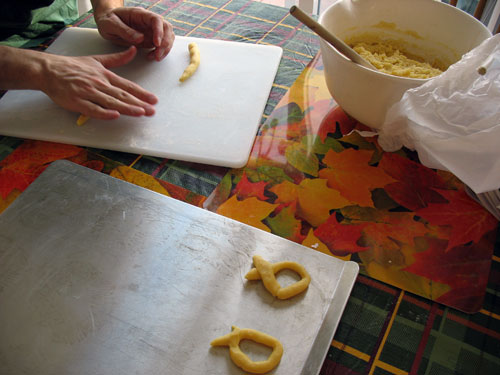 Gentle bend the strips into wreaths and place on a greased baking sheet.
Preheat the oven to 350.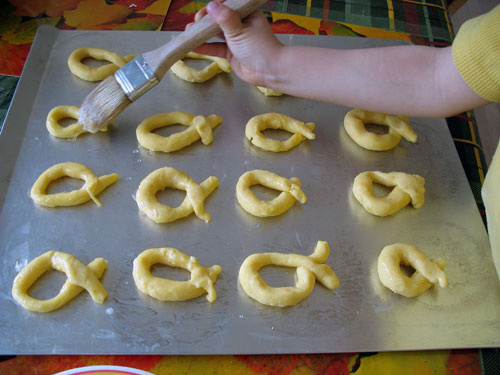 Just before putting them in the oven, brush the top of the wreaths with the egg whites and sprinkle lightly with sugar.
Bake at 350 for 10 to 12 minutes. Gently remove from the baking sheet to cool.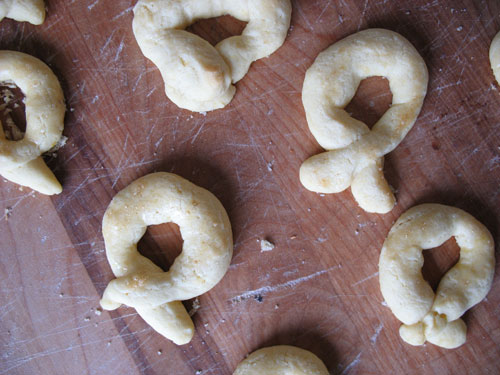 Enjoy!