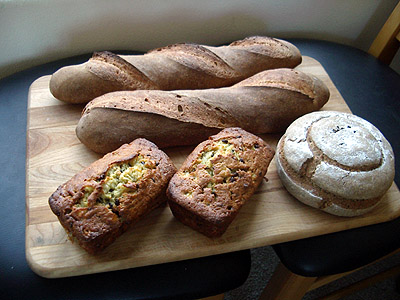 Almost every weekend I bake. Lately I've been trying different recipes using my sourdough starter. At other times I baked yeasted artisan breads and sandwich breads. But one thing has remained constant: almost every time I have the oven heated for baking I make a batch of banana bread. I can safely say that I've made more batches of banana bread than any other bread.
I've tried a number of different recipes, but the majority of the time I fall back on the recipe below. It tastes great, it keeps well, it takes less than 10 minutes to prepare. You can't ask for much more than that.

This recipe is from the 1997 revision of the Joy of Cooking. There is at least one step in the Joy recipe (mixing the butter and sugar with a hand mixer for 2-3 minutes) that I skip. Doing so may make a slightly lighter loaf, but I find it unnecessary.
As I said, I've tried close to a dozen different banana bread recipes but I like this one the best. It is a little drier than recipes made with Vegetable or Canola Oil, but I like the flavor of butter and consistency of this bread better.
I've also found that we enjoy this a lot more baking it in small loaf pans rather than a regular bread pan. In the large pan I tended to have a harder time getting it to bake evenly, often resulting in overbaked ends and a gooey center. It also would go stale before we could eat the entire thing. With the small loaves, I bake 2 or 3 a weekend and freeze all but one. Every couple of days we pull a new one out of the freezer and never have any trouble with it going stale.
The other breads in the photo, by the way, are two whole wheat sourdough loaves and a sourdough rye. I haven't had a chance to even try them all yet. If they turn out good I will definitely share the recipes.
Banana Bread
Makes
1 full-sized loaf or 2 small loaves
Preheat the oven to 350.
In one bowl, combine:

1/2 stick (4-5 tablespoons) butter, softened
2 eggs
2 or 3 very ripe bananas
2/3 cup sugar
Use a potato masher, fork, or spoon to squish the banana and mix the ingredients together. It is alright for there to be small (1 centimeter) chunks of banana in the batter, but you want most of the banana to be reduced to mush.
In another bowl, combine:
1 1/3 cup all-purpose unbleached flour
3/4 teaspoon salt
1/2 teaspoon baking soda
1/4 teaspoon baking powder
1/2 teaspoon cinnamon (optional)


Combine the wet and dry ingredients and mix until the ingredients are blended together.
If you like, stir in additional ingredients here, such as chopped walnuts or pecans, dried cherries or apricots, or chocolate chips. A handful (about a half a cup) is about right.
Pour the dough into greased baking pans and bake until a toothpick inserted in the center comes out clean. Small loaves take around 30 minutes, a normal-sized loaf takes around 50 minutes.
Remove from the oven. This bread is great warm, but it is excellent cold too.
After they have cooled for 5 or 10 minutes the loaves can be removed from the pan to cool. Once they are cool they can be individually wrapped and frozen.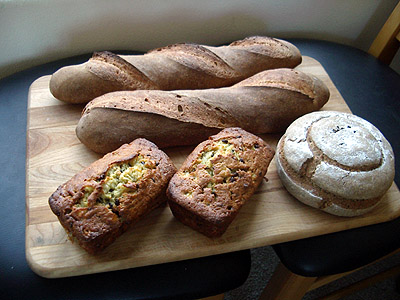 Enjoy!

Related Recipes: Better Banana Bread,Eggless Banana Bread