This weekend I found myself staring out the window at the abundant chives growing in my garden. What could I possibly do with them, I wondered, except eat them on baked potatoes? And how many baked potatoes can I eat before I never want to see another spud again?
Then it occurred to me that I've made potato bread before, so why not add chives to potato bread? And, heck, while I'm at it, why not throw in some other tater toppings like sour cream and bacon and have a full-on Baked Potato Bread?
By the time I had second thoughts about it, all of the ingredients were mixed together. But, you know what? It turned out excellent, the perfect accompaniment to a pot of corn chowder on a rainy day.
The full recipe is below.
Freestyle Baking
As I have written about time and time again, I think the real fun in baking comes once you have mastered the basics and understand how adding different ingredients in different proportions will change the character of your loaf.
Whether I am making up a recipe or checking out a new recipe in a cookbook, my point of reference is always the loaf I introduced in lesson 1, which is 3 cups flour, 1 + a little cups of water, 2 teaspoons yeast, 2 teaspoons salt. If I read a recipe and it has more water than, say, a cup and a quarter of water per three cups of flour I know it is going to a slack dough; more fats (butter, milk): a softer loaf; contains sugars: a sweet loaf; and so on.
When thinking up this recipe, I took the lesson one recipe, substituted potatoes for about 20 percent of the flour, substituted sour cream for about 50% of the water, and added the chives and bacon and bacon fat. It sounded easy enough, though I made some adjustments as I started baking, as you'll see below.
Potato Bread
I don't believe that I've every posted about a potato bread on this site, so a little introduction is in order.
Replacing between 10 and 30 percent of your flour with mashed potatoes results in a wonderful soft, moist loaf of bread. Potato flakes or potato starch can be used, as well, but leftover mashed potatoes work great even if they have some butter or milk or salt in them.
Do be careful, though: potatoes are considerably lower in gluten than wheat, so add too much potato and you will end with a dense, moist loaf, probably too much like a baked potato for anyone's liking. I find 1/2 cup potatoes to around 3 cups flour to be plenty.
In this recipe I used a couple of small red potatoes that we had steamed up as a side dish for dinner the night before. All I did was mash them up with a fork and mix them into the flour. I left the skins on before mashing them because I find the little red flakes speckling the loaf to be quite attractive.
Bacon isn't to everyone's liking, either for dietary or religious reasons. I see no reason why this recipe wouldn't be good even if you excluded it, but if it something you are able to indulge in I suggest you do. I definitely think it improved the flavor and consistency (and appearance, for that matter) of the loaf.
Enough blabbing. On to the recipe!
Baked Potato Bread
Makes 2 small (one pound) loaves or one large loaf
1/2 cup mashed potatoes
3 to 4 cups all-purpose unbleached flour (I'll explain the ambiguity below)
3/4 cup water
1/2 cup sour cream
2 teaspoons instant yeast
1 teaspoon salt
1/4 cup cooked bacon
1/2 cup chopped fresh chives
To begin, chop up two or three slices of bacon and fry them up. Remove them from the heat.
Mix the mashed potatoes, yeast, salt, and 2 cups of the flour together in a large mixing bowl or the bowl of an electric mixer. If you have active dry yeast and want to substitute, read this. Add the sour cream, water, chives, and bacon and mix together until all ingredients are combined. I also mixed in the bacon fat, which there was about a tablespoon of in the pan, because it improves the flavor of the loaf.
At this point you'll have a very wet, sticky mess, probably more of a batter than a dough. Add additional flour a handful (1/8 cup) at a time and mix or knead it in.
(I lost track of exactly how much extra flour I added, but it seems like it was around 9 or 10 hands full. I added 4 or 5 hands full and mixed them in while the dough was still in the bowl, then I poured the dough out onto a well-floured cutting board and added more, kneading it with my hands which I repeatedly dipped in flour to keep the dough from sticking to them. After 5 or 10 minutes of this I ended up with something that was still quite sticky, but was definitely in the realm of a dough and not a batter: it could be formed into a ball and generally held its shape.)
Once you have combined the ingredients well and gotten the balance of flour and water to a level that seems acceptable, return the dough to a well-oiled bowl. Cover the bowl with plastic wrap and allow the dough to rise for 90 minutes at room temperature or until it has doubled in size.
Remove the dough from the bowl and shape the loaf or loaves. Notice how moist and gummy my dough was when I cut it to shape it into two loaves: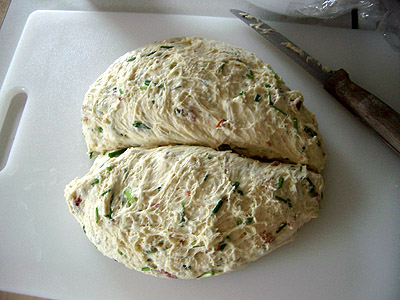 One probably could add more flour and make an acceptable loaf of bread with a drier dough, but I've been finding that I get better results the wetter I am able to leave it. But this really is an art, not a science, so use your own best judgement.
At this point you need to shape the loaves, cover them loosely and let them rise until they double in size again, about 45 minutes. You could put them in greased baking pans and let them rise and bake them in those. I wanted round loaves, so I put them in a couple of couche lined baskets: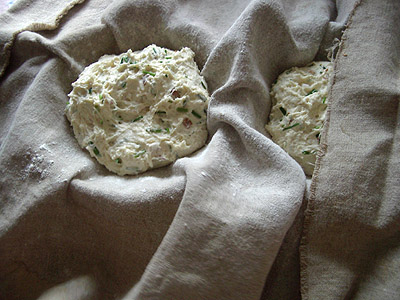 Professional bakers use these kinds of baskets
, which are very nice but completely out of my price range. I found two small baskets at Goodwill for 49 cents each and have found that they help keep the shape of my rounds very well.
The baking couche
I got from a neighbor who works in bakery. It works very well, but you can fake the same thing with a well floured kitchen towel (the linen kind, not a fuzzy one).
As you can see in the picture above, I placed the baskets on a table, the couche over the baskets, and the dough in the floured couche in the baskets. I wrapped the edges of the couche around the balls of dough and let them rise. When they had risen I simply unwrapped the loaves and shook them out of the couche onto my peel (which I dust with semolina flour) and threw them into the oven.
While the loaves are rising again, preheat the oven to 425. If you have a baking stone, be sure to put it in early to heat.
When they have doubled in size (as I said before, about 45 minutes after shaping), put the loaves in the oven to bake. I baked them at 425 for 5 minutes and then reduce the temperature to 350 and baked them another half an hour. The loaves are done when the internal temperature reaches the 185 to 195 degree range (as read with an instant-read thermometer) or when they are nice and brown on the outside and sound hollow when tapped on the bottom. For me this took about 35 minutes.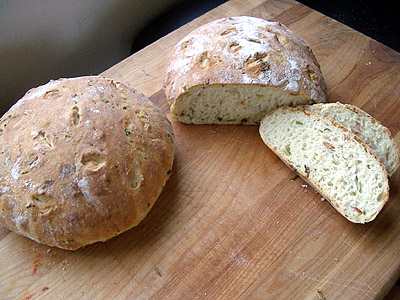 And there we have it. The bread was wonderful while still warm with a pot of soup, but I actually think I preferred it the next day cold. With the bacon fat and sour cream, there was plenty of fat in the bread so it didn't need to be buttered; just plain it was rich and moist enough.