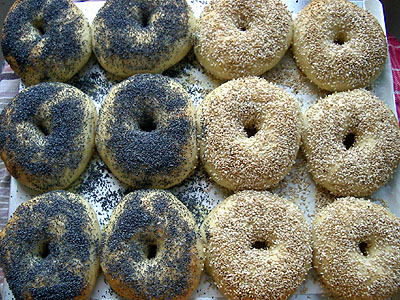 I don't know why, but I thought making bagels was considerably more complicated than making a loaf of bread. Well, it's not: it is easy.
A recipe and a description of how easy it was to make these below.

I knew making bagels involved boiling them. Somehow this left me with the impression that it would be as complicated as deep frying is, where you have to get the oil just the right temperature or else you end up either setting your kitchen on fire or eating little wet balls of grease. Plus there is the whole pot of grease clean up factor. Yuck. Not something I've wanted to deal with.
So when I read a couple of bagel recipes and all they said was "bring a pot of water to a boil. Drop bagels in and boil for a minute or two on each side" I... well, I felt like a dolt. Why didn't I try making these sooner?
About Bagels
There are a ton of bagel recipes out there. A large percentage of them include eggs and butter. Most suggest using high protein bread flour. Some include sugar, some include honey, and others include malt syrup or powder.
For my first time baking bagels, I decided to use the recipe from the The Bread Baker's Apprentice. It appealed to me because it had an extremely simple ingredient list (only one ingredient that don't routinely keep around the house, and it was simple to find and inexpensive) and included an overnight retardation of the dough that made it perfect for baking in the morning. As regular readers will recall, preparing bread in the evening for baking first thing in the morning is an ongoing desire of mine. This recipe fit that model perfectly.
Recipe
Makes 1 dozen bagels

Sponge:
1 teaspoon instant yeast
4 cups bread flour
2 1/2 cups water

Dough:
1/2 teaspoon instant yeast
3 3/4 cups bread flour
2 3/4 teaspoons salt
2 teaspoons malt powder
OR
1 tablespoon malt syrup, honey, or brown sugar

Finishing touches:
1 tablespoon baking soda for the water
Cornmeal for dusting the pan
Toppings for the bagels such as seeds, salt, onion, or garlic
The Night Before
Stir the yeast into the flour in a large mixing bowl. Add the water and stir until all ingredients are blended. Cover with plastic wrap and allow to rise for two hours.
Remove the plastic wrap and stir the additional yeast into the sponge. Add 3 cups of the flour, the malt powder (the one unusual ingredient, which I was able to find at the local health food store), and the salt into the bowl and mix until all of the ingredients form a ball. You need to work in the additional 3/4 cups of flour to stiffen the dough, either while still mixing in the bowl or while kneading. The dough should be stiffer and drier than normal bread dough, but moist enough that all of the ingredients are well blended.
Pour the dough out of the bowl onto a clean surface and knead for 10 minutes.
Immediately after kneading, split the dough into a dozen small pieces around 4 1/2 ounces each. Roll each piece into a ball and set it aside. When you have all 12 pieces made, cover them with a damp towel and let them rest for 20 minutes.
Shaping the bagel is a snap: punch your thumb through the center of each roll and then rotate the dough, working it so that the bagel is as even in width as possible.
Place the shaped bagels on an oiled sheet pan, with an inch or so of space between one another (use two pans, if you need to). If you have parchment paper, line the sheet pan with parchment and spray it lightly with oil before placing the bagels on the pan. Cover the pan with plastic (I put mine into a small plastic garbage bag) and allow the dough to rise for about 20 minutes.
The suggested method of testing whether the bagels are ready to retard is by dropping one of them into a bowl of cool water: if the bagel floats back up to the surface in under ten seconds it is ready to retard. If not, it needs to rise more. I didn't bother doing this, instead counting on it taking about 20 minutes to get my son's teeth brushed and get him to take a bath. In the quick interval between bath time and story time, I placed the pan into the refrigerator for the night.
Baking Day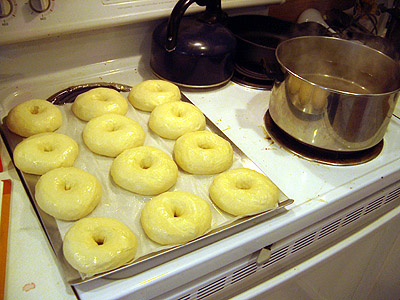 Preheat the oven to 500. Bring a large pot of water to a boil. Adding one tablespoon of baking soda to the pot to alkalize the water is suggested to replicate traditional bagel shop flavor. I went ahead and did this, though I have no idea if it made any difference.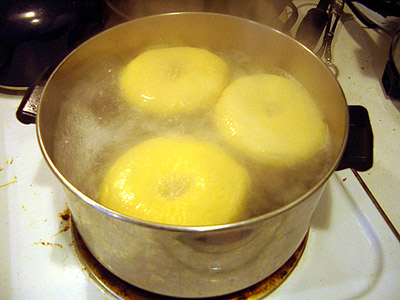 When the pot is boiling, drop a few of the bagels into the pot one at a time and let them boil for a minute. Use a large, slotted spoon or spatula to gently flip them over and boil them on the other side.
Before removing them from the pot, sprinkle corn meal onto the sheet pan. Remove them one at a time, set them back onto the sheet pan, and top them right away, while they are still slightly moist. Repeat this process until all of the bagels have been boiled and topped.
Once they have, place the sheet pan into the preheated oven and bake for 5 minutes. Reduce the heat to 450 degrees, rotate the pan, and bake for another 5 minutes until the bagels begin to brown. Remove the pan from the oven and let cool for as long as you can without succumbing to temptation.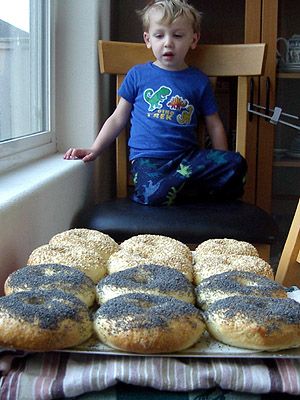 Wrap Up
These bagels were awesome. I may try a different recipe next time, like an egg bagel recipe, but I have no complaints about this one.
I did learn that you can put too many seeds on top of a bagel. I went particularly overboard with the poppy seeds. Next time I'll use a few less, but the bagels were still a hit with everyone.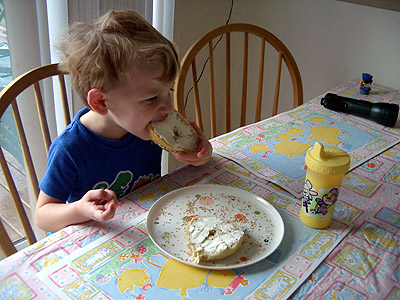 Related Recipes:Challah Bread, English Muffins, Struan Bread.