November 19, 2023 - 12:13pm
Inifinity Loaf and Biscotti
I did the Infinity loaf challengeon October 30, but I'm just now getting around to posting it. I did not really like how the bread came out. It was very crumbly and a bit sandy. That said, I'm not really partial to cornbread either.
The "other" flours I used were rye, oat flour, and corn meal. For seeds, I used soaked bulgur wheat and toasted pecan pieces. The inclusions were fine. I'm not so sure about the cornmeal and oat flour though. I'll try it again after the holidays. And soak the cornmeal next time.
I posted somewhere else the exact quantities so I'll go back and look at that later.Found it: https://www.thefreshloaf.com/node/73115/nothing-too-exiciting-here#comment-527139

The biscotti that I made came out pretty good. I did this November 4. on The only thing is that I should've sliced them a little thinner or baked them longer. Or both. the recipe I used is from Joyofbaking.com: Chocolate Almond Biscotti. The only changes I made were to use toasted pecans instead of the almonds. The dough was a little tacky.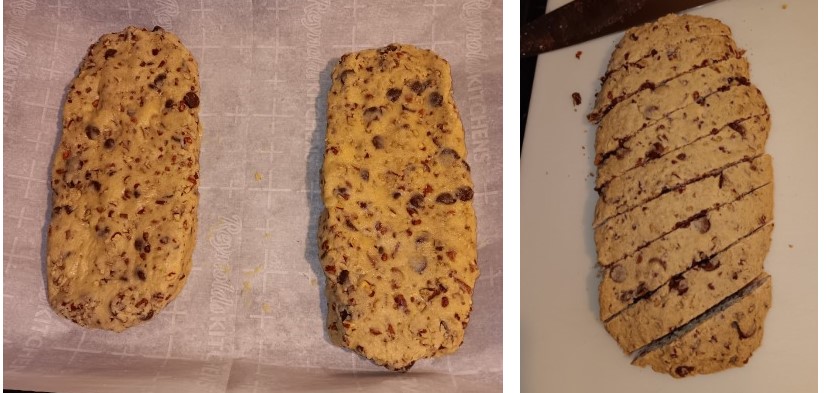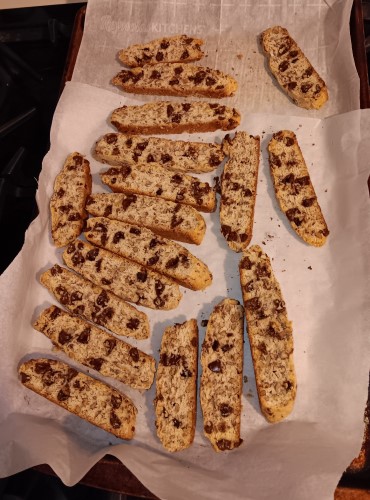 Sorry for the late posts, it's been really hectic around here.In October, I made around 3 dozen muffins plus 3 dozen cookies every week for 3 weeks for a fundraiser. Not much sold. But when I was at their display, it was so overcrowded with prepackaged snacks that it made sense that they didn't sell.
Currently I have 300g of starter rising to start 3 different breads tomorrow: two chocolate breads with cherries and pecans and one I'm not completely sure about yet.Probably a whole wheat and bread flour tangzong milk bread.
On Monday and Tuesday I'll be baking bread, cookies, and muffins for when we go see my parents for Thanksgiving. The cookies with be sugar, oatmeal, and 2 kinds of biscotti: The one I just posted and one with cocoa powder and cranberries. Also part of my future lineup is to make a 1/2 semolina biscotti to see if the texture is different when I come back.