pH meter, a welcome reminder to calibrate
Admittedly, I am aware and I have spoken emphatically about the importance of calibrating pH meters. My training in the wine lab has instilled the habit of calibration each and every time prior to use, in that environment.
Why then have I been so lax with my bread and dough meter! Perhaps it is the domestic setting that gives rise to such a laid back approach. Then again, even in the work place I have been deemed as a 'laid back' kind of guy!
The other day I was drinking some deliciously well-crafted Pinot Grigio made in the mountainous terrain of Veneto, Italy. Since my dough pH meter is always to hand, curiously I decided to measure the pH of my wine.
It very quickly settled on pH 3.70.
Being very familiar with the pH ranges of a vast array of foods and beverages, and in particular different types of wine, I was immediately aware that this reading was not at all close to what it should be!
I therefore calibrated my meter and measured the Pinot Grigio again. Hey presto; it came up as pH 3.26. That's much more like it for this type of wine!
Long story short, all the while I thought my Lievito Madre starter was not reaching the target pH, while in fact with the new calibration it measures as expected, circa 4.1 for the end of a refresh and between 3.8-3.9 after the overnight phase.
No point measuring pH if the readings are not accurate!
Calibrate! Calibrate! Calibrate!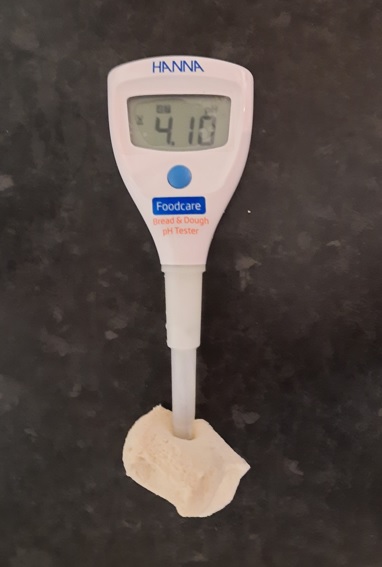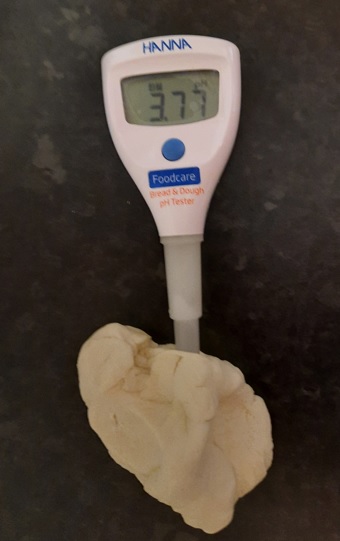 LM rinfresco and LM after overnight phase.