Cheese, herb & Chilli Bread
It's been a while since I posted but thought I would post this new bake.  Recipe from Emmanuel Hadjiandreou "Gutes Brot".  Not sure that I can print the recipe here.  I did scale his recipe down a little to give 1 x 700 gm loaf.
I didn't follow his methodology but rather just made the dough as I normally do.  Took a small amount of starter and refreshed 1:1:1 meaning to refresh again before bed.  I forgot so early yesterday morning I built it 1:3:3.
3:35 pm I mixed the dough using my Kenwood mixer then finished it off with 30 SLAFS.  I had added an extra 10 gm water as it felt a little stiff.  Hoping also that the amount of chilli flakes and the chopped parsley in the dough were not too overpowering.  Using chilli and cheese in a bread dough is an absolute first for me. 
4:20 pm laminated the dough
5:05 did a set of coil folds followed by a further 2 about 40 minutes apart. 
The dough was left to bulk ferment
9 pm Preshaped dough and left to rest for 20 minutes
9:20 pm shaped and left on bench for about 15 minutes before retarding over night.
This morning oven preheated to 240oC for 50 minutes.  Loaf was slashed, spritzed then placed in preheated DO.  Reduced temperature to 220oC and baked 17 minutes with lid on then 20 minutes lid off.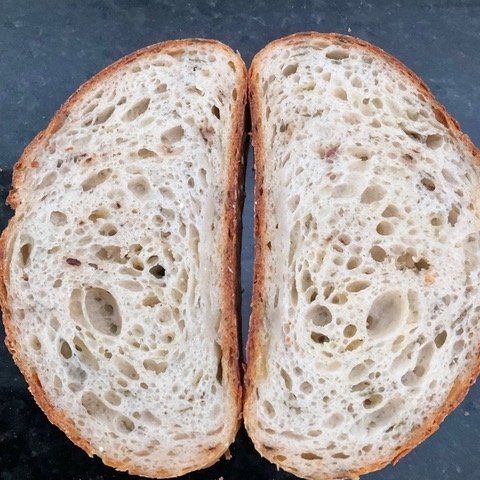 The bread smelt really good as it was baking and it tastes wonderful with a nice little hit of heat from the chilli.  The chopped parsley doesn't show very much but I will definitely make this one again!!
While I was making this loaf I also made an everyday type loaf with 22% rye flour, 6% spelt and 72% bread flour.  Timings were as above.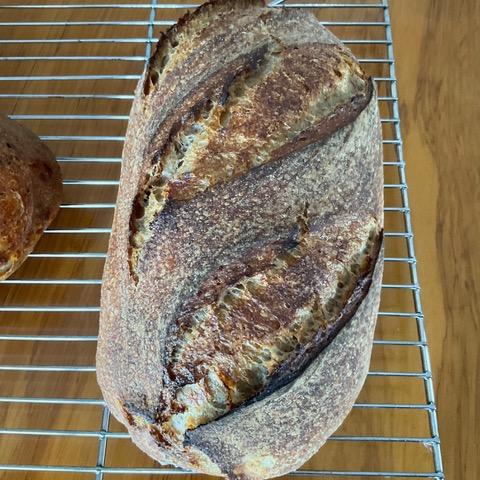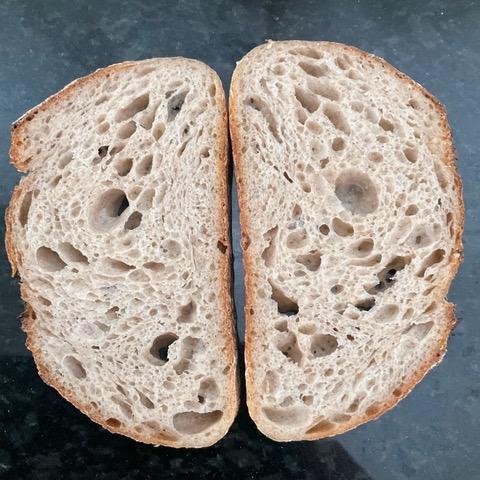 All in all very happy with these bakes.