September 15, 2022 - 5:33am
Finally another Emmer bake!
This has been a long time coming but a couple of weeks ago I finally got around to making a 50% Emmer loaf (thanks to Ted's prompting 😊).  It's been a crazy few weeks getting everything sorted for a much awaited trip back to Europe to visit family. so to bread…
Bread flour 210 g (49.5%)
Malted four 2 g (0.5%)
Emmer 212 g (50%)
water 305 g (72%)
salt 8 g (1.8%)
Levain refreshed and left over night to ripen - I used 133 g 100% hydration starter (part of total dough weights above)
13:30 pm mixed dough for 5 minutes added salt then mixed for a further 5 minutes. Turned out onto bench and then did 30 SLAFs just to finish dough. It was a firm dough and could probably taken more water but I decided to stick with the 72% hydration.  
14:25 pm turned dough out onto bench and gently stretched and laminated dough
15:15 pm coil folds ( repeated twice more at 45 minute intervals) then left to bulk ferment.
20:00 pm dough looked ready so preshaped and left to rest for 30 minutes
20:30 pm dough shaped and placed in banneton and left on bench for 45 minutes before being placed in fridge overnight.
Next morning
08:15 am dough removed from fridge to warm up on bench, oven turned on
09:00 am dough removed from banneton, scored, sprayed with water and placed in preheated DO.  Baked for 16 minutes at 240°C then 20 minutes with lid off.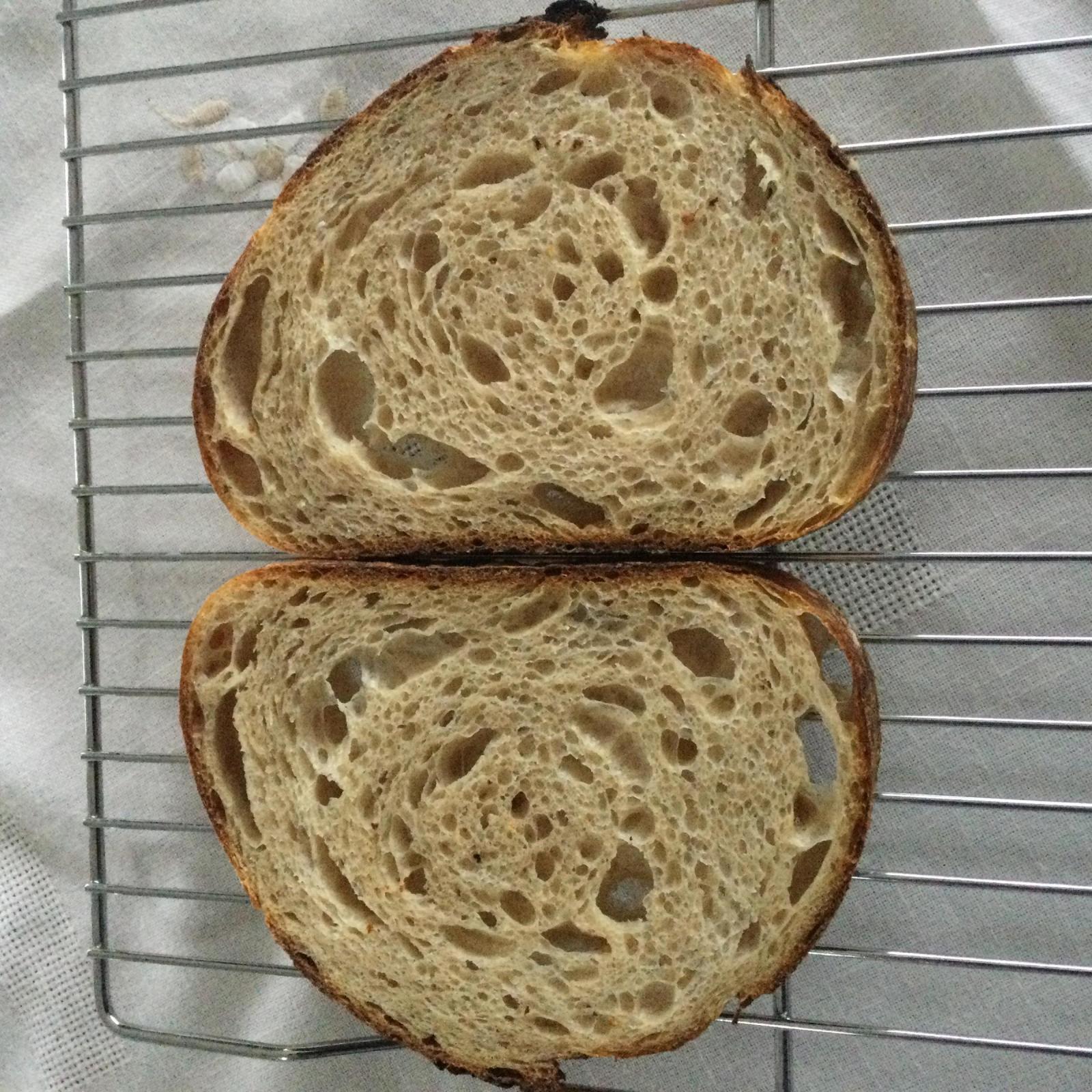 I am really happy with the crumb on this bake, I thought it may have been a bit more dense than it turned out to be.  The only thing was a little bitterness in the crust when it was fresh.  After freezing I haven't noticed this.  The flavour of the emmer is much more obvious than it was with the last bake which was about 30% Emmer flour. Maybe next time a slightly lighter bake on the crust .
Leslie