Ghosts of Altamura - revisiting the past.
My past.  I did post this before, way back in 2016, in the wake of all the chatter on TFL about pane di Altamura.  And just in the past few days Benny and Caroline have been posting semolinas, just about my favorite subject when it comes to bread.  Benny's was his take on the Altamura bread, which, although the original Altamura bread has an odd beauty all of its own, on its best days looks like something Victor Frankenstein might have left aside in a large glass jar.
So my psyche was psyched and I felt somewhat compelled to revisit my corrupted take of David Snyder's take.  Hence the pane di Alfansomura is making a return appearance.  As I now use the Canadian Atta version of semola rimacinata, which does contain some small amount of bran, it isn't as pure as the real thing, but bakes up lovely just the same.
The stats:
89% of the flour is durum,
11% of the flour is dark rye introduced into the mix as a
125% hydration rye levain,
overall hydration is 1 or 2 clicks north of 70%.  
total dough weight ran close to 1300g.  
being ~430g each, these clearly exist in the "long batard" world, and
baked with steam (13 min.) at 450dF.
~26-28 minutes overall.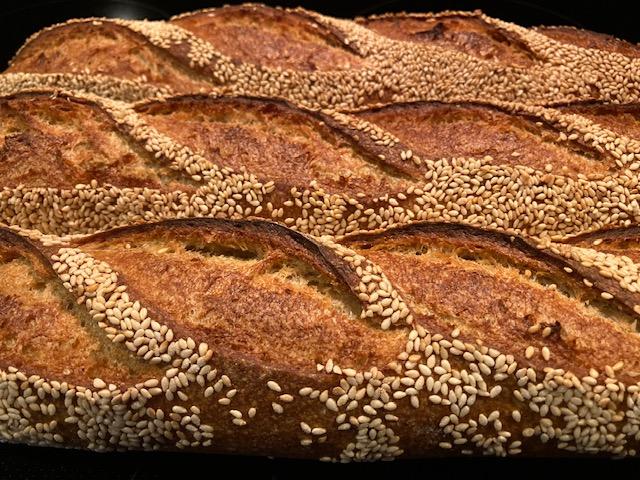 I was a tad disappointed that the crumb wasn't a little more open, which makes for a chewier bite, but tasty just the same and otherwise makes for a contented bake.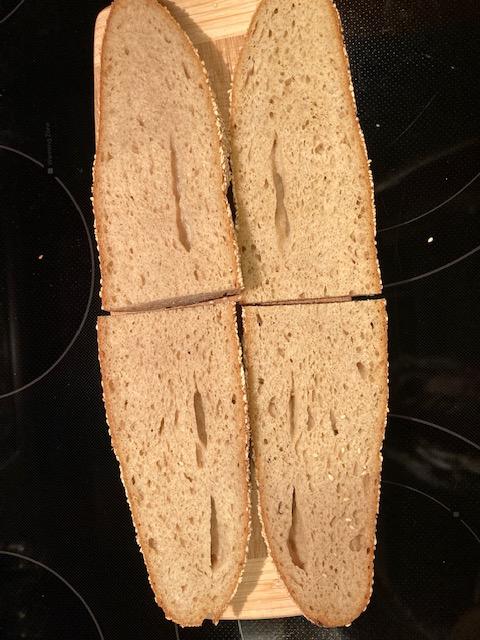 I think I'll be making them again before the month is out.