Guiness Country Sourdough
Maurizio Leo has quite a nice "Stout country recipe" on his web site, although he has promised an improved version for some years (as he did note that the bread could be better with more beer in the recipe).

I've tried making a few beer breads, with say an IPA or a weiss, did make one too with a local stout but I've always found that beer brings a tightness to the crumb and the flavour has been underwhelming although the stout one wasn't too bad. There was a standing joke with a friend that you'd have to prise my Guiness from my dead hands before I used it in a bread, and yet - here I am, still breathing, writing about using Guiness in a bread.

For these breads I used an entire large (440ml) can of Guiness, and since the can included the famous widget, perhaps the extra froth from nitrogen made a difference, or who knows fermentation is just better with nitrogen. The formula listed is based on using more beer, just as Maurizio suggested, and it worked out nicely.


The boule got 40 more minutes final proof at room temp (stopped the bâtard earlier because the banneton was already at the top, not the best reason for stopping earlier I guess).

These are larger than my normal loaves since it had - 1kg flour plus 250g levain for the two loaves. And baked the bâtard a little darker than I would have liked (was engrossed in a work meeting at the time).

Method wise it was a bit of a mixture of methods. I stuck to the quantities from The Perfect Loaf, more or less, with adjustments for the extra beer of the full can. However, the method used was a little different, mostly because the recipes from The Perfect Loaf have a LOT of stretch and folds, and I usually don't manage them all, but did manage 5 here over the first 3 hours. Also, it had an all in one initial mix with both the starter and salt being added up front. Both loaves were pre-shaped. The bâtard only had linseeds for the topping, but for the boule I was more generous with linseeds, sun flower seeds and black sesame.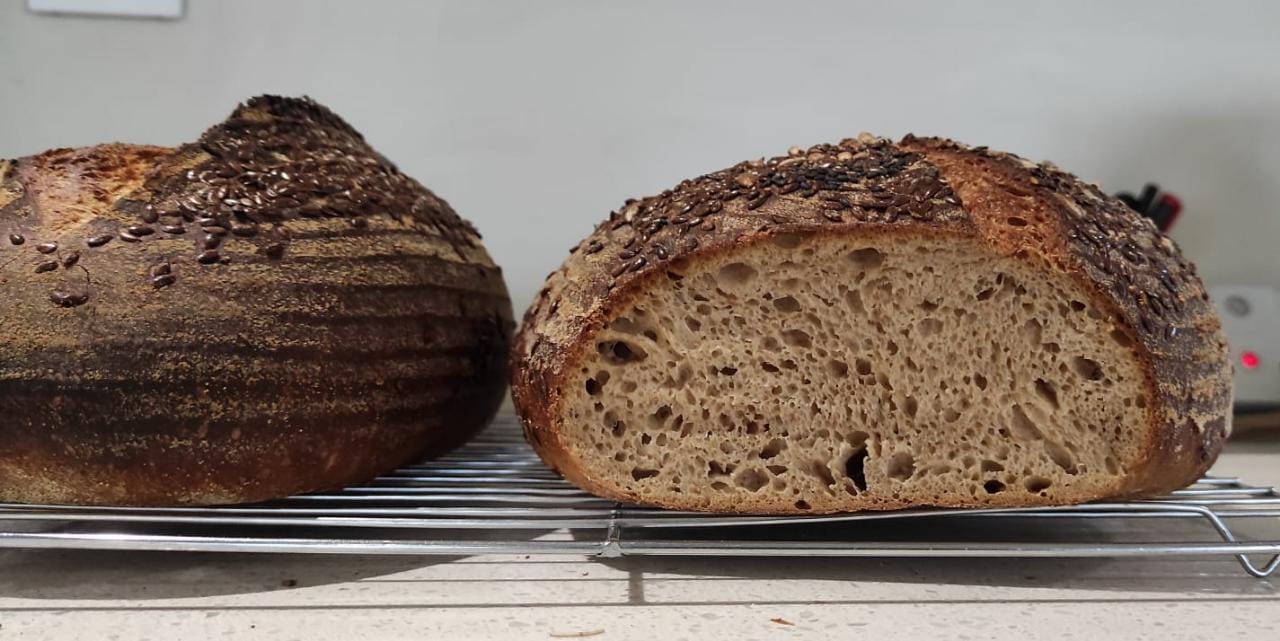 Overall these were lovelier breads than I expected. The flavours were lovely, the loaves were larger than my usual and a pleasure to eat.