Rice, Oat, and Corn Gluten Free Loaf
The concept for this loaf of bread came from the following video from FoodGeek.
https://www.youtube.com/watch?v=InTqgRYVmh4
This loaf turned out really nice!  Moist but not gummy.  The jasmine rice really comes through in the aroma but the oats and corn help give it a whole grain flavor.  It has a creamy texture and will be great for grilled sandwiches and toast!
Rice Soaker
112.5g   Long Grain White Rice
112.5g   Jasmine Rice
258.8g   Water
Oat and Corn Soaker
45g      Rolled Oats
45g      Corn Meal or Polenta (I used Polenta)
112.5g  Whole Milk
22.5g    Butter
Final Dough
76.5g    Brown Rice Flour
22.5g    Corn Starch
13.5g    Psyllium Husk (coarse or fine.  I used coarse)
22.5g    Chia Seeds
33.8g    Water
3.2g      Active Dry Yeast
22.5g    Sugar
1 Large Egg
1)   Prepare Rice Soaker by heating water to 145 deg F then adding rice and covering.  Let sit for 3-6 hours.
2)   Prepare Oat Soaker by heating milk and butter to 145 deg F then adding oats and corn.  Let sit for 3-6 hours.
3)   Add both soakers and water from Final Dough to a blender.  Using short bursts (10-20 seconds), blend soakers to a cake batter consistency.  Verify temperature is no higher than 110 deg F.
4)   Add chia seeds, egg, and yeast.  Give 2-3 short bursts to grind seeds and mix yeast.  Don't go over 110 deg F.  (I finished at about 92 deg F)
5)   Empty blender into a large bowl.  Add remaining Final Dough ingredients and stir.  Batter should be the consistency of a very heavy cake batter. (Consistency of 110-120% hydration white flour starter for the sourdough bakers)
6)   Butter (or grease) a 4"x8" bread pan and coat with brown rice flour or corn meal/polenta.
7)   Pour batter into bread pan, spread evenly and smooth top with a spatula
8)   Put bread pan in a plastic bag and close.
9)   Let rise at 74-76 deg F until dough just crests the rim of the pan.  If you push it too far, the dough surface will start to crack.
10) Bake at 350 deg F for 30 minutes with steam.  Remove steam pan and bake for another 30 minutes at 350 deg F.  Remove the loaf from the pan and bake directly on the rack for another 10-15 minutes.  Final temp should be at least 205 deg F.  
Optional:  Carefully egg wash dough before baking and then again 5 minutes before bake is done.
Batter in pan and smoothed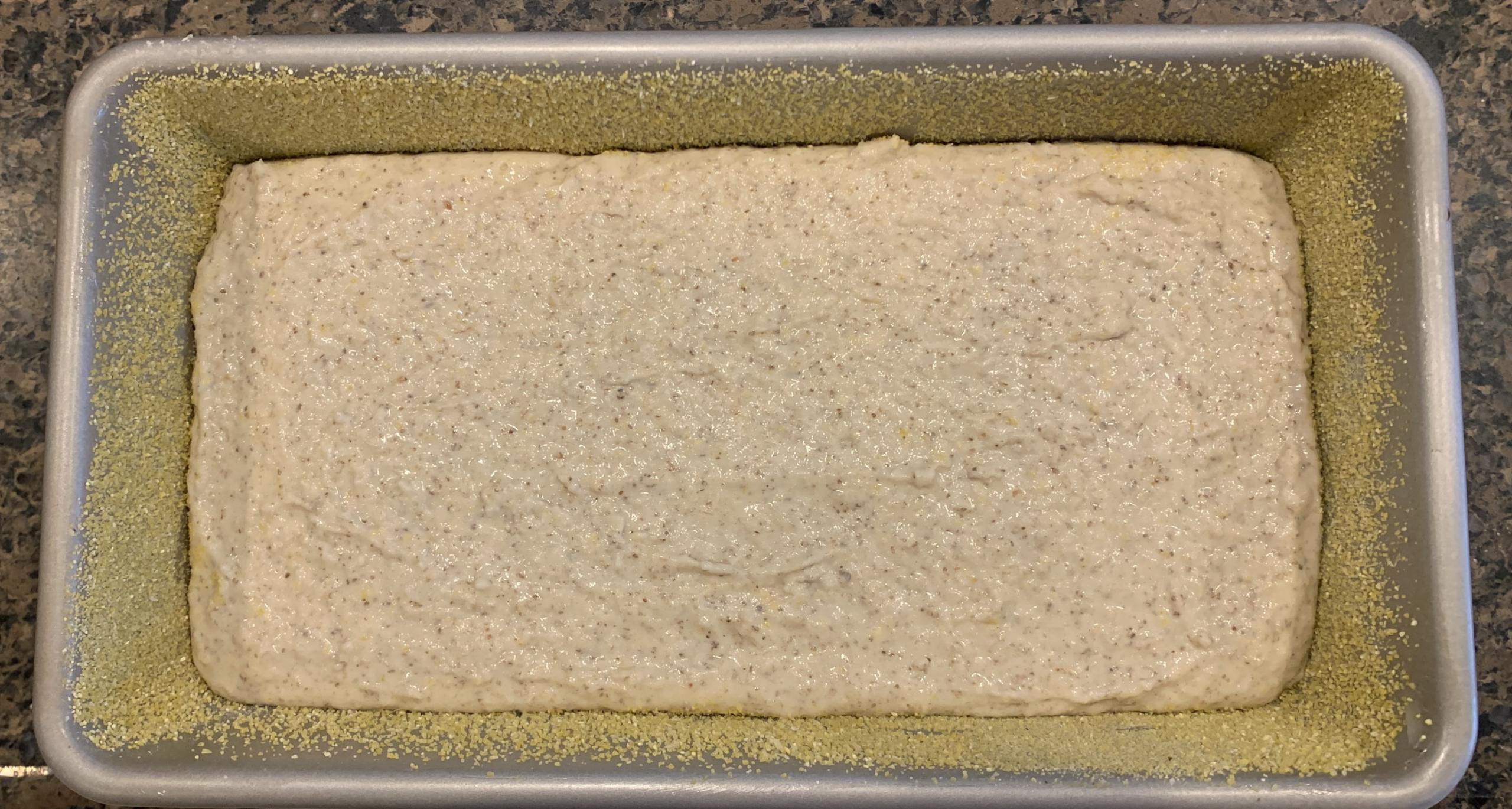 After rising... Surface starting to crack.  Think I was a little thin with my batter.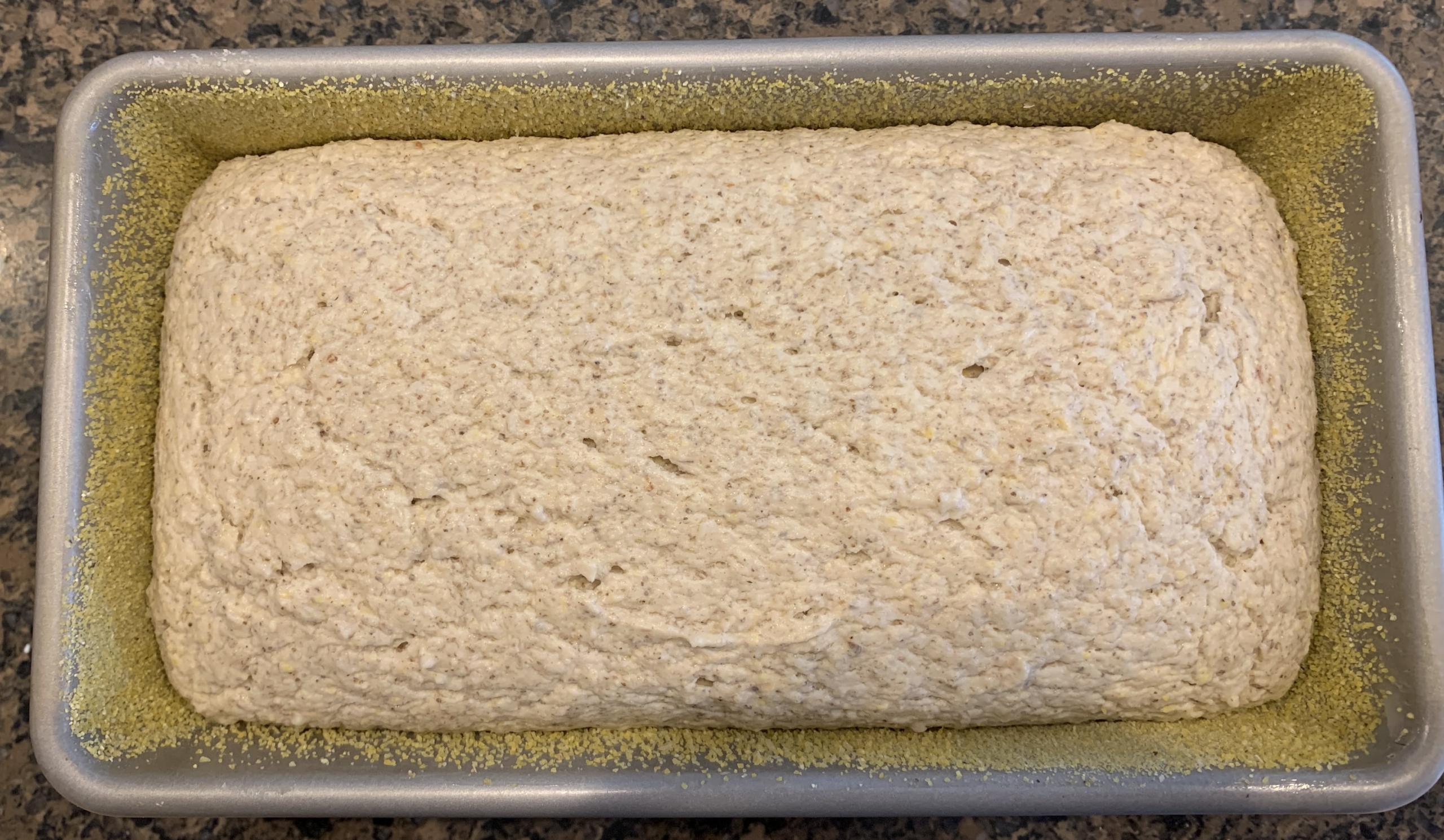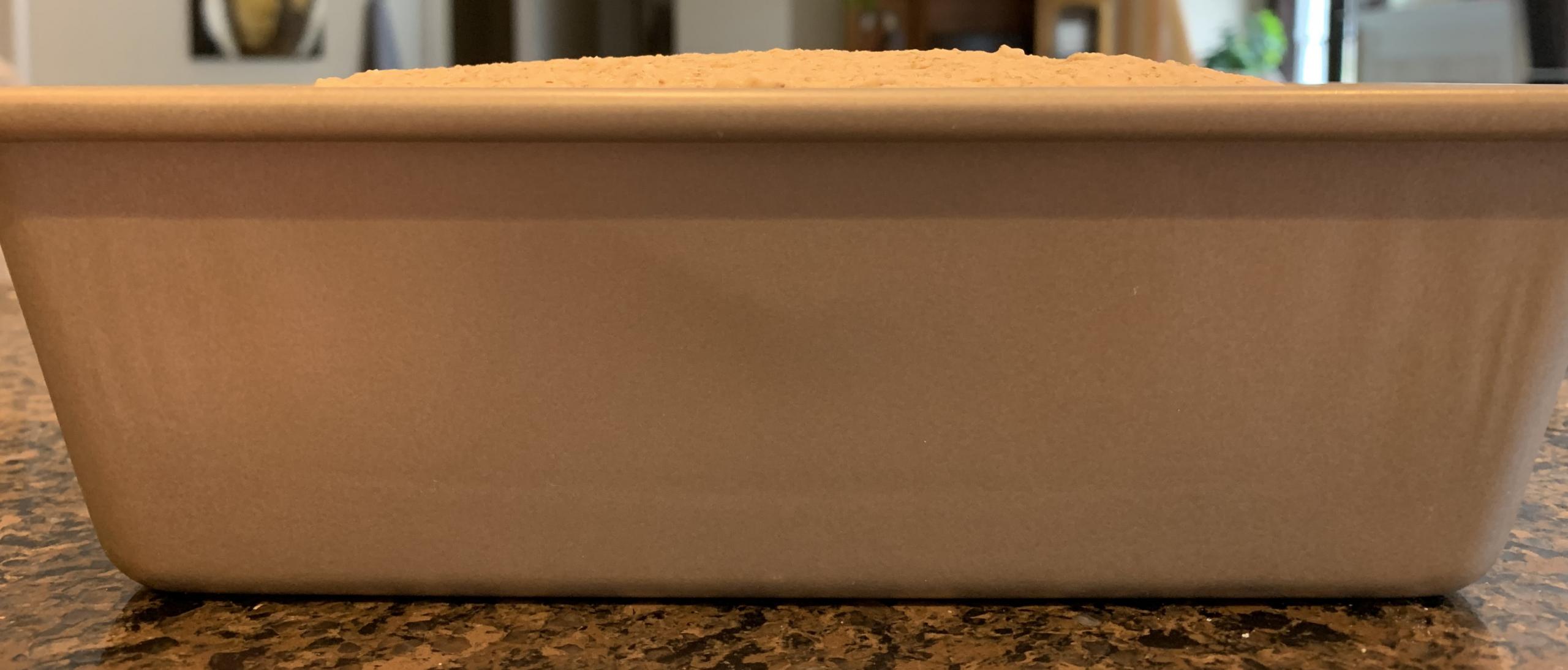 Baked loaf