Plugging oven vents with foil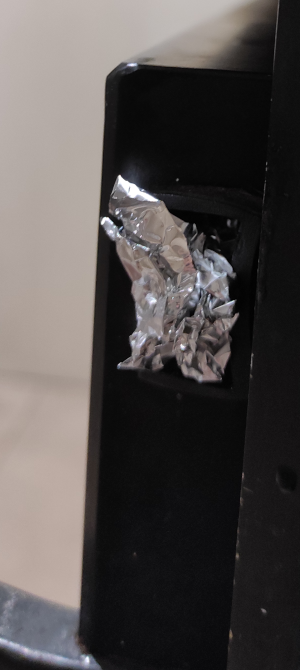 I've got an old eye-level oven (Defy) for which there is no setting to turn off the convection fan. I usually bake in a dutch oven because of this.
When I've baked on the baking steel, it has always felt like my trays of water are dried out in the 20 minutes of steaming time, and although I can see bubbling on the bread which indicates there was some moisture during the early part of the baking it has always felt like there may not have been enough.
I read somewhere about blocking the oven vents with aluminium foil and it seemed to have worked much better in my most recent bakes on the steel. There are two side vents on the door, I tried blocking the bottom one more thoroughly and the top one more loosely, so during baking you can see a steady stream of steam coming from the top vent.
Plugs are only added before baking and removed after 20 minutes along with the trays I'm using which are now a lot fuller than they were before at time of removal.
So, it seems to have been a good technique, although I must admit to being nervous that there would be a steam buildup of some kind in the oven.
Has anyone else done similar?