Sprouted Whole Wheat Cinnamon Raisin Walnut Bread - Reinhart's Whole Grain Breads
Time to try to make a raisin bread...and might as well go to the Whole Grain version....and might as well do sprouted grain as well. To that end I took the recipe from the book and tweaked it a bit and this is the result. 
A few notes. You might not be able to knead the biga. Just let it soak overnight and it will firm up quite a bit as the flour hydrates. For the final dough you will likely need to add more flour to get the dough to come together and build enough gluten. If you are using the sprouted grain you should be sure to add the vital wheat gluten to help build the needed structure. If you do not have this gluten feel free to sub in flour for the sprouted grains.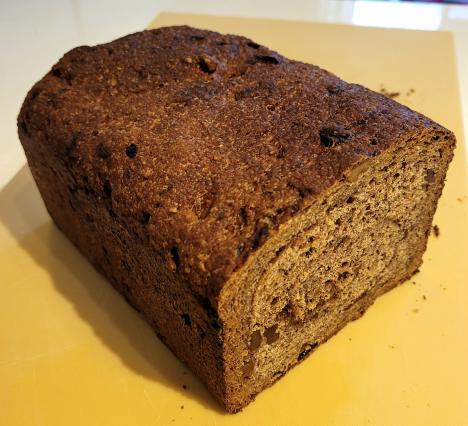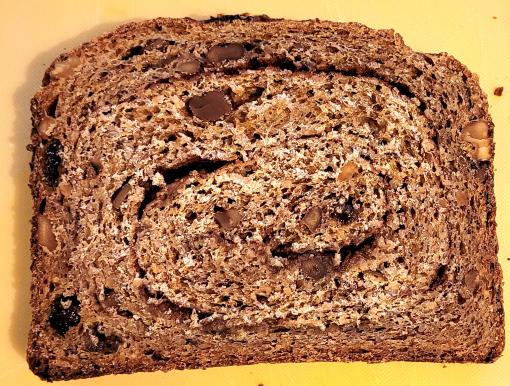 Tasting Notes: Rich and dense. You could even say toothsome. The bake took more time than expected so it has a pretty thick crust. It isn't unpleasant but if you are expecting a lighter softer bread whole wheat is not the answer for you. The cinnamon sugar swirl is not very visible in the cross section nor is it an overpowering flavor. It's more like a nice subtle pop of flavor for a bite here or there. The same with the raisins. I taste them on occasion but the wheat is so strong the kind of get a little lost in the richness of the wheat. And apparently there are walnuts...but I can't tell!
Time/Effort: 4 days - Day 1 begin sprouting. Day 3 Mix Biga and Soaker. Day 4 mix dough, prove, and bake. While it sounds like a long time it's mostly just planning ahead. With just an overnight soaker this bread really comes together in a single day. 
Would I make it again: Yes, but as a transitional bread that uses 50% whole wheat and 50% bread flour. I think the raisins and cinnamon sugar would have a better chance to shine with a less dense bread. It's good but maybe too many good things have made the flavors less clear and more muddled together.