Country Loaf with and without RYW
It's been a long time coming, but I finally got around to doing a side-by-side comparison of a bake with and without raisin yeast water.  One caveat...  any of you that have followed my posts may remember when my yeast water that I made with honey and raisins went sour and noticeably acetic.  I thought it was the new batch of raisins I had purchased, but it happened again with a brand new YW with new organic raisins. So now, I think it may be the honey.  This should have been a test to see how YW smooths out any sourness, but in this case, it was how it added to it.  :-)  In reality, this worked out well because my starter (all white flour at 120% hydration) lacks any real acetic tones.  It's very yogurty.
On to the bake...
Loaf 1
225g  AP Flour (Wheat Montana)
158g  Bread Flour (Wheat Montana)
23g    Whole Wheat Flour (King Arthur)
23g    Sifted Durum Flour (Janie's Mill)
11g    Barley Flour (Food to Live)
11g    Dark Rye Flour (Bob's Red Mill)
302g  Water (67% hydration)
9g      Sea Salt
18g    Sourdough Starter 
Loaf 2
All the same flours and salt
189g   Water (42% hydration)
113g   Raisin Yeast Water (25% hydration)
13g     Sourdough Starter
Method
1)   Combine all ingredients and mix till fours are wetted.  
2)   Bench rest 30 minutes
3)   Bowl kneading till some dough resistance (24 folds)
4)   Bench rest for 30 minutes
5)   Bowl kneading till smooth dough surface (12-15 folds)
6)   Bulk ferment 76 deg with S&F every 60 minutes until dough is just starting to get "puffy" (7-8 hours)
7)   Continue bulk until dough roughly doubles (80-100%)
8)   Pre-shape, bench rest, final shape
9)   Final proof at 76 deg F for 2 hours
10) Cold retard overnight (6-8 hours)
11)  Pre-heat oven to 460 deg F for 40 minutes
12)  Pre-steam oven, load dough and bake for 1 minute at 460 deg F; lower oven to 425 deg F (15 minutes); vent oven and empty residual water in steam tray; 425 deg F (15-20 minutes).  Bake done when hollow thump on bottom.
Observations
1)   Both doughs were slightly sticky at mix but immediately smoothed out after first kneading
2)   RYW dough was a little stronger/stiffer from initial mix
3)   RYW dough was a little slower in bulk and final proof.  Guessing the amount of RYW used did not compensate for the drop in starter inoculation.
4)   Both loaves had very similar bloom/spring.
5)   RYW loaf has a slightly more closed crumb.  Not sure if that's due to fermentation or slight differences in degassing/shaping.  Would need to do it again to see if it's consistent.
6)   RYW loaf had a more noticeable tang to both aroma and taste (as expected with my "sour" RYW).  Both breads were very good.  I think I liked the tang a little more.
7)   Side note...  I used a pizza stone instead of my baking steel for these loaves.  Have been fighting very tough, leathery bottom crust since starting with my steel.  Had to drop pre-heat temps to 375 deg F to avoid it and then try to ramp temp at the end to get color into the crust.  Not an issue with the stone, and really happy with the bloom and spring on both loaves.
Straight SD loaf left.  RYW/SD loaf on right.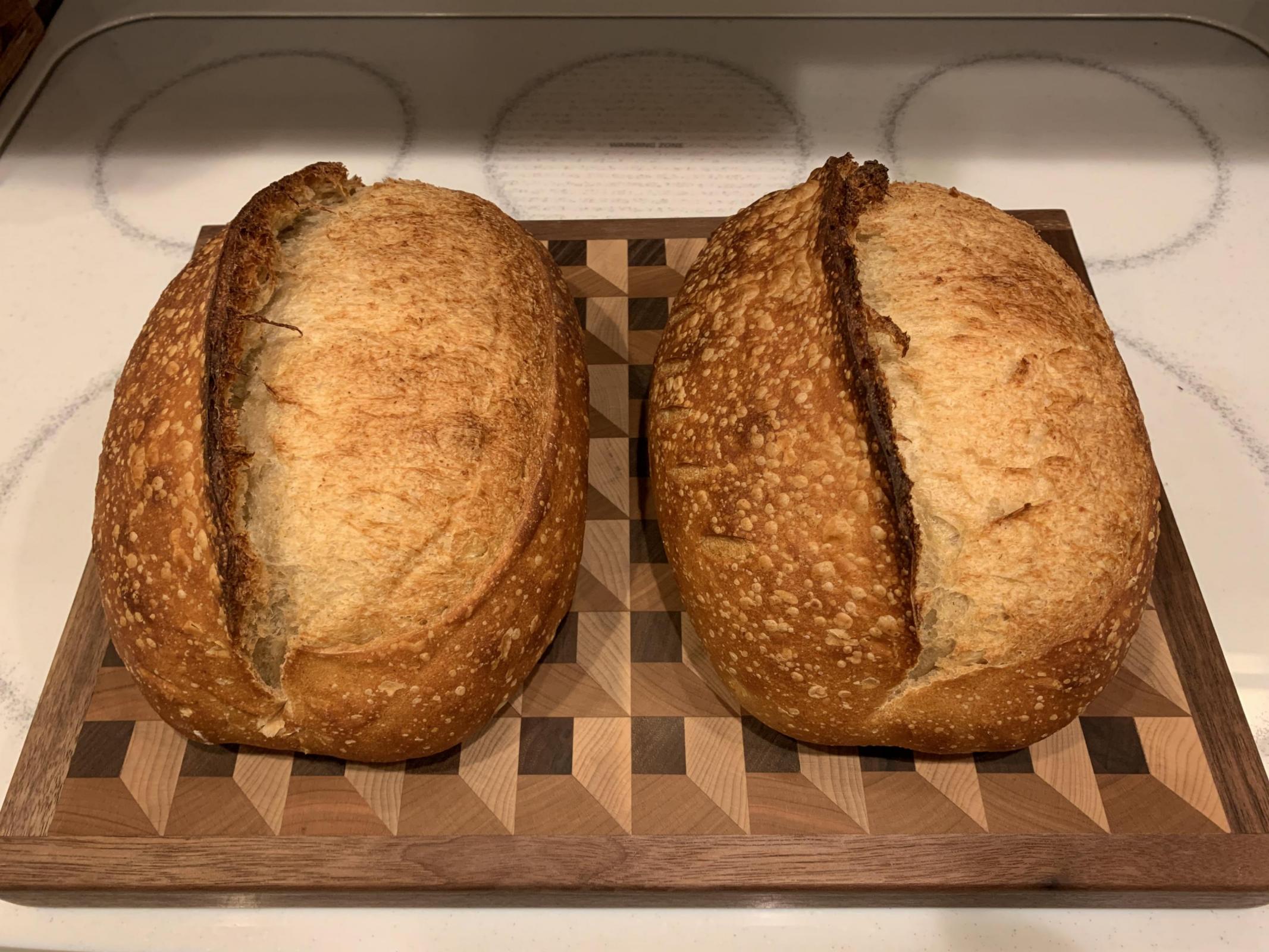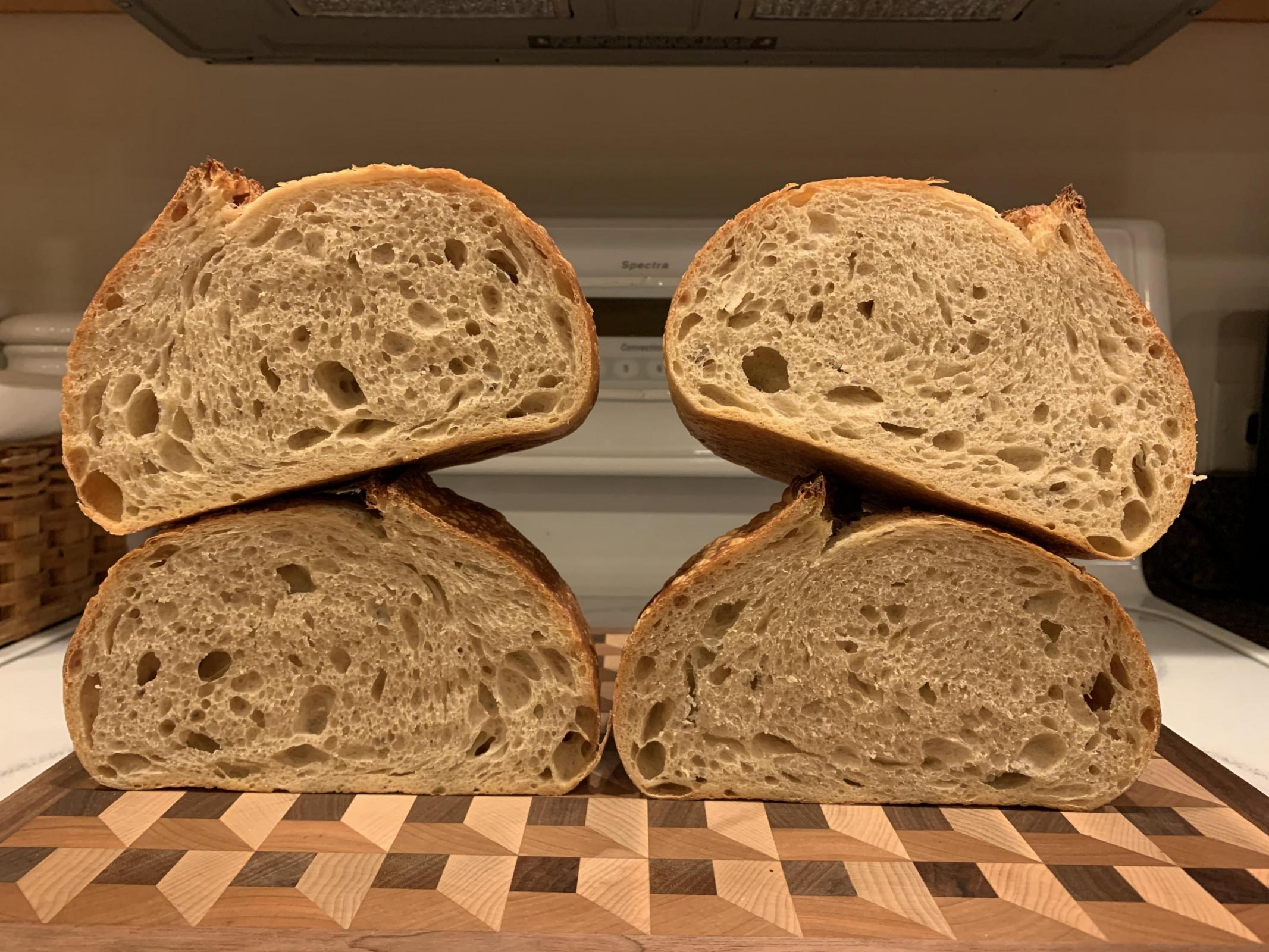 Straight SD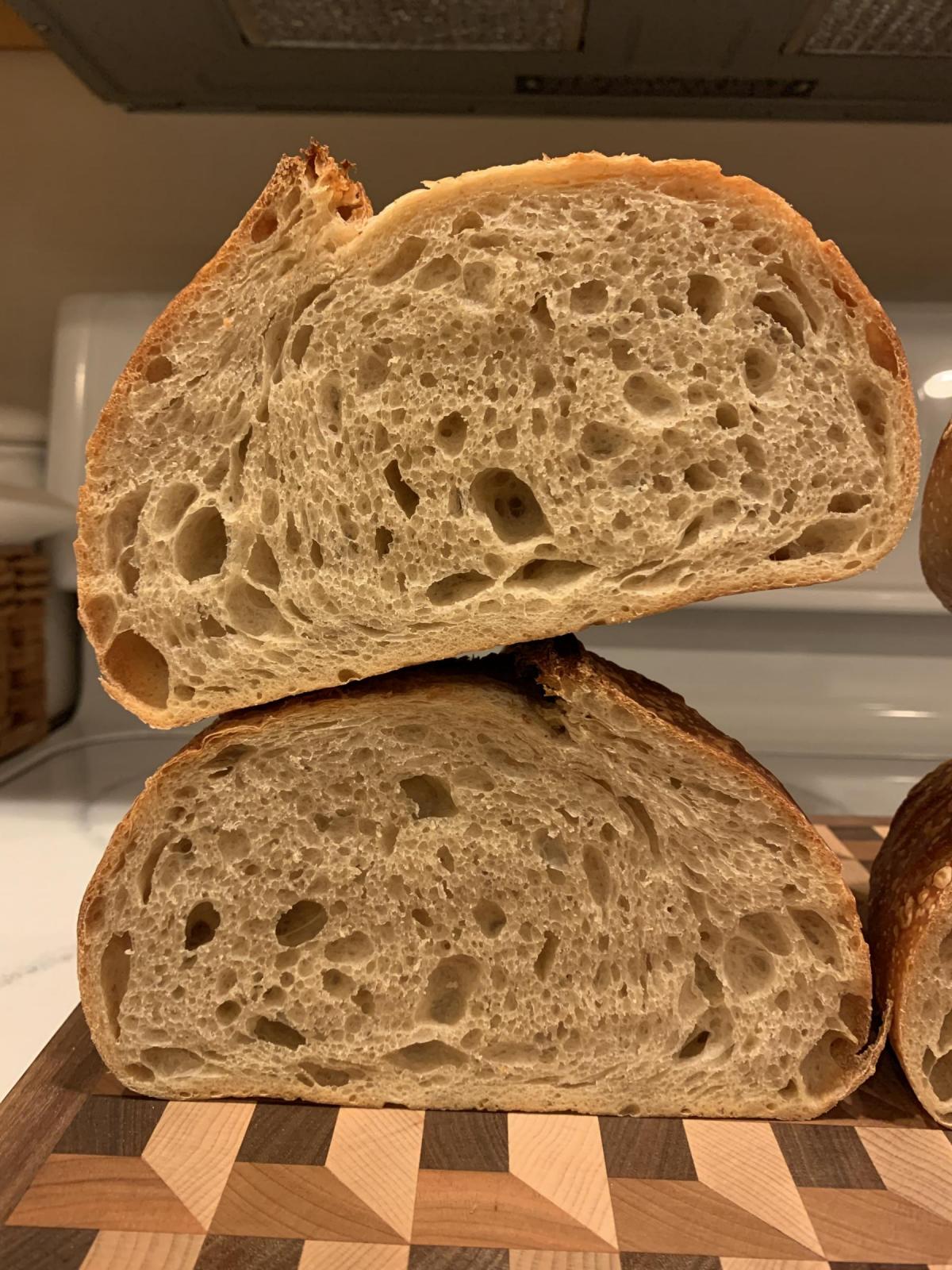 RYW/SD