Mini buns, tarts & semola sourdough
I made brioche buns and smaller loaves of sourdough recently. Smaller bakes are fun!

Instead of my usual braided loaves, the brioche with sourdough discard and Tangzhong were made into little buns (or pastries). These were not 2:1 or 3:2 (flour:butter) brioche; 50-70% butter versions. I used just 30% eggs, 30% butter which came out soft and buttery, thanks to the use of Tangzhong and Kamut. The second batch used 25% of each.

These buns were made using 50-60g of dough each, small enough for me to enjoy two at once. A little extra work was making the easy pastry cream to fill the buns.

Brioche dough with tangzhong and sourdough discard 1

Tangzhong
100g milk
20g all purpose flour

SD Discard
130g SD discard
1/4 tsp baking soda

Dough
All of the Tangzhong
All of the SD discard
40g milk
150g eggs
1/4 tsp vanilla extract
60g sugar
290g all purpose flour
120g Kamut flour
5g vital wheat gluten
3g instant yeast
8g salt
150g unsalted butter, cubed/flattened pieces

Egg wash
1 large egg
1 tbsp heavy cream
a pinch of salt

The first batch were baked as two separate days (left the second half of it in the freezer for 3 days):

First half of the dough (photo above)
- Biscoff spread braided buns
- masala sugar braided buns
- sugar pie/bun (brioche tarte au sucre) - flatten the dough ball to about 3 to 4" in diameter, toward the end of the second rise, brush with egg wash and sprinkle with sugar. Then, gently dock the dough with fingertips or blunt end of a chopstick dipped in cream. Dab each cavity with a little cream and place a piece of cold butter in each of them. Shor-cut version: after sprinkling with sugar, poke the dough with pieces of cold butter to create the cavities. Like my failed attempts at flattening Barbari bread, these were got very puffy when baked :p


Second half of the dough: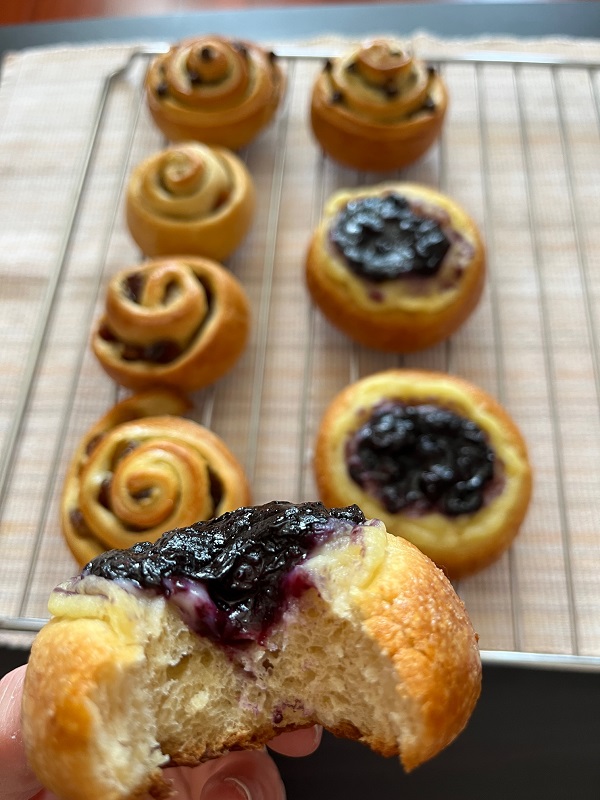 - pastry cream with rum raisins,chocolate chips and blueberry jam (bit into the jam one before taking the photo, ha!)


Brioche dough with tangzhong and sourdough discard 2
- with lemon zest rubbed into the sugar before mixing
- not as rich as the previous batch, but it's a version I would use if I feel like using more than 50g of butter in my dough.

Tangzhong
100g milk
20g all purpose flour

SD discard
120g discard (100% hydration)
1/4 tsp baking soda

Dough
All of the Tangzhong
All of the SD discard
30g heavy cream
100g eggs
1/2 tsp vanilla extract
2 tsp lemon zest (1 lemon)
48g sugar
3g instant yeast
120g Kamut flour
195g all purpose flour
5g VWG
6g salt
100g unsalted butter, cubed/flattened pieces


Second batch was made into a dozen of these: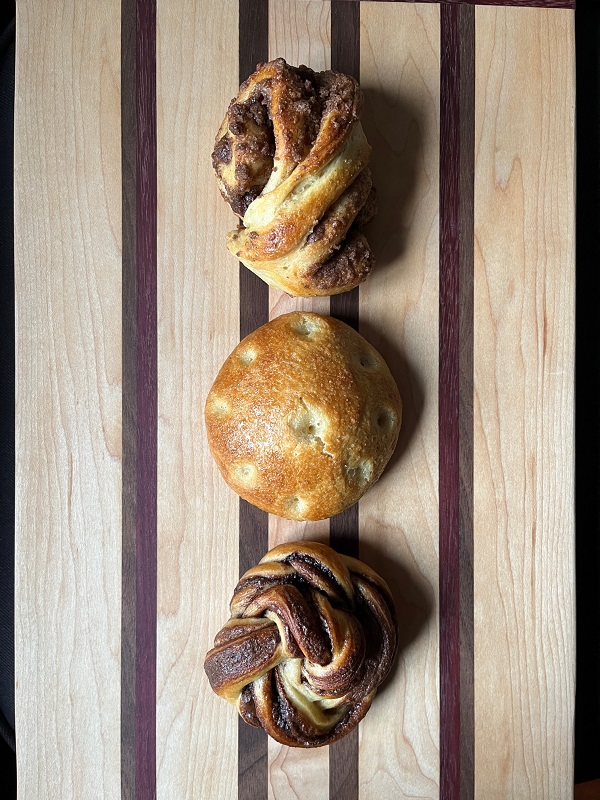 - cinnamon sugar twists - filled, rolled and sliced, then flatted, pulled and twisted to expose the swirls
- brioche tarte au sucre (can't help it, these are just so easy to make and tasty, I'd make them with any enriched dough)
- hazelnut chocolate twists

Masala or cinnamon sugar filling
- brush a thin layer of egg wash before sprinkling the sugar filling

15g all purpose flour
20g unsalted butter, melted
60g sugar
8g (1 tbsp) ground cinnamon or masala mix
A pinch of salt

Easy pastry cream
150g milk
80g heavy cream
1/4 tsp vanilla extract
1/4 tsp lemon extract
40g sugar
1 tsp lemon zest
1 large egg
15g cornstarch
A pinch of salt
20g unsalted butter, cubed


Preparing the dough:
Dry ingredients
Rub lemon zest (if using) into the sugar. Then, whisk together with flours, salt and instant yeast in a large mixing bowl. Set aside.

Wet ingredients
Prepare the sourdough mixture. Stir baking soda into the sourdough discard (this neutralizes the sourness especially in old discard). Cover and let the it rest for about 15 minutes before use.

Prepare the Tangzhong, making sure the mixture reaches approx 65°C before removing from heat. Stir in fridge-cold milk, eggs, starter discard and vanilla extract.

Add the wet ingredients to the dry ingredients. Mix on stirring speed until a dough forms, making sure no dry bits of flour remains, about 4 to 5 minutes. Cover and let the dough rest for 30 minutes.

Add 2-3 pieces of butter to the dough. Mix until these are absorbed before adding the next pieces of butter. Repeat until all the butter has been added to the dough. Gradually, increase the kneading speed to 2 to develop the dough, stopping every 2 minutes to scrape the bowl and to turn the dough. This process may take 15 to 20 minutes in order to achieve windowpane stage, where the dough is smooth, shiny and elastic. Do not add any more flour.

Shape the dough into a boule, then, transfer it to a greased bowl, cover and let it proof for 45 minutes to 1 hour at room temperature (20-22°C) or until nearly doubled in size.

Then, deflate the dough on a lightly floured counter, fold it in half, then in quarters and reshape it into a flattened disc. Wrap in clingfilm and place it in an airtight container, resealable bag or on a baking sheet. Proceed with the desired next step based on when the dough will be shaped and baked:

To bake the same day: place the sealed dough in the freezer for 2 hours followed by 3 hours in the refrigerator before dividing and shaping.

To bake the next day: place the sealed dough in the freezer for 2 hours followed by an overnight in the refrigerator before dividing and shaping the next morning.

To store and bake another day: place the sealed dough in the freezer for up to a month. Thaw the dough in the refrigerator overnight before dividing and shaping.

Divide and pre-shape the dough pieces into boules, chill for 30 minutes, roll out dough. Add fillings and final shape. Cover with plastic.

2nd proof: 1 to 1.5 hours (at 21-22°C), until puffy and not quite doubled in size.

Preheat the oven 20 - 30 minutes before baking.

For small rolls (50-60g), 180°C 15 to 20 minutes.
For 9x5" loaf (about 600 to 800g), 180°C 45 to 50 minutes.


Preparing the pastry cream:
Milk mixture: In a saucepan, bring half the sugar and 2/3 of the milk to a gentle simmer (about 77 to 80°C), whisking or stirring to prevent burn spots on the base of the pan.

If using zest, rub zest with sugar before adding the milk. Whisk/stir until all the sugar is dissolved. Remove from heat and stir in vanilla/lemon extract.

Egg mixture: In a mixing bowl, stir together remaining sugar, cornstarch and salt. Whisk in eggs and the remaining 1/3 milk. Mix until well combined.

Tempering of the egg mixture: Slowly add half the warm milk mixture in a thin stream to the egg mixture while whisking continuously to avoid any lumps. Pour this egg-milk mixture back into the rest of the milk in the saucepan, stirring continuously.

Place the saucepan back on the stove and cook over medium-low to medium heat, whisking constantly until the cream begins to thicken, about 2 to 5 minutes. Once it thickens, continue to whisk, pausing every few seconds to check for bubbles and the temperature as it approaches 93°C. When it begins to bubble, set a timer and continue whisking for 1 minute. This step helps neutralize a starch-dissolving protein in the egg yolk.

Remove from heat and whisk in butter until melted, one piece at a time until thoroughly combined. Strain (if there are lumps) the cream into a bowl or tray. Cover with cling film over the entire surface of the cream to avoid it forming a skin. Let the cream cool completely at room temperature or in the fridge.

Once cooled, whip it with a whisk or spatula gently, not too vigorously to avoid thinning the cream. Pipe or spread the pastry cream in pastries. It may also be mixed with whipped cream or milk to use as a filling.


The extra pastry cream leftover from the bakes above went into these two tarts (3.14 pi day yesterday): coconut cookie crust layered with chocolate ganache, pastry cream, more ganache topping and garnished with a little whipped cream and glazed berries.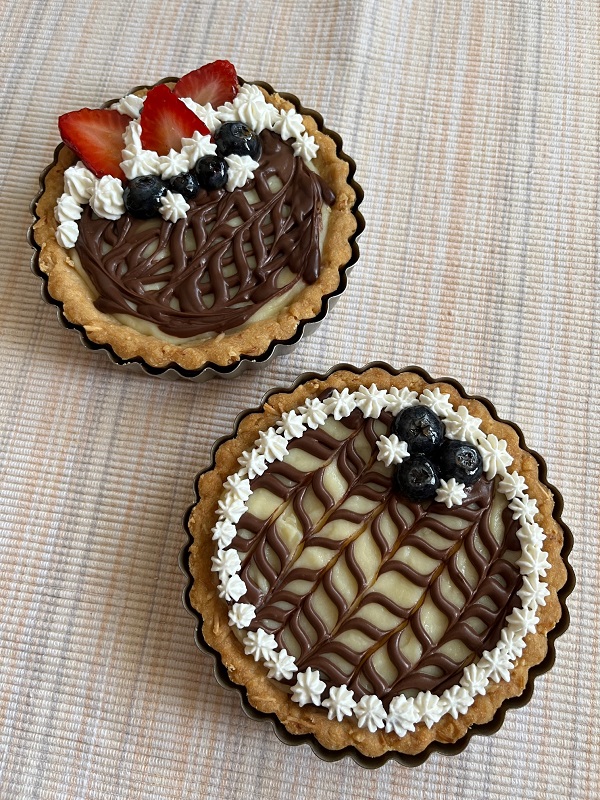 Next, my current favorite sourdough loaves! These sourdough same-day bakes are easy to fit in my schedule and I like how small and easy to handle they are.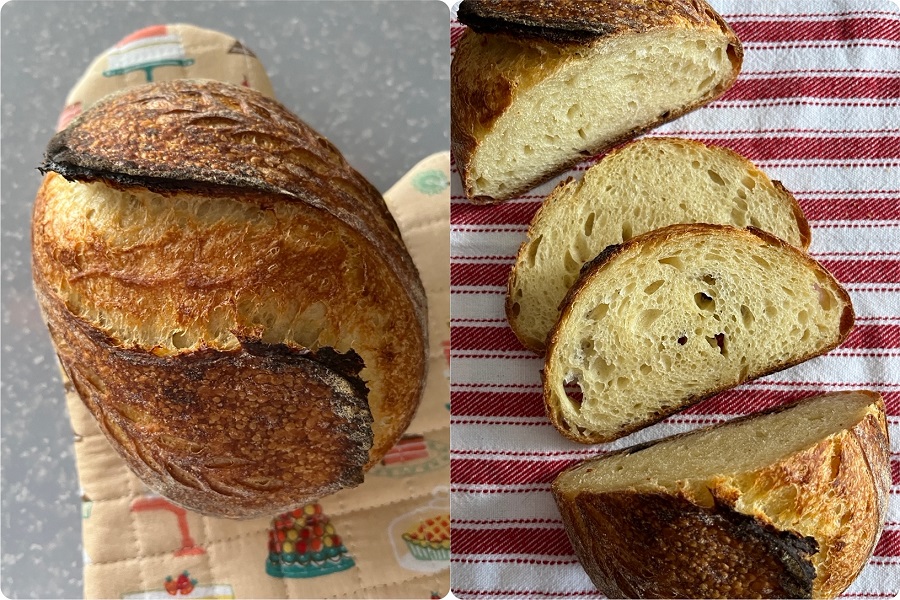 Sourdough loaf with Semola and AP
50g starter (100% hydration)
180g semola flour (semola rimacinata di grano duro)
20g all purpose flour
5g sugar
140g water
4g salt

Add-ins up to 80g


With jeera and cheese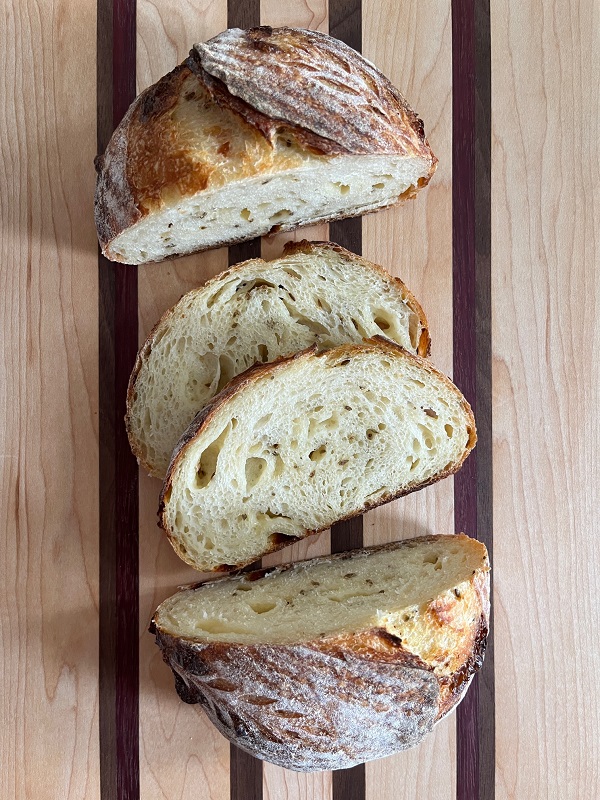 Laminated 3g jeera and 50g Swiss cheese before coil folds
(similar to my other post)


And this one with spelt, AP and 50g pork floss mix (shredded meat cooked until a cotton candy-like texture) with seaweed and sesame seeds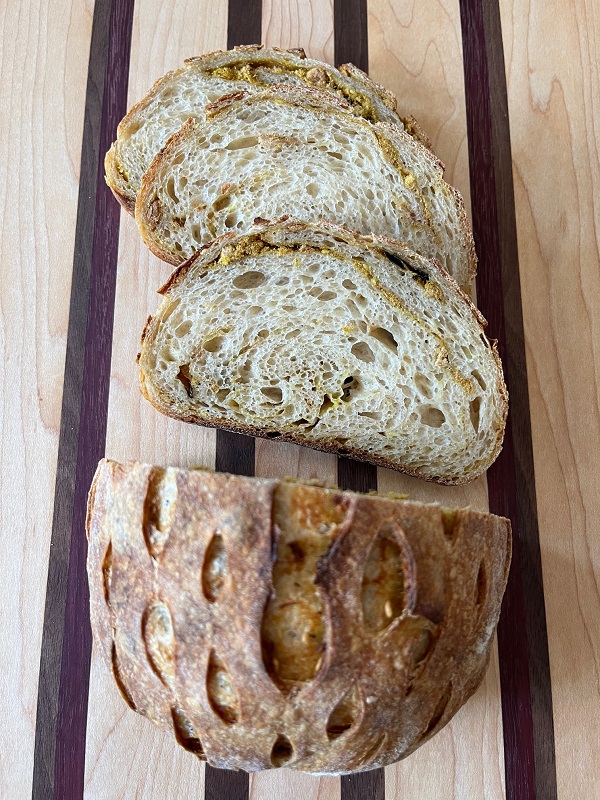 Total BF at 22-23°C approx 6.5 to 7 hours
Final proof 24-25°C 2 hours, freezer 1 hour
Bake at 230°C 20 minutes with lid/steam, 25 without.

Until next time, happy baking! :)

- Christi