Two experiments this weekend.  One I've been wanting to try and one a friend asked me to make.  I"ll try to get a more detailed method loaded in the next day or two.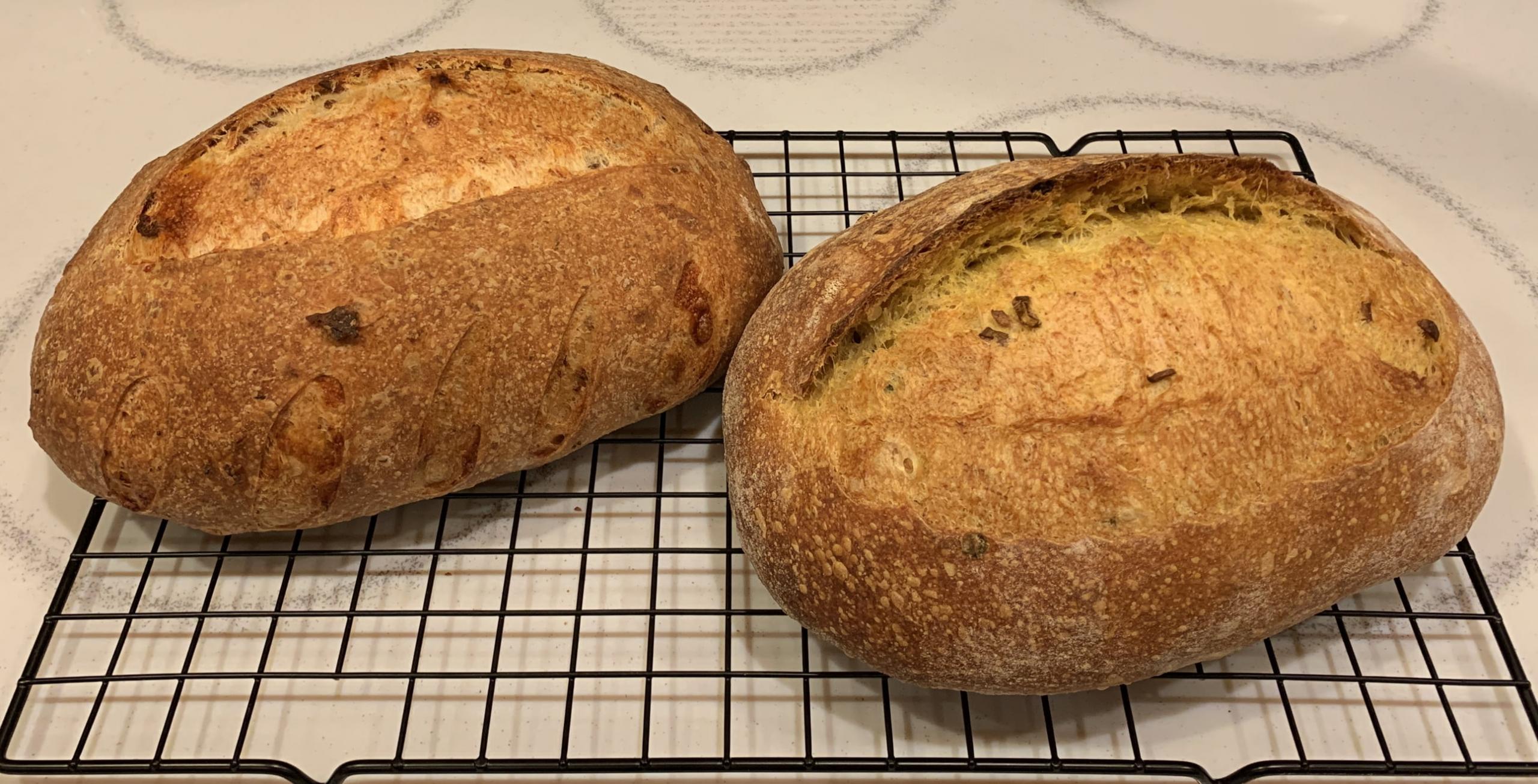 Garlic Onion Oregano and Turmeric
This is one I've been wanting to try.  Didn't know for sure how much of each inclusion to add, so this is the starting point.  Smelled wonderful coming out of the oven.  Seems to have lost those aromatics as of this afternoon.  Haven't tried it yet.  The Red Fife and Kamut were milled on my Mockmill.  
EDIT:  From my perspective, the texture was spot on but the flavor was lacking.  Shared half a loaf with a friend.  She thought it was delicious and made great paninis, but couldn't discern any flavor other than onion.  Next time, I will increase the inclusion amounts.

 Method
1)    Combine levain ingredients and ferment at 70 deg F for 12-14 hours
2)    Coarsely mince garlic and chop green onion.  Combine and sautee in 1 tsp olive oil over low heat to avoid burning the garlic.  Sautee until aromatic.  Add oregano and turmeric to the sautee, stir well to combine, and cook for 1 minute to bring out the aromatics in the herbs.  Remove from heat and cool.
3)    Combine all final dough flours and final water.  Stir gently until flour is just wetted.  Cover and autolyse for 30 minutes.
4)    Add levain, inclusions, and salt to autolyse and combine with pinch and folds.  Continue until levain is well mixed into autolyse.
5)    Develop medium gluten.  I used 3 sets of bowl kneading with 10 minute rests.
6)    Bulk ferment at 76 deg F.  Folds every 30-45 minutes (30 min if dough strength is low, 45 minutes if dough is reasonably holding its shape) until dough is starting to get "puffy".  Allow dough to expand to roughly 75-90%.
7)    Degas dough and pre-shape in a boule.  Bench rest for 20 minutes.
8)    Final shape round or oval.  Final proof at 76 deg F until dough has roughly doubled and is "jiggly".
9)    Pre-heat oven at 465 deg F; steam oven: bake at 450 deg F (5 mins), 425 deg F (15 mins); vent oven and remove steam; 425 deg F (10 min), 400 deg F (10-15 min)


Unfortunately, the yellow in the crumb didn't come through to this file upload.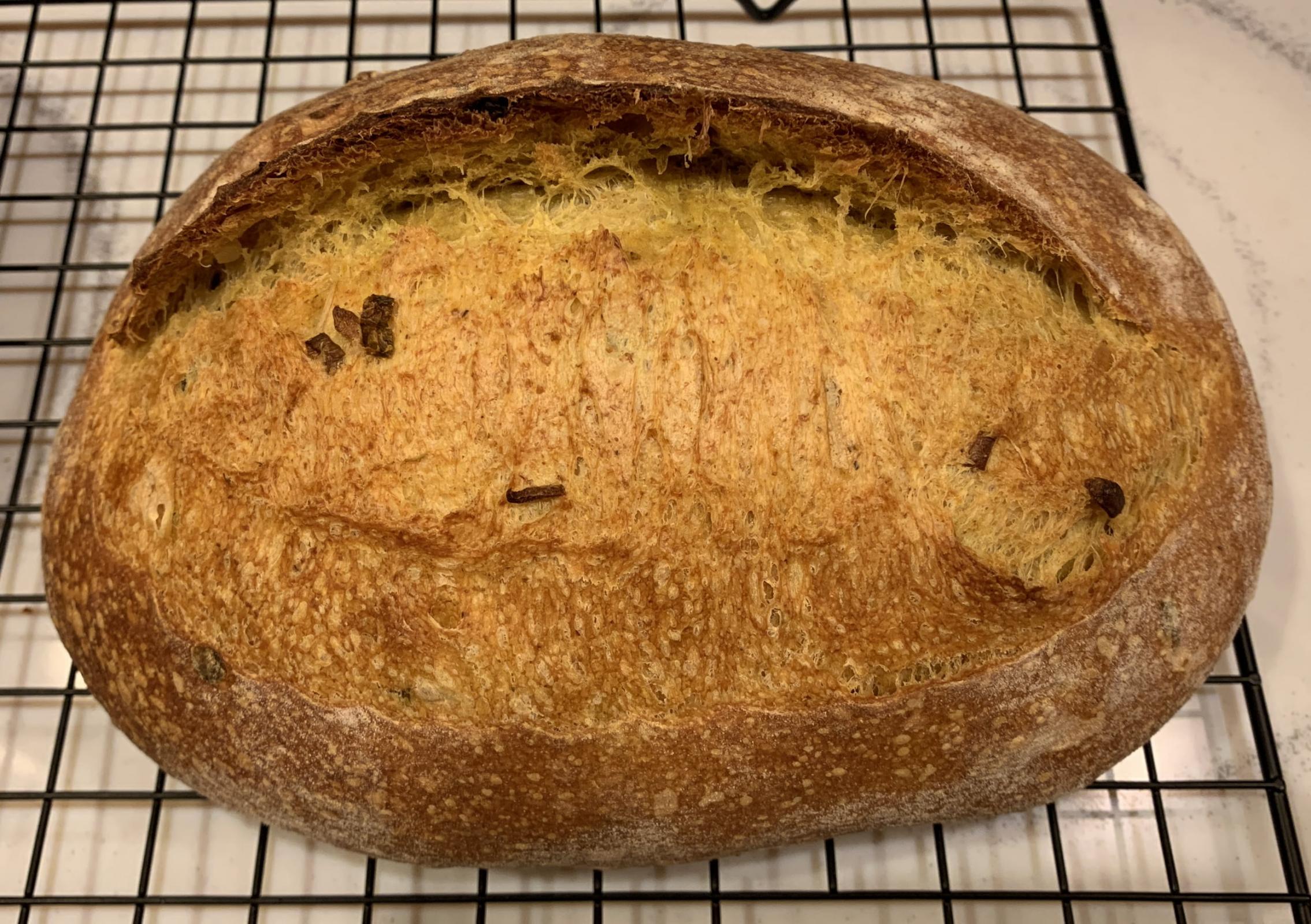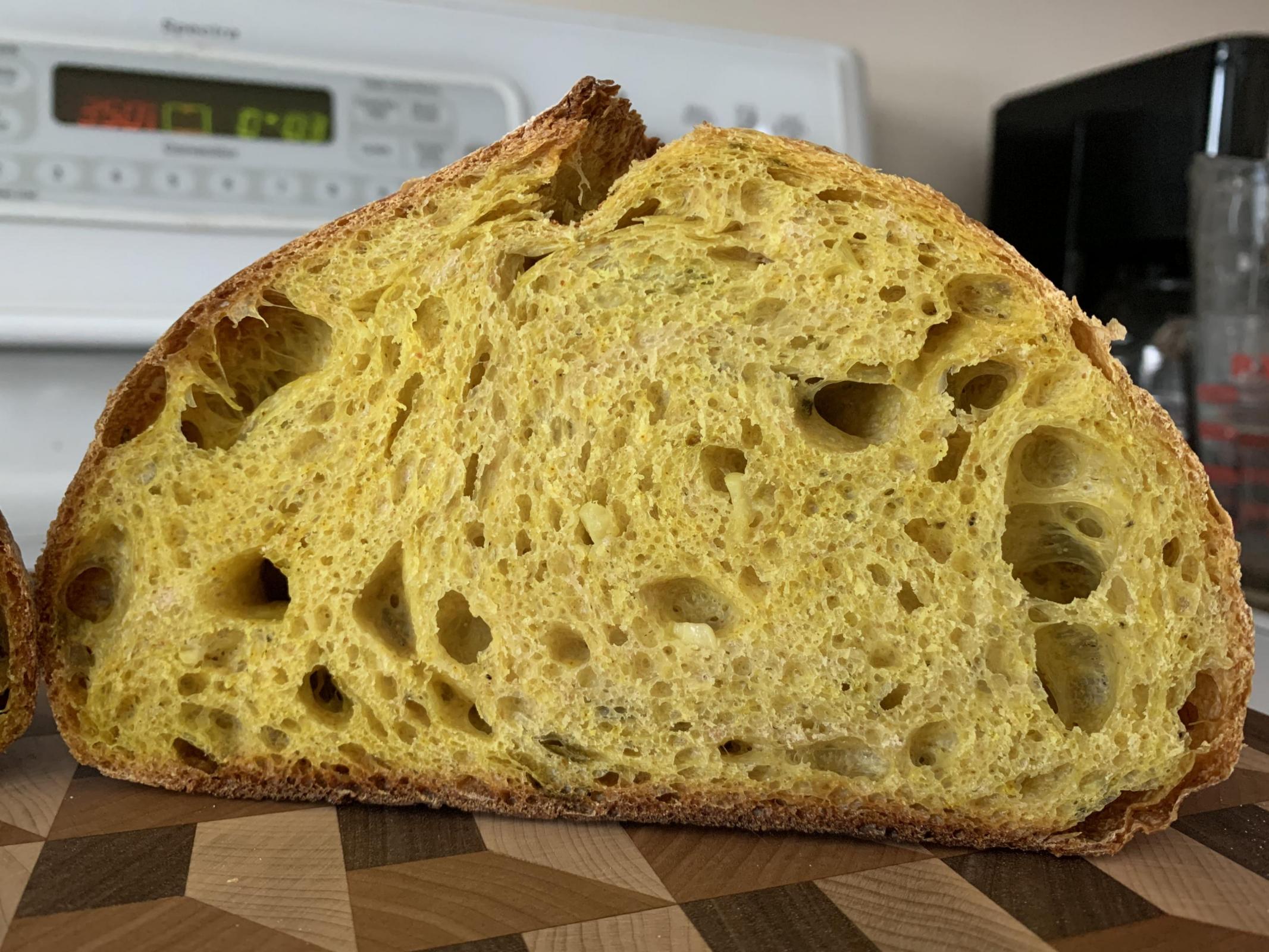 Garlic inclusions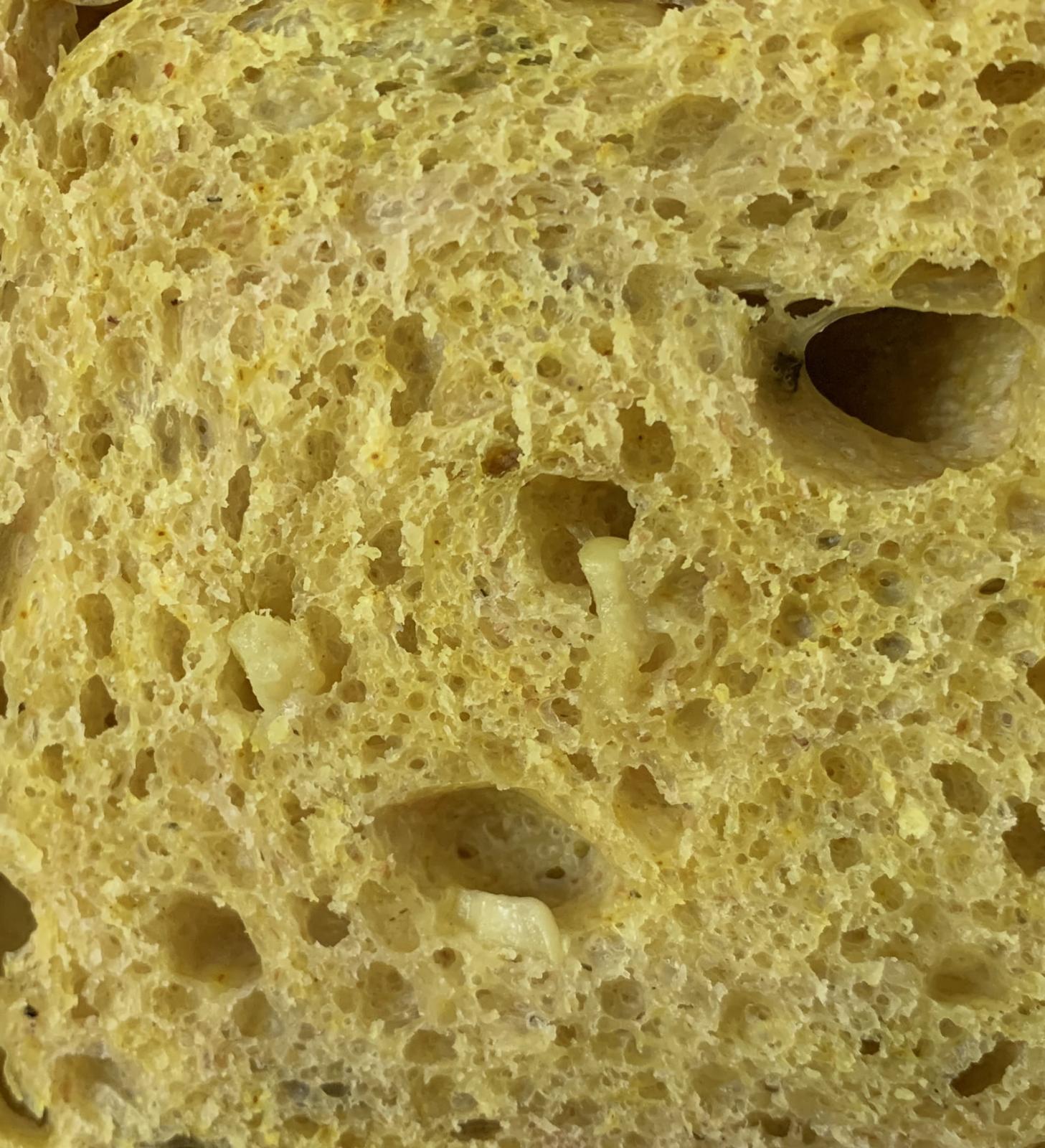 Bacon Egg and Cheddar
A friend asked me to try this one.  My choice on yeasted or sourdough.  I went with the RYW/SD combo in my levain.  Wasn't sure how much inclusion to add for this one either.  Like the Garlic Onion Oregano, the bacon was noticeable when it was pulled from the oven, but that aroma has subsided.